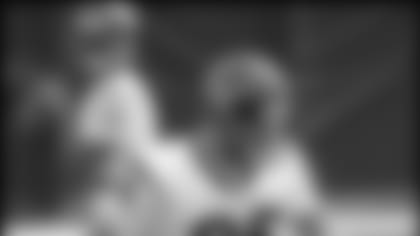 Bruener helped Pittsburgh average 2,142 rushing yards per season over his nine years.
For years, nine to be exact, Mark Bruener has rested in the eye of the hurricane, while swirling winds of change have churned all around him. In 1995, the Pittsburgh Steelers used their first round (27 th overall) selection on Bruener, an impressive tight end just finishing up a stellar career at the University of Washington.
Amazingly, in an age of free agency, trade dealings and salary cap, Bruener was able to remain a solid rock on the Steelers' offense, watching teammates come and go while he remained loyal and steadfast to the only club he ever knew in the professional realm.
In March, Bruener made a move that threw the stable, comfortable cycle right out of sync. But when he signed on the dotted line with Houston, it was a move he welcomed, a fresh way to begin the latter years of his playing career.
"I feel fortunate that I was able to be with the team so long," he said about his near-decade of play in Pittsburgh. "It's a game of change. Coaches change and players change. For so many years, there's been change around me in Pittsburgh, but for the first time in my career, the change came with me so that was kind of different to get used to."
Bruener, considered one of the best blocking tight ends in the league, also left his mark in the passing game with 137 catches for 1,197 yards and 16 touchdowns during his time in the Steel City. That equated to at least 12 receptions in eight of his nine professional seasons with a career-high in receptions (26) and receiving yards (238) during his rookie campaign in 1995.
Bruener was Pittsburgh's starting tight end from 1995 until injuries caused him to lose his job to Jay Riemersma last season. He suffered a knee injury and finished the 2002 season on the sidelines for the second-consecutive year. In 2003, he bounced back and saw action in 14 games and hauled in a touchdown pass during the Steelers' win against rival, Cleveland.
When the opportunity presented itself to the Houston organization this off-season to acquire Bruener's tenacious talents, the Texans went after him.
Sure, every NFL team needs a throng of young, fresh legs traipsing across the field, but nothing takes the place in the huddle or in the locker room of a 10-year seasoned veteran who has taken hits and snaps by the thousands and has banked too many playing experiences to count.
One of the most alluring components on Bruener's resume is his winning swagger. His unbridled intensity for athletics trickles back to high school, where he was an all-state selection league Player of the Year at Aberdeen High, manning both the tight end and linebacker posts. During his senior season, Bruener pulled in 24 passes and six scores on offense while adding 75 tackles, including 10 sacks to his repertoire of football skills.
It was no surprise when he set a record for catches by a tight end with 90 after transitioning into collegiate football at nearby University of Washington. He and his teammates went on to stake claim to the national title in 1991 and soon after, he was an active cog in post-season action with the Steelers.
During his rookie season, Bruener not only notched individual career numbers, but also grew into a pertinent force, helping to bolster the Steelers' offense and buoy the team to their Super Bowl XXX appearance that ended in an eventual loss to Dallas.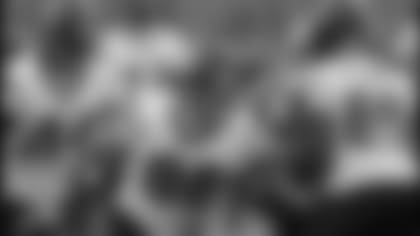 Bruener played in all 16 games with 12 starts his rookie campaign. He also started in all three playoff contests as the Steelers advanced to Super Bowl XXX.
Since his initial whirlwind tour into the league, Bruener has been a part of four additional playoff squads. Each year under his belt brings a greater sense of appreciation for the accomplishment s that go hand-in-hand with a Super Bowl appearance. It's a goal that he not only strives for every season but also no longer takes for granted.
"I almost wish it would've come later in my career because my first year in the NFL, I really didn't know how tough it was to get there," he remembered. "I didn't really know everything that went on to lead up to that."
For Bruener, winning was expected. Anything less fell on foreign soil.
"My first year in college we won the National Championship. I just thought, 'this is how is should be no matter what level you play at.'
"Our punter at the time, Rohn Stark, was a 19-year veteran and he said that was his first Super Bowl. I realized after that comment how extremely tough it is to get into it."
Houston being the new kid on the NFL block had no bearing on Bruener's future intent to win a championship. Coming so close in 1995 only catapulted his determination and hunger for a Super Bowl ring. Make no mistake; Bruener genuinely believes he can surmount that feat with his new Texans' teammates, expansion team or not.
Former Pittsburgh comrade and close friend, kicker Kris Brown, was very instrumental in Bruener's decision to move south. Upon Bruener's arrival in Houston, Brown sat in on offensive coordinator Chris Palmer and tight ends coach Tony Marciano's interview with Bruener over dinner. It was there and through correspondence with Brown, that he gathered everything he needed to know about the direction the Texans' organization wanted to take over the next few years.
"The way this game has progressed and the parity of the league, it's anybody's game," Bruener analyzed. "Any team can succeed and be a championship team.
"My theory is, why not us? I think with the talent on the offensive side and the maturity of David Carr, along with the veteran leadership on the defensive side of the ball and the coaches that we have, why not?"
While Bruener brings seasoned experiences to table in his new Houston role, he is learning a new system with first-year players, rookies and new free agent pickups.
"When I was in Pittsburgh, I had become the older player on the team and you try and show the young guys the ropes and teach them the system. I'm an old guy now, but I'm trying to learn the system here and I'm in the progress of learning what this is all about."
Though his knowledge of the Texans playbook may be a work in progress, his invaluable advice and counseling will be beneficial mostly to players like Dunta Robinson and Jason Babin, who like Bruener almost a decade ago, share the first-round roller coaster of physical and mental tribulations.
"I remember it like it was yesterday, not knowing anything or anybody and coming to a strange team and city," Bruener said about his rookie season with the Steelers. "It's very overwhelming and it's tough. I'm hoping to get a chance to talk to Dunta Robinson because it's changed, even since I was a first-round draft pick."
Not all of the faces on Houston's line-up are alien to Bruener. Players like Gary Walker, Seth Payne and Jay Foreman were yearly matchups in the former AFC divisional breakdown. While Bruener faced many of his new teammates during their pre-Houston lives, he remembers each one lucidly as part of an inaugural Texans' club, one who beat his tradition-clad Steelers in a 24-6 upset at Heinz Field.
This time around, the reunion between Pittsburgh and Houston will be a bittersweet affair when the Texans travel back to the site of the 2002 upset during the August 21 preseason bout.
Hitting the Heinz Field turf again will resurface memories of serving as Jerome Bettis' right-hand man. It's also the community where Bruener was able to tap into his commentary talents as a strong part of the Pittsburgh television and radio sports market and where he and his wife, Traci, settled down and raised their four children.
In the meantime, Bruener says he has welcomed the new opportunity to work with a different offense, switch up his blocking technique to compliment a slashing running back like Domanick Davis and provide a sense of leadership on the field for Houston in 2004. Each of Bruener's nine seasons has brought about a different challenge and new plight for a championship and 2004 may prove to be even more special for the stalwart tight end.
"Every year is fun," he said enthusiastically. "When you can have significant statistics and more importantly, help your team out, then it's really exciting."