[Payne ready for Redskins
](http://play.rbn.com/?url=nfl/nfl/open/2003/texans/demand/payne092206.rm&proto=rtsp)
The Washington Redskins are off to an 0-2 start and critics are zeroing in on quarterback Mark Brunell.
Brunell has just turned 36 and the detractors say he is old.
Old? Texans defensive tackle Seth Payne doesn't think Brunell is so old. Payne, who is 31, played with Brunell in
for five years, from 1997 through 2001, and knows age is all a state of mind.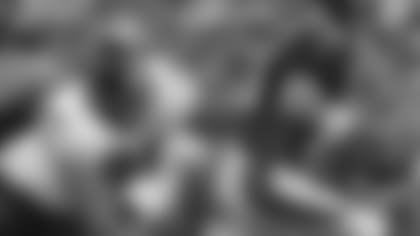 "Mark Brunell is still doing a lot of things he's done his whole career," Payne said defiantly. "He doesn't look like an old man out there . . .
"Everybody talks about him being old. But he's still got some wheels and he can run away from trouble when he needs to. He still sits in and does a good job of being patient against the blitz.
"If anything, maybe he's a little better, a little more patient at trying to find open receivers now if he is at all a little less able to run. I don't see a big difference between the time I played with him."
Payne sounds like a man trying to convince himself of something. And perhaps he is. On the Texans, Seth Payne might be the Mark Brunell of the defense.
Payne was in the NFL when teammates like Mario Williams and DeMeco Ryans were in junior high school. But that isn't all bad, and head coach Gary Kubiak, for one, recognizes the value of age.
"Seth Payne is a player who deserves more time on the field," Kubiak said during training camp. "This guy has been doing it for a long, long time and I think he has stepped up and played really well. I told you all that I think we need to get better inside and I think he's helping us get better."
Payne, however, knows this age thing can be a two-sided blade. He's not sure he wants to be known as the sage senior citizen on a young team, so he cringes a little when asked if he has assumed the role of tutor for the team's youngsters.
"I don't know if it's a new role," Payne said. "You try to help young guys out as much as you can. These guys have a good attitude and they ask a lot of questions, so it's not as much necessarily about assuming a role as it is just being a good teammate and helping guys out because they seek it out."
Because just like Brunell, Payne is not old. Even though he has seen an "oldster" like 28-year-old Robaire Smith among several veterans released just days before the season.
"Coaches make me feel old," Payne said with a laugh. "They're getting rid of all the old guys. Anybody over 27 around here is unwanted. But I still feel young.
"Physically, I'm probably not as fast as I was, but I feel better than when I was 23. I know how to take care of my body better."
Payne even acted younger during two-a-days, when Kubiak announced he would let some of the older, more tired veterans take off a few practices here and there to save wear and tear on their bodies. Payne emphatically said no thanks, and it impressed Kubiak.
"I actually was going to practice him once a day and he came to me and said 'Kubiak, I want to go. I want to be a part of this team. I want to help. I want to play,'" Kubiak said. "He's a veteran that stood up real fast and said 'I can go two-a-days; I'm OK.'
"I've been very impressed. He's a professional in the way he works and he's going to help us. Payne is a guy who is going to give you everything he has got every play."
But being a veteran, Payne knows to take nothing for granted. He has seen so many players come and go in his years in the NFL, he knows you can never let up.
"You just try to learn a little more every year," Payne said. "There are still some things you want to change to be more mature, but there are some things you don't want to lose. You don't want to lose the desperation to keep your job, that uncertainty of how good you are. ](http://store.houstontexans.com/product/index.jsp?productId=1772605&cp=2237490&clickid=mainnavgeartxt&parentPage=family)"I think that guys sometimes have a tendency to get complacent and that usually precedes their departure from the league. So it's a matter of staying a little paranoid, a little desperate, but at the same time learning from your mistakes.
Payne learned an accelerated lesson on desperation when he tore the ACL in his right knee in the second game of the 2004 season. The next several months brought four surgeries and hundreds of hours of rehabilitation.
"That was the first time I'd really come face-to-face with my football mortality," Payne said. "It made me appreciate how much I really do enjoy playing this game and how much I'd miss it if I didn't have it."
He returned to full strength last season and registered 98 tackles and four sacks, the second best marks of his career. This year, of course, presents a new and different challenge as the Texans switch to the 4-3 defense and many young players surround him. The 0-2 start has not helped."
"We obviously have a lot of work to do," Payne said. "We're a young unit with a whole new scheme. You've got to look at these last two weeks, figure out where we messed up and get better.
"Because we're going to get better. This whole season is just going to be a continual process of getting better for 16 weeks."
Getting better and better as they turn older and older.
Sounds a lot like Payne's career.
*EDITOR'S NOTE: Jim Carley is a veteran