SOMEWHERE OVER LOUISIANA --Dom Capers views it as an essential division win on the road. And the Texans' win at Tennessee was certainly that.
"I'm proud of the way our team went out and competed today," Capers said in the locker room after Houston's 20-10 victory over the Titans. "It's a good feeling to get the first win. I am proud of the way the guys played. They competed. They really made some key plays at key times."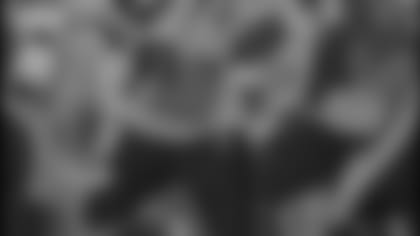 Agreed. The Texans gutted out a tough road victory but playing the kind of hard-nosed football Capers covets. Houston picked off Titans quarterback Steve McNair four times and knocked Tennessee's best rusher, Chris Brown, out of the game. When the Titans took the lead for the first and only time, Houston's offense responded with a touchdown drive. In the fourth quarter, the Texans engineered a nine-play, 65-yard drive that put them up by 10 points and sucked the life out of the stadium.
But Capers probably doesn't get the full magnitude of this victory. Don't blame him – it's through no fault of his own. Capers arrived here in 2001 and his general philosophy dictates that he look forward, not back.
But Gary Walker gets it. The Texans defensive end started his career in Houston nine years ago as an Oiler. He arrived when the whispers of Oilers moving to Nashville first surfaced. He went through the lame-duck season of 1996 in the Astrodome. And he made the move to Music City in the summer of 1997, leaving Houston without pro football for the first time in 37 years.
"This is a special game for me," Walker said. "I was thanking all the guys coming in because this is a tough place to come and win."
Center Steve McKinney gets it. He grew up in Friendswood, racing back from church to catch Oilers games on Sundays. He never thought he'd get a chance to play in his hometown until the Texans arrived and he became their first free agent signing.
"All I've heard the last two years is beat the Titans," McKinney said. "We've done it."
Cornerback Aaron Glenn gets it. When most veterans would have despised seeing their name on an expansion list, Glenn viewed it as a chance for him to go home and end his career down the road from where it started, on the playgrounds of Humble.
On a third-year team with plenty of fresh faces, Walker, McKinney and Glenn are some of the few players who realize what this win means to the city of Houston. Many Texans don't even recall that the white helmets they saw Sunday sitting atop those Columbia blue jerseys once sported an oil derrick. Seven years is a virtual eternity for the 20-something crowd. When the Oilers moved to Tennessee, David Carr was getting ready for freshman orientation at Fresno State. Andre Johnson was a rising junior in high school.
We're not dismissing the merits of this win in the here and now. But indulge us a bit because, in a city that loves its football as much as Houston, this win was significant on levels far exceeding the playing field. The Oilers' departure was a difficult pill to swallow. Football is business, sure, but an NFL team is also akin to a community trust. People plan their Sundays around you and their Mondays are affected by whether you won or lost. They ride alongside you through the highs and lows. Losing that connection hurts. Ask Baltimore or Cleveland.
Then, lo and behold, two years later, the Titans advanced where no Oilers team had ever advanced – to the Super Bowl. It's as if the city's spouse had dumped it and re-married…to a multimillionaire.
But as we fly south back to Space City, the Texans, in just their third season, have a 3-3 record and are one game up in the standings on the Titans. Moreover, Tennessee is 0-3 in the AFC South and 0-3 at home. There's still a long way to go in the 2004 season, but tonight the future has to be brighter for Texans fans than their counterparts in the Volunteer State. Imagine *that *seven years ago.
So let's give out some game balls, shall we?
To David Carr, for shaking off two early turnovers to throw for 266 yards. To Jonathan Wells, for his gritty second-half performance that ended with a touchdown. To Andre Johnson, for repeatedly appearing like a man among boys in the open field. To Marcus Coleman, for sealing the win late with another interception.
To Bob McNair, for obvious reasons too lengthy to detail here. To Charley Casserly, for undertaking the massive assignment of building a team from scratch. To Capers, for surprising his peers by taking a *second *expansion coaching job, something nobody in any professional sport has done.
To A.J., Preston and the rest of the crew in the Blue Lot. To the Bull Pen. To the former Oilers season-ticket holders who are now proud Texans season-ticket holders. To Chris Lockridge and his son, Derrick. To Vinny and the rest of the message board fanatics.
To John McClain, who stood on the sidelines in Jacksonville when the Titans won the AFC title, stunned that the team he covered for so many years was actually going to the Super Bowl. Only they weren't the team he covered anymore. To Mickey Herskowitz, who has maybe seen more Oilers games than anyone and witnessed today's win in person.
To Ken Sparacino, the Oilers video director who moved to Nashville, only to get a chance to come home again with the Texans. To Marilan Logan, who spent 19 years with the Oilers before getting another chance with the Texans as their controller.
To the Astros, for putting the perfect exclamation point on a great day for a great sports city.
"You hear enough about it just being in Houston," Carr said. "This is definitely a big game for the Houston fans. I wanted to get this for our teams and our fans. We had to get this for them. Hopefully, they are cheering for us back home."
Hey, maybe the kid quarterback does get it. Houston, the Titans have finally been conquered. Now it's on to bigger things.