At 11 p.m. tonight in Houston, while most are preparing to turn in for the night, the Texans' scouting crew will be wide-eyed and primed to jump on the free agency band wagon. The lift on free agency talks will officially begin and phones will be ringing off the hook for many of the league's highly touted players available in the market.
Though the beginning of free agency is always a widely anticipated event throughout the NFL, for the Texans, this year could carry the theme "quality, not quantity."
Now entering his third offseason of acquisitions, general manager Charley Casserly is able to take a more standard approach in finding the right, talented fits. Casserly has been trying to build a cohesive team from scratch thus far and this year, for the first time, he will be looking to fill in holes and upgrade positions. Less overall roster needs means a more concentrated search for talented, immediate-impact playmakers.
He and his scouting staff won't waste any time. The group will receive a list of remaining available free agents after today's transactions are finished and will begin to set up visits as soon as the clock strikes 11.
"We'll just evaluate that list, make some phone calls tonight, possibly schedule some visits over the next couple of days and then we'll move forward from there," Casserly said this afternoon.
Defense and offensive line could be a few of the Texans' targeted groups. As part of the process, the scouting department has been tracking potentially available players since the 2003 preseason and has each prospect graded and evaluated. From there, a docket of "A-List" players is drawn up of who the staff will quickly and effectively pursue.
Though new talent is always welcomed, maintaining the Texans' established and cohesive units is a must. But enhancing the final product with a few key pickups could just make the difference between a good and great team.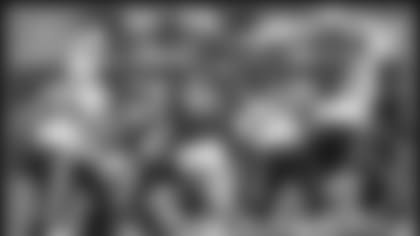 A big splash in the defensive department during free agency paired with the return of Seth Payne and Aaron Glenn could solidify the Texans unit.
"Clearly defense is where we want to look first but I think the key to defense is getting some players healthy," Casserly said about some of the Texans' returners. "Seth Payne and Aaron Glenn, we're very optimistic about.
"If Gary (Walker) returns, that obviously fills a slot there. Then you just evaluate if there is any player out there in free agency that could be an upgrade at one of your positions."
Talks between Walker, a two-time Pro Bowler and defensive end in Houston's 3-4 scheme, continue in regards to resigning the 10-year veteran.
"We're talking to his agent and we just evaluate that as we go," Casserly said about re-signing Walker. "We'd like to have him back and I never predict negotiations, you know that. We'll just keep talking and see where that takes us."
As for the other available free agents from the Texans roster, Casserly hopes to resign and retain their talents, but they are free to shop around.
"We'd like them all back and we're talking to all of them," he said. "We don't have any other deals done. Basically, the first 7-10 days (of free agency) deal with big-money signings. Some of our players that may not be in that category may want to go through it."
So it could be a waiting game in many of cases, but the uncertainty of returning players doesn't pose any threat to the Texans' plan. In fact, building a stronger club isn't just limited to the next few weeks. The process will continue throughout the spring and into the month of June.
"Things begin tonight with free agency, by you also have the draft, you have trades and you have the June market," he explained. "Don't panic now. You have a long offseason here and you keep working on it. A lot of things happen late in the game sometimes."
The beauty of free agency is that uncertainty. Casserly and the scouting department never know what players may fall into the Texans' lap. While the scouting gurus are never quite sure what decisions their targeted players and agents will make, the plan always remains a constant. Research, attention to detail, an ample budget and a solid football organization are always beneficial, but don't always provide guarantees.
"Hindsight is 20/20 so you don't worry about hindsight and you don't worry about criticism," Casserly said about making the right offseason decisions. "What you have to do is sit down with your scouts and coaches and evaluate the players. You have your plan; these are the guys that you're interested in, this is the amount of money you think they're worth and if it matches up, you sign them."
The blueprint sounds simple enough, whether it overwhelmingly works in the Texans favor will be a mystery that will unfold over the next few days. But whatever the outcome, Casserly is confident that the path the organization has been paved for future success is extremely smooth and sturdy.
"I feel comfortable about us moving in the right direction as a franchise," Casserly concluded.