When it came to loading and unloading furniture, Anthony Maddox always knew he was the best defensive tackle on the furniture truck.
The year was 1999 and Maddox was out of football, but not out of confidence. He was working for a furniture company in Hattiesburg, Miss., and delivering to some pretty well-known clients.
It seems a long way from where he is today, the starting defensive tackle for the Houston Texans.
"It is a long way," Maddox said. "I feel like I came from the moon. It's been a long road, but I just have to keep fighting."
In Hattiesburg, he was fighting to get the big pieces of furniture in the houses. He delivered furniture to Steve McNair, then quarterback of the Tennessee Titans now with the Baltimore Ravens, and Green Bay Packers quarterback Brett Favre.
Maddox was the most unusual furniture delivery man either of those guys ever met.
"I used to always tell those guys, one day I'd be trying to sack them," Maddox said. "They just kind of looked at me and laughed like, 'What's wrong with you, stupid?' and they'd say you're crazy."
His co-workers also thought Maddox was about one footstool short of a load.
"I used to tell my co-workers that I was going to play against those guys in the NFL some day," Maddox said. "I'd tell them I was a good football player and they'd look at me like, 'Whatever.'
"They'd say, 'Man, you're out here delivering furniture with us. You're not going to play in the NFL.' But I knew I still had it in me. I never lost sight of that."
Maddox already had experienced a star-crossed mini-career. At Monroe High in Albany, Ga., he was one of the most sought after players in the country and signed to play with Florida State.
He never made it to FSU because he wasn't academically eligible to enroll. So he went to Jones County College in 1997 and played two seasons at the junior college. Though an All-American Juco selection, Maddox was spinning his wheels there.
That's when he dropped out and began delivering furniture, which gave him a strong dose of reality.
"I was definitely in the real world," Maddox said. "I was just working week to week trying to pay my bills. I kind of got off track a little."
His dreams to play professional football never even flickered.
"I had some friend who was in the NFL tell me I still could do it," Maddox recalled. "He said there were guys in the NFL I could compete with and some I was better than.
"I always knew deep down inside that I could."
But delivering Steve McNair's dining table wasn't getting him there, so Maddox hooked up with Delta State University, an NCAA Div. II school in Cleveland, Miss. He started 22 games at noseguard for the Statesmen, recorded 150 tackles and 10.5 sacks and won All-America honors. He was also the first player from Delta to win Gulf South Conference Defensive Player of the Year.
That got him drafted by Jacksonville in the fourth round of the 2004 NFL Draft, at least taking the first real step toward proving all those boasts he made to McNair and Favre. At Jacksonville, however, things didn't go that smoothly.
He played only two games in 2004 and appeared in five last season. He was cut by the Jaguars in early September this season and picked up by the Texans three days later.
He was signed to the Texans' practice squad Sept. 5 and made the active roster a month later. Maddox caught the coaches' eyes so much, he started against his old team, Jacksonville, last week. He had two tackles and two assists against the Jaguars and coach Gary Kubiak was pleased.
"I think our players, when they see different guys step up and have something to do with us taking a step forward, that's positive for our football team," Kubiak said. "I just talked about the defensive side of the ball; I mentioned another young man, Anthony Maddox, who played for us inside and played extremely well . . .
"So there are some different things going on week to week and there were a lot of positive things from that standpoint; a lot of guys chipping in, a lot of guys having a lot to do with us playing a little better.
"We're going to try to get them in the best spots. Anthony (Maddox) played some inside, played outside. N.D. (Kalu) played some inside, played outside. We're going to rotate those guys around, try to keep four fresh ones on the field, but there are going to have to be some guys who are going to have to do both, and those are the two prime candidates to do that."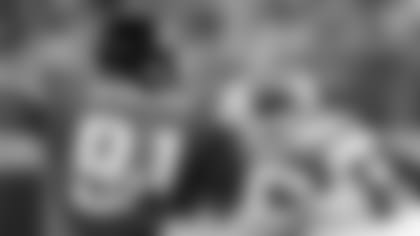 That's fine with Maddox, who now knows he was right to always believe he could play in the NFL.
"I've been doing this for a long time and it's great to be here," he said. "I always knew I was a great athlete. I always knew I'd play in this league. Now I just have to stay humble and keep fighting hard. I knew my chance would come as long as I never gave up."
He's 27 years old now and has played only eight games in the NFL. But he's right on track.
"That's kind of old," he said. "But that just means I've got to get it going that much faster now."

EDITOR'S NOTE:Jim Carley is a veteran Houston sportswriter who has covered the NFL for more than 25 years. He has worked for such newspapers as the Fort Worth Star-Telegram, The Houston Post, the Los Angeles Herald-Examiner and the National Sports Daily covering such teams as the Dallas Cowboys, the Houston Oilers, the Los Angeles Rams and the Oakland Raiders.