*EDITOR'S NOTE: Tight end ***Owen Daniels*** will be providing periodic diary entries for HoustonTexans.com to give fans insight into the life of a rookie draft pick.
*What a weekend. It was great to get out on the field and finally play a game. I know everybody was getting tired of beating up on the same people day after day. It was nice to see some new faces and even better to get a win. I've been getting a lot of questions about Saturday, so I thought I would try to give you guys some insight of what went on here, at least from my prospective.
Saturday, our wake up call was at 9:30 a.m. Even though kickoff wasn't until 7:00 p.m., we had to get up, get a good breakfast in us and get to some meetings. Besides, when you've been waking up around six everyday, 9:30 is really sleeping in.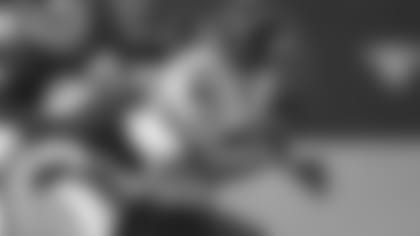 I wasn't as nervous as I thought I would be to be honest. I don't want to say that I took my first NFL game for granted, but I was surprised about how calm I was. I think it was because I knew I wouldn't be starting the game so I would have some time to get into it before getting on the field and having to hit somebody. Another part was my preparation. I felt really comfortable mentally. I headed into the game believing I knew all my assignments so I was really focused on just playing as fast as I could. I kept telling myself to go 100 miles per hour, and you can do that when you're confident in the mental aspect of the game and our coaches have certainly instilled that confidence in us. Now for the game.
I got in early in the second quarter and had some success right away. This offense really allows the tight end to spread the field, which I love, but we are also used as check downs and we can catch some unders when there's nothing else open downfield. I did a little of both on Saturday. I wish I could say I expected to go out there and lead the team in receptions, but I think we all know that would be a lie.
The one thing that surprised me was the speed of the game. It's incredible. You can't simulate it in practice, it can't be done, and believe me, we practice at a high speed too. It's a complete different level then college. I expected that, but until you get out there, you really have no idea. On top of that, when I was able to get the ball, I got hit, and hit hard. I would have to say I've never been hit harder than I was Saturday night, and that was a preseason game. The good news is that I felt fine after, but it was a bit of a shock on my first catch. All in all, I was pretty pleased with my performance and so was our team. Both myself and the rest of the guys have some things to work on, but it would be strange if we didn't after one preseason game.
Of course the calls came in Saturday night and I got a lot of text messages Sunday from friends and family across the country. My parents actually got to watch the game at a bar in
. I thought that was pretty cool considering it was just a preseason game. I'm looking forward to this week because I know from here on out we have an opponent to look forward to and also because training camp is almost over. Thanks for checking in.