EDITOR'S NOTE:Tight end ****Owen Daniels*** will be providing periodic diary entries for HoustonTexans.com to give fans insight into the life of a rookie draft pick.
I know that the one thing that's on everybody's minds is the way our team has started the season, and I'd be lying if I said that it wasn't on our minds. But the truth is that I'm not too concerned how we've started the season.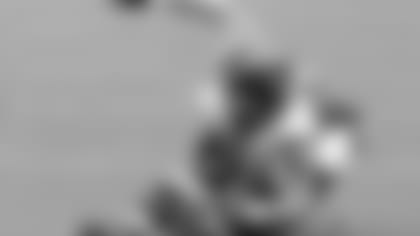 I've been in this situation before with past teams, from when I was in little league football to college and now. My first year at Wisconsin we didn't start off so great, and we did okay that season, but we didn't live up to expectations in the stretch. I've been in a lot of game situations where we've been down by a lot and then we come back to win the game. The most memorable happened in 2003, I think, we were playing defending national champion Ohio State, and they were ranked third in the country. I don't know if Wisconsin was ranked, but if we were, it was not very high. We won that game. My final game in a Badgers uniform at our bowl game against Auburn was also a similar experience. We were huge underdogs, and we knew we had to come up big on both sides of the ball. Everybody played well, and that's what it took and we ended up winning by two touchdowns.
Having experienced that, not only in football, but from playing baseball, basketball and track throughout my life, I know that a lot can happen from one momentum change to another. My mentality is that being down 14 points is definitely not too much to come back from and win a game. Even three touchdowns can happen within a quarter. The same thing can happen being up 14 points in a game. We have 13 games left, the last three are over and done with. Now all we have to do is focus on what happens next and know that there's a longer season before us to look forward to than there is behind us. Right now we just need to concentrate on getting that first one under our belt to start rolling and feed off of it.
I hate to make excuses, because I'm not an excuse kind of guy, but there's a lot of factors that have played to us not starting off the season as we expected. Things are being done to change that and I know we will just have to get over the last three games and begin playing mistake-free and clean football. The pieces will come together for us.[ ](http://store.houstontexans.com/product/index.jsp?productId=1772605&cp=2237490&parentPage=family&clickid=mainnavgeartxt&parentPage=family)
Speaking of being down, Wisconsin lost their Big 10 opener to Michigan this past weekend. We have a good team this year, solid all around, but I knew it was going to be a tough game, especially playing in Michigan. That's their first loss of the season, they're 3-1 and they're at Indiana this weekend. They're a fairly young team, but I'm sure they're going to do well this year.
That's all for now. I don't want to write a novel, so I'll see you all at the game this weekend. Thanks for the support!