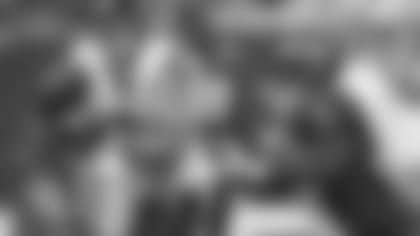 With so much going on during the season, I rarely have time to make myself decent meals. We normally have to be at the stadium early just about every morning. So when I don't have time for a full breakfast, I prepare one of my favorite meals, an egg sandwich.
Let me give you a little background, I've been doing this since I was in sixth grade. It's developed from a simple breakfast sandwich to…well…a masterpiece. First of all, you start off with your eggs, depending on how hungry you are or how big you want your sandwich. You fry the eggs a little, not completely, and then you throw in a deli meat. I normally use either ham or turkey. And then you add the cheese. I always use American cheese, but that's me. As far as spices, I season the egg with a little lemon pepper.You finish it off by placing it in your choice of bread. I've mastered this recipe and I call it "The McOwen." So there you have that.
Next, for lunch or dinner, I'm really into this recipe my mom just gave my girlfriend a while back. Unfortunately, for licensing reasons, my mother does not wish for me to publish the full recipe, but I'll give you the idea of it. It's a pasta dish, stuffed shells. Naturally, you cook your pasta shells while you prepare the filling. The filling consists of cheese, spices and ground turkey, it's the same idea as ground beef, only healthier. I'm sure you can do either depending on your choice of meat. Anyway, you mix the cheese, spices and ground turkey, and when it's ready you stuff the cooked shells. The secret to this recipe lies within the sauce, which I can not disclose. My mother, however, says that every family has a special sauce and this one is ours. I suggest you ask your mom for your family recipe, if not I can try to negotiate with you and my mother for the recipe, but the chances of that are slim. It's a quick and easy dish. I'm sorry that I don't have specific instructions for this, but I'm not a girl, maybe my mom or girlfriend would have done a better job with this, but at least you have an idea.
Speaking of mom, she came down to Houston a couple of weeks ago. Mothers are always helpful when trying to get a home in order, and this was definitely my case. Thanks mom for all your help getting organized! I've bought a couple of things for the house. I'm most excited about an oversized, super comfortable couch set and this treasure chest cocktail table for the living room area. The house is pre-wired for speakers, so I got those installed just in time for football season. I'll be watching as many Wisconsin games as possible from home, and that is perfect for it. And last week I got a pool table for some more entertainment. I don't really get to spend much time at home, but at least I know I have things to do around the house when I do. Now I just have to work on getting some plants that my mom suggested when she came down for her visit. ](http://store.houstontexans.com/product/index.jsp?productId=1772605&cp=2237490&parentPage=family&clickid=mainnavgeartxt&parentPage=family)
My dad's and mom's brothers are coming down this weekend for the Redskins game. I'm excited about that. We're probably going to try and catch an Astros game this week.
That's all for now. I hope to see you all at the game this Sunday and hopefully next time I'm here I'll be telling you about what it feels like to win our first regular season game!