EDITOR'S NOTE:Tight end ****Owen Daniels*** will be providing periodic diary entries for HoustonTexans.com to give fans insight into the life of a rookie draft pick.
*A couple of weeks ago I wrote that I'd begun practicing as if I were a starter. At that point I thought that becoming one was well out of reach my rookie season. As I've come to find out anyone can become a starter at any given time.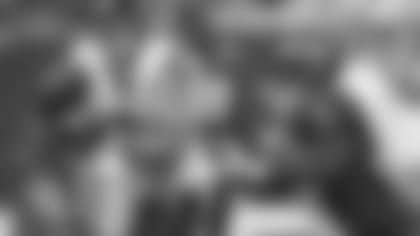 I took the mentality of going out there every day as if I was the starting tight end for the Texans and I believed in it. I took everything I could from every meeting and every practice because I knew that I had a lot to learn, especially from Mark and Jeb. Jeb knew the offense really well from day one because he's worked on it for years. If I'm going to go to anyone to ask a question it's going to be him. Bruener's just got a lot of overall experience, playing experience in the league and if I had a question with blocking or foot work he's definitely the guy to go to.
I kept working on everything I was learning every day and by the third preseason game I actually started that game. I didn't know if the coaches were just trying it to see how I reacted to it or how I would play and stand up to those type of players. After the
game Coach Pariani came up to me and nonchalantly said, "Well you're starting." I really didn't know what he meant by that or how it would hold up because I hadn't heard it from anybody else. But I did know that I had been practicing with the first team, which my guess is that it's a pretty good indication if you're playing with the first team you're starting.
Coming in I was planning on playing, but not necessarily being a starter and I never imagined that by the first game of the regular season I would be in this position. I still don't, maybe when I'm actually out there I'll believe it. I have to take advantage of it and make sure I don't mess anything up.
I don't think the coaches care how old you are or how long you've been in the league.
That's a good thing for me because I know a lot of rookies that are out there are sitting out because of their lack of experience. The coaches know what they're doing and I truly believe that the tight end rotation is going to work with our offense.
Having accomplished a personal goal, now I have to start thinking about the team and with the team. I really don't have any statistical goals. I just want to help out. You want to strive for perfection in whatever you do. Naturally I would love to be perfect every game. The chances of that happening are slim. It's tough to be perfect in football. But I'm going to do what I can to be as close to perfect as I can be and try to help this team win as many games as possible.
Football modes change so fast from training camp to preseason to regular season. Going into the games that count now, there's more pressure and more responsibilities. There's a lot more attention to detail that's necessary for preparation from every angle of the sport. As a player and coach, you get to spend a little more time on preparing for opposing teams. We actually spend all day, multiple days in meetings, practice and watching film. It wasn't this way for preseason. It was all very basic and minimal. I think that a lot of the things our coaches do is to prepare us differently at each stage and from every angle to be able to see the difference between each mode. Regular season is definitely serious business. ](http://store.houstontexans.com/product/index.jsp?productId=1772605&cp=2237490&parentPage=family&clickid=mainnavgeartxt&parentPage=family)A lot of people say that preseason doesn't matter because it doesn't count. That might be true to other teams, but to us it means something different. We're starting over and there's nothing better than starting over with some wins. Hopefully, the mentality that we can win will to carry over to the preseason.
There's a good chance for us to be successful, and starting this weekend we will know what we can do.