EDITOR'S NOTE:Tight end ****Owen Daniels*** will be providing periodic diary entries for HoustonTexans.com to give fans insight into the life of a rookie draft pick.
*So this last Tuesday we had a rookie breakfast, Pancakes & Pigskins, and to be honest we all thought it was a joke. We were told that all the rookies were required to be ready to go at 5:30 a.m. If you tell that to a couple of rookies on a football team it definitely sounds like a hazing initiation kind of thing. But it wasn't, so I'm glad I showed up. It was very similar to last week's TEAM Luncheon we had at the Hilton, except it was breakfast.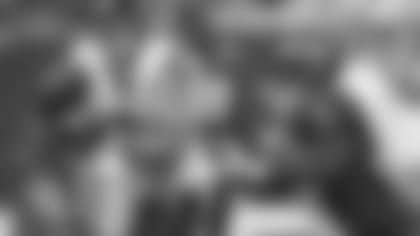 It was a good experience, we got to meet fans that are supporting us and are looking forward to seeing us play this season. We had a chance to answer a couple of questions for the crowd and, of course, I was asked about being an emergency quarterback. For those of you that don't know, I played a little quarterback early in college before I was moved to tight end. My answer to that is, I'm always ready to play. But I'm not quite sure the rest of the world is ready to see Owen Daniels as a quarterback. Hopefully, I won't get called on to take that role. But if I do, I'll be ready.
I also did a radio show Tuesday afternoon, and that was an interesting experience. People don't really know who I am, and I have no problem with that since I have yet to prove myself in this league. So I'm in this well-known restaurant where wings are brought to your table by waitresses in orange and white. I had signed some footballs earlier that they were giving away. In order for this one guy to win one, he had to dance for the waitress. That would have been embarrassing if I had to do it, but I guess it was all in good fun.
Let's talk some business. I played in my first regular season game in the National Football League. I guess that makes me legit now. I know you're all probably tired of me saying how much change there is around here, but I really want to give you a sense of what it is to be in this league. Switching from preseason mode to regular season is a whole other gear. We weren't aware of the changes because we were transitioning from camp to preseason. But now that we're making another transition it's just so much more intense. During preseason we were doing basic stuff on the field, basic game plans and making sure we knew positions and assignments.
Preparing for a real game, however, requires so much more time and preparation. Things change from week to week because we have to adjust to different opponents and what they expect from us. There's tons of new language and different plays to learn every week. Last year was not what people expected from this team, but no one felt sorry for us when they put our schedule together. But this is a good thing. Early challenges make us stronger and prepare us for the next team.
The game atmosphere was crazy against the Eagles. We could feel the vibe from the crowd and everybody being fired up for a new season. We started off strong. I was impressed with Jevon Kearse. He's an amazing player and I was in charge of blocking him. I think I did okay, but regardless of my individual performance the most important thing was the end result for the team, which wasn't good. ](http://store.houstontexans.com/product/index.jsp?productId=1772605&cp=2237490&parentPage=family&clickid=mainnavgeartxt&parentPage=family)
There's nowhere to go now but continue growing. The intensity level around here skyrocketed and we're aware of what needs to get done to get where we want. We've got a tough one this weekend in a tough place and hopefully we're doing the necessary changes to have a different outcome this time out. All my family is coming down to the game, so at least I know there'll be a crowd cheering on the Texans at the RCA Dome.
Make sure you come back next week because I'll be sharing super-secret family recipes with you as a token of my appreciation for you taking time to keep up with my diary.