EDITOR'S NOTE:Tight end ****Owen Daniels*** will be providing periodic diary entries for HoustonTexans.com to give fans insight into the life of a rookie draft pick.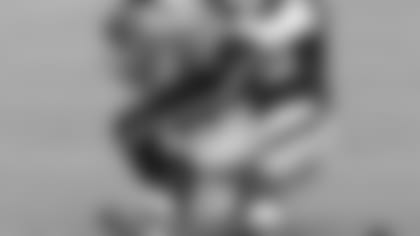 So I'm sure you want to know about Dallas. First of all, it was cool to just go to the stadium since, in my eyes, it's a pretty big football landmark. I remember watching it growing up, especially on Thanksgiving. Seeing all the people who played there through the years and seeing the big hole in the roof was cool. By the way, I thought it was a little weird not to have the roof completely covered or completely open, but it's worked for them, I guess.
About the game. It was an ugly, kind of sloppy first half, but we played well enough to have the lead at halftime. We just couldn't really get anything going on offense after the first drive, again. We should have punched it in for a touchdown on the very first drive, but we just kind of stalled right at the two-yard line. That was tough. That would have been a big score for us if we could have done that. Then, after that, we couldn't get the running game going. We threw the ball alright in the first half, and after that they just keyed in on the pass and things got tougher after that.
The third quarter was a rough quarter. I think we turned the ball over at least twice. The third giveaway might have been at the very beginning of the fourth quarter. But you just can't do that in this league and expect to be in the game for very long. It was tough, but I think we are all ready to be home this weekend to play against a division team and try to get our first division win of the year.
Jeb Putzier went down with a foot injury in Dallas and we don't know if he's going to be good to go for Jacksonville. If Jeb is going to be out this Sunday, it won't change how much I play because I'm in there pretty much every snap on offense anyway. Hopefully, Jeb will be okay to play, but if not, Mark Bruener and I will definitely pick up the slack for him.
As far as myself, so far this year I think I've played okay. When you lose, it's hard to say you played well, no matter how you did. Everyone makes mistakes. You could have been a little better on this play, you could have been a little better on that play, could have finished better on any number of plays and that goes for anyone. I think I'm happy with what I've done, but I just want to keep improving. I'm definitely not satisfied. I have to continue being more physical and being aggressive in there and just catching the ball whenever it's thrown to me.
I'm really going to concentrate on being aggressive in the run game. Right now, I'm getting too consumed with just being in the right position and almost kind of being a little tentative instead of being aggressive, just going after the guy. Collectively, I think we've been consumed with being in the right position and not attacking and just flying around as much as we have to. That's something I'm definitely focusing on this week in particular.
Jacksonville is in town for Battle Red Day this Sunday, and they're bringing in a couple of my old teammates at Wisconsin. Scott Starks plays cornerback. We came in together as freshmen at Wisconsin. He played right away, so he left before me and this is his second year in the league. We're actually pretty good buddies. Our lockers were right next to each other the four years at Wisconsin, so I got to know him pretty well. Then there's Nick Greisen at linebacker. He was a senior when I was a freshman. This is his first year with the Jaguars. He got drafted by the New York Giants and played four years there. I haven't seen him in a long time, so I'm excited to see my old teammates, too. ](http://store.houstontexans.com/product/index.jsp?productId=1772605&cp=2237490&parentPage=family&clickid=mainnavgeartxt&parentPage=family)This Sunday is a pivotal game for us, and we need your support. We haven't won a divisional game in a while. I can't tell you exactly when the last time was that we won one. This should be a little more intense than the usual home game. We have more riding on it and we play these guys twice a year, so we'd like to get to a good start and get the win at home before we go out there and play them in Jacksonville. We've got the red jerseys coming out and I know you guys want to see those live and in person. Plus…we may have a trick or two up our sleeves.