EDITOR'S NOTE:Tight end ****Owen Daniels*** will be providing periodic diary entries for HoustonTexans.com to give fans insight into the life of a rookie draft pick.
*We got our first win. For me, it was my first NFL win, but for the team it does a whole lot more than just add a "W" to the win column. It felt great. It is a complete different feeling in the locker room after a win than after a loss. Everyone's feeling a lot better about themselves and we really needed it going into our bye week. It would have been really tough going into our bye week 0-4. I don't know what it would have been like to have that taste in our mouths for two weeks, having to deal with a loss for two weeks to come back and get ready again for another tough game.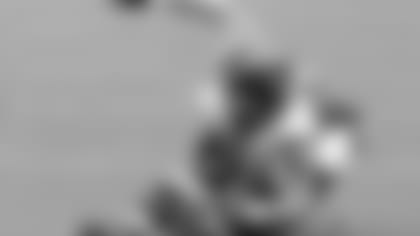 But we don't have to deal with a loss for the next week and a half. The momentum of a win is something we can build on and I really look forward to a new attitude on the practice field when we come back on Monday. There is nothing like a win to help the overall confidence of a team, especially when the next game is a tough one. We needed to start feeling better about the stuff we're doing and begin believing that we can actually play well enough to put a win together.
Things are finally starting to come together for us. I didn't put any points up on the scoreboard this week after scoring a touchdown in my last two games, the "streak" was broken, but that's fine with me. I'll give up touchdowns for a win any time. Honestly, as long as I'm out there playing and we're winning that's perfectly fine with me. I might have run three or four routes the whole game, but I was doing something else other times. I was pass-protecting pretty much the whole game against some really good defensive ends, nothing new, but definitely still a challenge. I think I held up really well there. I didn't give up any sacks or any hits on David, so I felt good about what I was doing there.
Looking ahead, Dallas is coming up. They call themselves "America's Team," and from what some people like to claim, they are "Texas' Team" for the most part, too. But I think there are some Texans fans that would dispute that. Not being Texas born and bred, I didn't really grow up following the Cowboys, nor do I know how big of a rivalry this is supposed to be. Not having played each other since 2002, the rivalry might not be as strong, but we'd like to make it one again. I guess something like it used to be when the Oilers were here.
I know the Cowboys are a good team with a real solid defense, obviously because they're exposed to a good offense. Every game is tough in the NFL. I've come to find that there is nothing like an easy win. It's real hard to get a win here because every team puts up a fight, but we're confident that we can do that going up to Dallas. We've got a challenge, but we've got new found confidence and that should help us out. ](http://store.houstontexans.com/product/index.jsp?productId=1772605&cp=2237490&parentPage=family&clickid=mainnavgeartxt&parentPage=family)
Well, I'm off now. I've got to get home to Naperville, Ill. for the next few days. I'll be getting to spend some much-needed time with my whole family. My sister's coming in from Brown and we'll get to watch my brothers play their football games instead of listening to a replay of the games over the phone. It's a big weekend as my (high school) alma mater Naperville Central takes on crosstown rival Naperville North, where fellow Texan Glenn Earl went. Then on Saturday I'll see the Badgers take on Northwestern, so although there won't be any football for me, I'll be watching plenty of it.