EDITOR'S NOTE:Tight end ****Owen Daniels*** will be providing periodic diary entries for HoustonTexans.com to give fans insight into the life of a rookie draft pick.
My mom and my brother and my girlfriend were at the game this weekend. They all got to see a win and see me score, which was pretty sweet. I sent the touchdown ball home with my mom and my brother.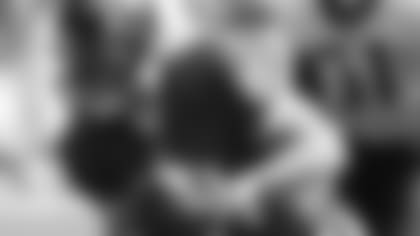 After the Jacksonville game, coach Kubiak spoke to us. He told us a lot of positive stuff and I think it was obvious why we won: We didn't turn the ball over and we didn't have any penalties on offense. We also took advantage of their turnovers. In the third quarter, when things started to take a turn for the worse, Jacksonville scored and coach talked to us on the sideline, yelled at us a little bit and from there on out we picked things up. The defense helped out a lot getting those turnovers in the fourth quarter. Overall, it was a team effort, which is what we've been trying to accomplish.
It felt good to get a win, but I'm not the kind of person who gets too high on things or too low on things. For example, if we win, that's great and we'll celebrate for a little while, but there's another game to play the next week. If we lose, it obviously stinks, but we have another game to play and more stuff to focus on in the future.
I'm a big believer that wins are never as good as they initially seem, and losses are never as bad as they seem. So when we win, we might think we played great, but there are always thing to improve on. And if we lose, and we don't think we played so good, there are still some good things on film.
About my touchdown celebration on Sunday--that I've gotten a lot of grief for--I didn't know I was going to score, so I didn't have anything planned. I need to practice dancing in my house.
I was thinking about doing the Hokey Pokey for a dance because Chad Johnson did the Chicken Dance, so the Hokey Pokey is something comparable to that. Put your right hand in and your right hand out. That's an idea. I don't know if people would get it, though. I think people would like it, I think they would like any kind of dance, but would they understand it? Would they recognize it? I was asking my mom, my brother and my girlfriend for help. Really, the only one with any good ideas is my brother. He's actually a pretty good dancer, so I was trying to learn from him in terms of ideas. Since we're in Nashville this Sunday, a country line might be appropriate if I score a touchdown. Problem is that I don't know any line dances. We'll see, I guess I'll have to score a touchdown first.
By the way, I had a chance Sunday to see the guys that played with me at Wisconsin and are now with the Jaguars. I mentioned them in the last diary. Well, this week I've got a couple of guys on the Titans team that I'm looking forward to seeing: Jonathan Orr, who came in with me at Wisconsin and we were there five years together, and Calvin Lowry, who I met at the Hula Bowl. Both guys are rookies. My parents also are going to the game. They got hooked up with some sky box tickets somehow.
On an unrelated note, someone asked me earlier about if I have a quote that I live by. I've had this little inspirational frame since I was in high school, with a picture of rough seas and a light house and it reads, 'If a man knows not what harbor he seeks, no light will guide him.' What that means for me is if you don't have any goals, you don't have any direction. If you don't know what you're looking forward to, then there's no way for you to accomplish that and there's no way for you to get to where you want to go. I try to live by that. ](http://store.houstontexans.com/product/index.jsp?productId=1772605&cp=2237490&parentPage=family&clickid=mainnavgeartxt&parentPage=family)Someone had a good quote at the rookie symposium earlier this year: 'Don't sacrifice what you want most for what you want right now.' It stayed with me because it made me see that one shouldn't take risks that will affect what you want in the future. If this thing in front of you is miniscule compared to a bigger thing you might want, then don't sacrifice it. I'm not a huge quote guy, but if there are things I'd have to think about and live by, then those would be it.
Anyways, I'll be back next week. Make sure to watch our game this weekend and cheer us on to victory.