EDITOR'S NOTE:Tight end ****Owen Daniels*** will be providing periodic diary entries for HoustonTexans.com to give fans insight into the life of a rookie draft pick.
*The weekend was great. We had just about five days off and I got to go home on Wednesday my mom picked me up from the airport. I got to hang out with my brothers and had nice home cooked meals Wednesday and Thursday night. Both my mom and dad were at work on Thursday and my brothers were at school so I was kind of home alone for a little while. I went to my brother Hayden's practice on Thursday afternoon because I was going to miss his game on Sunday. He plays for a church league that travels around the area and plays on Sundays, but I had to come back on Sunday. It was cool to watch him play and be around him. He's in eighth grade and he plays quarterback. They do a lot of stuff with him, he's a pretty good athlete and so they give him the ball enough.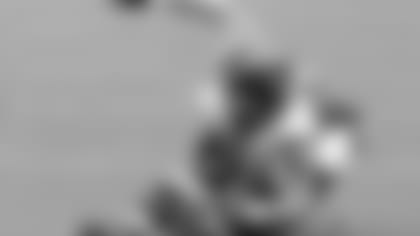 Something I didn't expect was the weather, it was cold up there. I didn't pack much cold weather stuff, I had a couple of light jackets, but it was like 50 degrees. I'm not used to it, my blood's thinned out since I've been down here. Friday I went golfing with my dad, my uncle and a family friend of ours. Golfing is one of my hobbies that I like to do when I have time. It was fun and really relaxing.
My sister flew in from Providence on Friday. She had a long weekend from school, they get Columbus Day off, which is ridiculous, it only happens on the east coast. The whole family was together Friday night, I was at my brother's game, Harrison, he's a junior at Naperville Central. (Go REDHAWKS!!!!!!!) Like I said before, it was a cross-town rivalry against Naperville North, when I was a senior there was the first time they switched the game to North Central College. We have a college in the city of Naperville and instead of it bouncing back year to year, playing at North or playing at Central. They have a neutral site so they can pack a lot more fans in there. When I was there we'd pack about 8,000 people in a game, so there's a lot more room for people to sit there and it was packed. It was just cool to be back in a high school game on Friday night under the lights. The coaches had been rotating Harrison with the senior quarterback. Of course I'm partial to my brother and I think that he should be playing, but I don't know the other kid very well. Harrison is more of a true quarterback, the other kid is a really good athlete but more of a runner. So the senior quarterback will get two series and then Harrison will get two series and they'd just flip back and forth like that, that's what they had been doing the past few games. By the time Harrison got in the game we were down 19-6. He went in and in his first series he had 70 or 80 yards and threw a touchdown pass, that was at the end of the first half. From the series he started they kept him in because he was playing awesome. At the beginning of the second half, first drive of the half, he went down and ran one in himself, they kept him in the game because he was doing pretty well and then we scored another touchdown, so we're up 27-19. After he went in there, he scored 21 unanswered points for Central and then the other team ended up scoring late in the fourth quarter and making a two point conversion tying the game at 27. But we got the ball back with under a minute left, Harrison drove us about 50 yards. He was real calm, composed and managed the clock real well; he even converted on a fourth down. And the kicker went in to kick a field goal to win with no time on the clock. It was awesome. They ended up carrying Harrison off the field, it was sweet, they never carried me off the field up there. But it was really cool to see him do really well, he'd been playing alright but hadn't had a chance to get in the rhythm, it's hard when you're getting two series and then the other kid goes in and then you're in. Hopefully he'll be the man from now on playing, I think he should be. To me it's just hard to switch like that. The team can't get a feel for one guy or the other really, but they're two very good players.
They got the senior quarterback on the field and they're running reverses to him and giving him the ball the other kid was still playing and still contributing so it all worked well. I think right now they're 4-3, they still have two games left so they have to win these two to have a shot at the playoffs which is kind of a mainstay at our school. We're always a pretty good team, it's the first year of the head coach and he's trying his best. I think he's doing a pretty good job.
Saturday I drove a three hour drive up Madison, Wisconsin. It usually takes two hours and 15 minutes, or two hours and 30 at the most, but I got stuck in traffic. I barely got there for the kickoff, got my little sideline pass, and hung out down there. It was cool to see the game and not have to worry about playing. Next time I go I have to sit in the student section. We have the best student section in all of college football, guaranteed. The Badgers whooped up on Northwestern 41-9, after the game I got a bite to eat with my buddy, and went home. I wanted to stay to go to my favorite bar, but I knew if I did I'd have trouble getting back home in time in the morning. I do not regret going home Saturday late afternoon, because I felt great Sunday morning and I caught my flight. [ ](http://store.houstontexans.com/product/index.jsp?productId=1772605&cp=2237490&parentPage=family&clickid=mainnavgeartxt&parentPage=family)
But it's back to work this week. We've played eight games (counting preseason), we've been going at it for longer than that. Since we started training camp it's been about ten or eleven weeks. This was a good time for the bye week in terms of splitting the whole season from training camp to the end of the year. I know I'll probably get tired down the road. I'm going to try to take care of my body as best as I can but it's inevitable. I've played most of a college season, now I have to player another college season with 12 games at the minimum. But I love it so it's all good with me. I'm not too caught up in all the hoopla of the Dallas game. I know it's a big thing down here even though we've only played each other one time before, but I guess it's bragging rights for the state. I'm just going to play like it's another regular season game, which it is, which should be enough to get prepared and be fired up enough to play. I'm not going to put added pressure on a game for any reason. But I'm looking forward to playing! I'm looking forward to getting on the field after watching all the games this past weekend. Thanks for reading everybody.

Take care,