Editors Note: First and Ten with Owen Daniels first appeared in the 12/24 edition of Houston Texans Gameday Magazine. 1- What's your favorite college moment?
*"Probably sending coach (Barry) Alvarez off in the right way at the Capital One Bowl this past Jan. 2 against
. We were underdogs and we took it to them and pretty much handled them the whole game. Walking off as a winner and sending him off a winner too."
2- What's your favorite overall sports moment?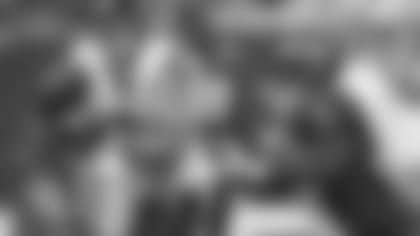 *"One of my biggest sports moments was winning the state championship in high school when I was a junior. I was the starting quarterback and we went undefeated. It was something that had never been done at our school before so that was a huge accomplishment for myself and our team in general."
3- Who's the person you admire most?
*"My parents, definitely. My mom and my dad, they're both successful people that brought me up really well, taught me good morals, brought me up in an educational environment, taught me education comes first. I'm just trying to follow in their footsteps and I'm trying to make them proud."
4- What's your favorite movie?
*"That's a tough one. If it was a comedy I would have to say
Dumb and Dumber*, that's a classic. If it wasn't a comedy, I would have to say
The Game*, not many people have seen it, but it's a Michael Douglas movie and it makes you think a little bit."
5- What's your favorite food?
*"A nice steak. A nice sirloin, probably a 14, 16 oz. sirloin."
6- What's your favorite vacation spot?
I went down there with my family growing up and through high school. It's a place where you just go lay on the beach, don't really go anywhere, do anything, just hang out and cook-out outside, just relax. It's a great spot for that."
*"Play golf in my free time. I'm not that great at it, but I like to get out there when I have the chance."
8- If I wasn't a football player…
*"I'd be a meteorologist. I'd be the weather man on TV at some TV station. I got my degree in meteorology in college, had some experience in front of a green screen so I would probably be doing that."
9- Who was your favorite player growing up?
*"My favorite player growing up was Boomer Esiason. The Bengals were my favorite team growing up. They were good in the 80's terrible for a long time, but Boomer was my guy. I was a quarterback throughout my whole life until a couple of years into college."
*"Just have fun. That's what I was taught. It's a game. It's all about going out there and playing with your buddies, that's the biggest thing. Once you get to this level it's still fun, but it's more of a business. But when you're young, you have to have fun, just go out and enjoy it."