Yesterday felt like old times for Texans defensive tackle Seth Payne. He gave his usual "Hey Vito," greeting to Florida Times-Union beat writer Vito Stellino as the media began to fire questions. Just one year ago, Payne was sitting in front of his locker in Alltel Stadium in Jacksonville talking with these same men and women, yesterday it was over a speaker phone from Houston.
The sixth-year veteran will play in Alltel Stadium for the first time on Sunday since his departure last spring. It will be an all-too familiar setting after rushing passers for five years on the Jacksonville turf. But this time he'll be sitting in the visiting locker room and pacing the visiting sidelines.
It will be the first time Payne will see most of his old teammates since the Jaguars exposed him on their expansion list last February along with fellow defensive lineman Gary Walker and offensive tackle Tony Boselli. Jacksonville was deep in a salary cap deficit and had just drafted defensive tackle Marcus Stroud as their first-round (13th) overall draft pick out of Georgia. Payne began to see the warning signs, knowing that an expansion draft wasn't too far down the road.
"I think from the time they drafted Marcus last April I knew it was a possibility," Payne said. " We were in a situation where we had a lot of talent at defensive tackle and to have that many guys that can play on the team while its in salary cap trouble just didn't make any sense. It didn't come as a huge shock to me. I didn't know for sure. I had some hints."
Payne spent five seasons of stellar productivity along the Jacksonville defensive trenches. He started in 66 games and did not miss a start during the 1999 and 2001 campaigns. From 1999-00, Payne was under the leadership of Texans head coach Dom Capers, who served as the Jaguars defensive coordinator. It was then that the two learned something from one another. Capers saw a talented defenseman that racked up 134 tackles and 3.5 sacks during those two seasons, and Payne was introduced to the Capers school of organization and discipline.
While Capers certainly took old lessons of the game and applied them to his practices, it was head coach Tom Coughlin that really cracked the whip on conservative and strict football play on and off the field. But for Payne, it wasn't a problem, it was an asset.
"Personally, I think it was probably the best thing for me," he said. " It kept me disciplined and focused as a young player when it's easy to get distracted. I don't know if I had spent my time at another franchise with a loser attitude in my younger years if I would've succeeded in the NFL."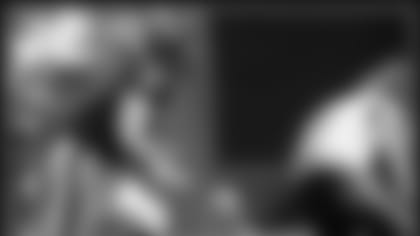 DT Seth Payne pressures San Diego QB Drew Brees.
Now under the direction of Capers again, this time as a head coach, Payne has easily transitioned into the style of study, preparation and play that Capers has coined. Maybe the head coach has even rubbed off on him. Payne recently told a fourth grade class that he kept a daily journal, much like the famous meticulous journals that have become legend around Capers circles.
"They're (Coughlin and Capers) both very focused on discipline, effort and physical play, really old-school football," Payne explained. "I enjoy that kind of environment. I think it helps everyone on a team achieve their highest potential. It hasn't been too much of a change coming here."
Payne has five years of the Jacksonville offensive scheme under his belt. Granted, there have been some modifications, but facing quarterback Mark Brunell and running back Fred Taylor is old habit. In that respect, Payne has one up on the them, but the Jaguars too, are quite familiar with Capers defensive plan. Either way, the game will prove to be nostalgic and challenging for Payne.
"I'm looking forward to it," he said. "This will be a new experience for me and I'm hoping it won't be a distraction. Coming in and being in the visiting locker room instead of the home locker room I'm sure will be a little strange. For the most part, I'm just looking forward to getting back into that environment and playing against some guys that I've practiced against for five years and always wondered how I'd do against them in a real game situation."
Though this game will probably be the most meaningful for Payne, his weekly routine won't skip a beat. Even Walker, who's no stranger to facing former friends on the field, advised him to take it in stride.
"One thing Gary and I talked about, because Gary had this experience playing against Tennessee when he first came to Jacksonville, is that I think we both play emotionally every week and if you start to approach it too much like a game that's out of the ordinary, you have the potential to have break-downs in discipline or not play your responsibilities," Payne said. "This will be an emotional game for me but no different from any other week."
The Jaguars got off to a strong start this year with wins over Philadelphia, Kansas City and the New York Jets, much to the surprise of many NFL faithfuls and media sources. Due to those salary cap troubles, the team said farewell to many of their veteran players in free agency as well as the expansion draft. But led by a healthy Taylor, the squad ranks sixth in the NFL in rush offense and may possibly be a playoff contender.
"I think everybody was counting them out at the beginning of the season but at the same time, if you look at the talent they were able to bring in and the guys they were able to get back healthy, in retrospect it seems it shouldn't have been a surprise," Payne said. "But the way everybody was forecasting their season would go, it would be a little unrealistic to say that it wouldn't be a surprise.
"I think it's a credit to coach Coughlin and the veterans on that team. This is the first time I've had the chance to see the offensive line play. Those guys are playing as well as I've ever seen them play. To have Fred Taylor back healthy along with the line playing the way they are, it's not really a surprise when you see them on film that they're doing better than they thought."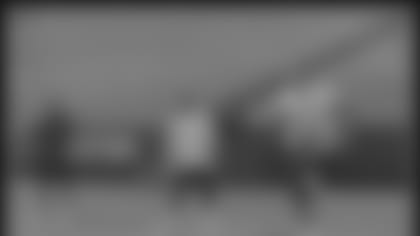 Payne warms up before a game.
While Payne watches on as his former team begins to gel and progress as a unit, he knows where they came from. Like the Texans, the Jaguars have experienced the expansion team hurdles. In 1993, they were named an NFL expansion club and began to play in '95 where they opened their inaugural season with a 4-12 record. In '96, the team rocketed to a 9-7 finish and advanced to the AFC Championship game. The Jaguars advanced the playoffs again in '97 and '98 and made their second AFC Championship appearance in '99 with an NFL best 14-2 record. But over the past two seasons, the club experienced two losing seasons.
Though they've been in existence for almost eight years, there have been many ups and downs for the still-new squad. Payne went through them all and has started the journey over again in Houston. Through the good and the bad, one thing will remain the same his second time around. He wants to win.
"We probably have higher expectations of ourselves than anybody else does," Payne said of the expansion Texans. "When you're on the losing end it's a lot tougher to rationalize and say hey, it's ok, we're just an expansion team. But Coach Capers has been very consistent with the way he's dealt with us. He's stressed as long as we keep making improvement every week, then eventually, sooner than later we'll catch on and start winning football games."
Capers went through it in Carolina and he rode the wave in Jacksonville. This weekend will bring back memories for both as they repeat the challenges they overcame with the Jaguars. But don't be fooled. It's not the same franchise and certainly not the same personnel. Payne feels fortunate to be part of a positive force in Houston whether churning out wins or losses each week.
"We've got guys with great attitudes," Payne said. "A lot of times when you start to lose, you can feel the attitude start to decline on a team and I don't think we've had that at all here. Maybe part of that is that we're an expansion team but a big part of it is the quality of individuals they brought here."
With his new Texans teammates, Payne will greet old friends, take a walk down memory lane, but whether he will admit it or not, after five years of playing in Alltel with many victories, a win on Sunday in his old stomping grounds may top the list as the sweetest yet.