Sunday is a homecoming of sorts for the Tennessee Titans.
As most folks know, the Titans are the old Houston Oilers franchise taken to Nashville by owner Bud Adams in 1996. Adams still lives in Houston as do many of his former Oilers.
But it's almost impossible to find one of those ex-Oilers rooting for the Titans today. That's because most of them are huge Texans fans.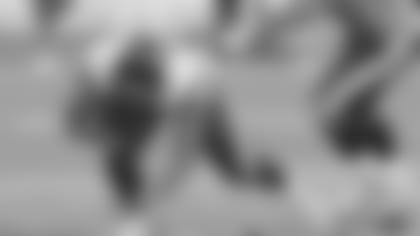 "I'm still rooting for the hometown team, the Texans," said Bubba McDowell, a free safety for the Oilers from 1987 to 1991. "I still root for our guys who are with Tennessee. I hope guys like Marcus Roberson and Al Smith and Floyd Reese do well, but I want the Texans to win.
"I wish we could wear the Battle Red for this game. We've been pretty successful in those jerseys."
Roberson, Smith and Reese are former Oilers now working for the Titans. Roberson and Smith are in Tennessee's personnel department, while Reese is the general manager, as he was in Houston. Former All-Pro offensive lineman Mike Munchak also is offensive line coach for the Titans.
"I still stay in touch with those guys," McDowell said. "Marcus and I e-mail each other all the time and I see Al and Mike Munchak from time to time."
McDowell, though, is a member of the Texans Ambassadors, a group owner Bob McNair commissioned to promote pro football and help youths. The group appears at hospitals, high schools and special events and signs autographs and talks to young people.
"I've never had any bad feelings about Bud Adams," said McDowell, who now coaches defensive backs at Texas Southern University. "I have real good memories of him and (former general manager) Mike Holovak.
"But the Texans are my team now."
Three-time Pro Bowl receiver Haywood Jeffires feels the same.
"I have some mixed emotions, but I'm pulling for the Texans," said Jeffires, who caught 535 passes for 6,334 yards and 50 touchdowns in his Oilers career. "Obviously, I'm pulling for Vince (Young) because he's a hometown product. But I'm a Texans fan now."
So is one of Jeffires running mates, Curtis Duncan, who was a wide receiver for the Oilers from 1987-92 and had 322 catches for 3,935 yards and 20 touchdowns.
"I have to say I'm definitely going for the Texans," said Duncan, who also is a Texans Ambassador. "Historically, when these teams play I have not cheered for either team because I have a lot of roots in the Tennessee franchise.
"I still talk with Munchak and Smith and Roberson and I want them to do well as a team. I hope they win a lot of games and when they play the Texans, I want it to be an even game that comes right down to the end.
"I hope both teams play well this Sunday. I hope it comes down to a 3-0 game in double overtime. But I guess I want the Texans to win."
Duncan, who is a CPA with a small distribution firm in Houston, has been taken over by the first-class way the Texans operate.
"It's just a class-act organization," Duncan said. "Mr. McNair's one of the finest owners in the league as well as one of the nicest guys.
"In a nutshell, he's adopted us. He had no responsibility to the old Oilers. But he reached out to all of us to become part of their organization. I was surprised they did that. They didn't have to reach out to us, but they did."
Duncan takes his Ambassadors appearances seriously.
"We not only promote football, but we promote student athletes," Duncan said. "I'm one of those people who believe everyone should play some type of sport because it is good for you. But they have to also know that they should work hard on their education as well.
"That's why this is such a great organization. We just try to let people know that life is not an easy road and you have to work hard to achieve success."
Jeffires is head coach of the Bay Area/Pearland Gamblers, a semi-pro team in the Houston area. He fondly recalls the days of the Oilers run-and-shoot offense that piled up huge passing numbers and lots of wins.
Those teams also had some interesting characters like Jeffires, Ernest Givins, Mike Rozier and Cris Dishman.
"The run-and-shoot had a nice clash of players," Jeffires said. "We had showmanship and I think that's what helped us win a lot of games. Players have to play with passion and determination and when you have that, you play better."
The Texans do have loyalty. Even former NFL players who never played for the Oilers are now Texans fans. Jacob Green, the former Texas A&M All-American who played for the Seahawks from 1980 to 1991, still lives in Houston and attends almost all of the Texans games.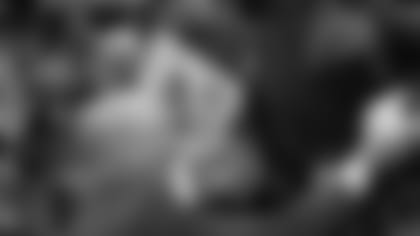 "I've got a lot of connections with the Texans," said Green, another of the members of the Texans Ambassadors. "Besides, this is the Houston team, so there's no question that's the one I'll be pulling for."
Green is another former player who heaps praise on McNair.
"He's a class guy," Green said. "The whole organization is classy. I like the way they run the team."
That's why so many ex-players are backing the Texans.
*EDITOR'S NOTE: Jim Carley is a veteran Houston sportswriter who has covered the NFL for more than 25 years. He has worked for such newspapers as the Fort Worth Star-Telegram, The Houston Post, the Los Angeles Herald-Examiner and the National Sports Daily covering such teams as the Dallas Cowboys, the Houston Oilers, the Los Angeles Rams and the Oakland Raiders.*