Every team needs a guy like Antwan Peek -- someone who plays with the passion and fire to win championships and retains a reservoir of talent deeper than the eye can see.
Fans know him as the guy who lights people up on special teams, the animated character that explodes in celebratory gestures after chipping in on a clutch play.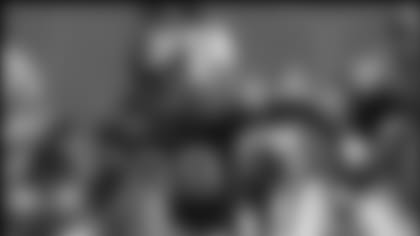 Heading into his second NFL season, Peek's got some major plans for his defensive performance. He's ready to pounce and dares anyone to try and stop him along the way.
If you asked Peek about 15 years ago about the probability of landing an NFL defensive end job, he would've said it was a 50/50 shot. The dream of playing in the NFL was there, but as a defensive end? The thought hadn't even crossed his young mind.
The then-agile wide receiver spent his days growing up in Cincinnati hauling in passes and smoking any defender who crossed his route.
Sports were a part of his childhood and while he also excelled in basketball, track and baseball, football was definitely his cup of tea.
So was playing wide receiver.
Heading into his adolescent years, Peek's love for the game was put to the test. When his coach requested his services as a tight end, he adamantly refused. His decision meant that football fell absent from his life for a few years. He continued with the basketball and baseball, but the two didn't fill the void.
"I didn't try out my 9 th grade year," he said. "In 11 th grade I decided that I would do it and stick it out."
His return was well received and certainly well utilized.
This time around, Peek couldn't just limit himself to one, preferred position. The small team needed his talents on both offense and defense. He learned to play safety and wide receiver, boarding the carousel ride of football responsibilities.
"I didn't have a big school where you had 90 players out there," he explained. "We struggled at my high school to keep players that had grades and were eligible to play."
That was nothing. Peek's senior season threw him an even bigger curveball.
"My senior year, we only had 15 players on the team. I was the field goal kicker, the punter and did kickoffs. I would go from quarterback to wide receiver to running back sometimes."
The 180-pound Energizer bunny made a statement. He could be thrown into any situation, at any post, and be successful. Peek was every college coach's dream. While an initial position conversion from high school to college is pretty standard, Peek's aptitude was endless, and the Cincinnati coaching staff knew it.
When they offered him a scholarship, the decision was a slam-dunk. Part of a family of eight children, Peek wanted to stay close to his roots and felt he could reach full potential in his hometown comfort zone.
"I felt like my confidence was at home," he said about accepting the Bearcats' football scholarship. "I wasn't ready to go away to college and not have my family to see me play when I had my family come to every game while I was younger."
Peek spent his first season as a wide receiver and soon after, they began sprinkling him into the defensive mix. The Cincinnati coaches were easing him into what they thought was his natural position, defensive end.
"They tried for two years to get me to switch," he laughed. "They wanted to move me to safety, but I didn't stay there long. When I started to get bigger, they put me at linebacker. Then they wanted me to move to defensive end and I said, 'I'm not going to defensive end.' Then I got sucked in. Once they put me at defensive end, they never let me out."
Peek gained about 65 pounds throughout his college years, weighing in at 248 when it came time for the NFL Combine. Now the move from wide receiver to defense didn't seem so bad after all for Peek. There, he was able to fly around, hit opponents and cause trouble wherever his body took him. Once he became comfortable at end, everything else just came naturally. So much so that Peek finished his time in Cincinnati setting school career marks in sacks (27 ½), forced fumbles (14), fumble recoveries (10) and blocked kicks (6).
Now it was time to take his show on the road. While his physical attributes were substantial enough to cut it in the NFL, Peek says that when the Texans drafted him in the third round of the 2003 draft, developing discipline was his biggest hurdle.

"In college, I was a good player, but I'll be the first to say there were times where I didn't come off the ball hard or was kind of loafing," he said. "Here in the NFL, it's full-speed every single play. You really have to adapt and adjust to that speed at that level."

Peek said the change was dramatic. He was no longer surrounded by a familiar environment, his family or a college football schedule. Meetings were more intense and competition even fiercer. Though the routine was drastically different, Peek's passion for the game only continued to prosper.
He was making a huge impact in the Texans special teams game and was coming along at right outside linebacker. Through 10 games in 2003, fans were able to see his flare and hunger. It was a contagious excitement that enhanced the Texans defensive chemistry.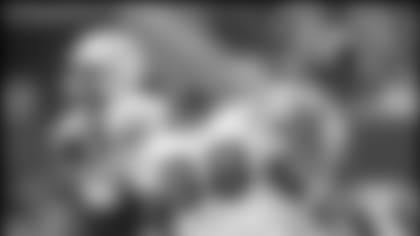 "I'm going after the ball and I can't stand to lose," Peek said describing his intensity. "If I don't beat the guy I'm going against, it will frustrate me. That frustration takes me to another level. I'll really try to come back on the next play. Another energy just comes out."
His energies were put to work immediately. Just four weeks into the 2002 regular season, Peek started in his first NFL game, stepping in to replace an injured Charlie Clemons. A home Reliant Stadium crowd was introduced to Peek, who helped the Texans to an enthralling 24-20 win over Jacksonville.
"That was a dream come true," Peek smiled. "I just wanted to go out there and prove that I was capable of playing at this level.
"I was so pumped, then 30 seconds into the game, I was winded, trying to find that second wind. That nervousness kind of gets you at first. I kind of overcame it and everything fell into place."
Everything did. Peek made his first NFL sack just two weeks later, taking down Jets' passer Vinny Testaverde. His strong first-year showing gave the Texans defensive coaches high hopes of what Peek could accomplish heading into 2004.
Peek's expectations are even greater for himself. Now one year wiser, the still-developing pass rusher sees the NFL picture a little more clearly. Peek is ready to grow as an impact player and a student of the game.
"I've made a lot of changes and I think even the coaches see," Peek laughed. "Last year as a rookie, I'd be in meetings and I'd think, 'How do they sit in this room all day and not fall fast asleep?' Coach would always hit me in the leg and try to catch me from failing asleep.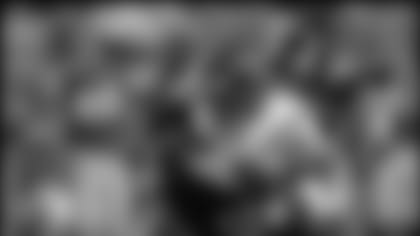 "Now, I'm adjusting to everything and I can just sit in there and watch all day, it interests me watching film. And I have become addicted to coffee, which I didn't drink until I got here."
The Texans defense is shaping up to be a little more stacked and a lot more confident than last year, and Peek is riding the wave with his teammates. At the linebacker position especially, Peek is one of a few new talents that will make an impact while raising sack numbers in 2004. With first-rounder Jason Babin taking over duties on the left outside spot, Peek will see a lot of action behind Kailee Wong on the right side.
How a year has made a difference. Head coach Dom Capers was pleased with Peek's off-season progress and expects a more polished, intense game from his budding defensive disrupter. Peek sees the task that Capers and Co. have put in front of him, and is ready to take charge, and take down a few quarterbacks in the process.
"Sack the quarterback," Peek stated about his visions for 2004. "I did alright last year, but I think this year a lot of people are wanting to see what I can do as well as the rookies they brought in.

"I think our team is starting to get that camaraderie and togetherness, that's going to be just what we need this season."