Looking at the different rushers that the Texans have faced this
             season is like reading a Who's Who list of top NFL running
             backs. Out of the NFL's top 18 rushers in 2002, the Texans have
             already seen seven of them.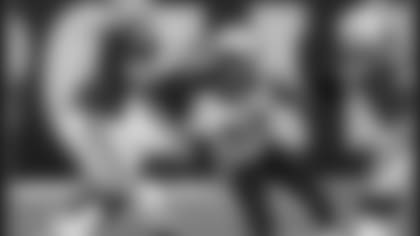 The Texans will be counting on Sharper to continue his aggressive play this Sunday.

Among those seven running backs are the Miami Dolphins' Ricky Williams, the reigning NFL rushing leader, the Kansas City Chiefs' Priest Holmes, who led the league in scoring in 2002, and the New Orleans Saints' Deuce McAllister, who led the NFC in rushing yards last year.
Considering the high-caliber runners that the Texans have battled, it's quite an accomplishment to have held each running back, minus the Colts' Edgerrin James, under 100 rushing yards.
As good as the Texans' defense has played the run so far, though, this weekend's contest presents a whole new challenge. The Carolina Panthers will enter Reliant Stadium this Sunday boasting the NFL's second-best rushing attack.
Similar to the Miami Dolphins, the Panthers almost solely rely on their rushing attack. They average 34.6 rushing attempts per game to lead the NFL. On the flipside, they average just 28.4 pass attempts per game; only three other teams pass fewer times per contest.
Leading the way for the Panthers is 6-0, 230-pound bruising running back Stephen Davis, who is in his first season in Carolina after spending the first seven years of his career with the Washington Redskins.
Davis, the NFL's second-leading rusher this year, couldn't have fit more perfectly into the Panthers' offensive puzzle. Head coach John Fox believes in a ball-control offense anchored by a relentless running attack. As a result, Davis receives around 23 carries per game.
He averages 5.1 yards per carry and has scored five touchdowns using his rugged north-south running style. Currently, he trails only Baltimore Ravens running back Jamal Lewis with 839 rushing yards.
"I played against Stephen (Davis) in college so I've been checking him out for a while," Texans defensive tackle Corey Sears said. "He's way different from any other back that we have seen so far. Edgerrin James is shifty and Duece (McAllister) is kind of shifty. We just have to continue to try and keep doing what we're doing and stop the run and try to contain him."
Compared to last season, when he had a reduced role in head coach Steve Spurrier's pass-happy offense, Davis is enjoying the other side of the coin with the Panthers.
"I think he's always been really good," Texans linebacker Jay Foreman said. "Just this year their team is doing really well so he's getting more publicity. Even last year he averaged five yards a carry, but he just wasn't getting the ball. He's still doing the same things, but obviously in Washington they weren't using him correctly."
The Texans have had success stuffing the run this season with superb play by a defensive line decimated by injuries, as well as consistent production from inside linebackers Foreman and Jamie Sharper.
The Texans will be counting on their defensive line and linebackers to continue with their aggressive play this Sunday, but they will also need help from the safeties as well. If Eric Brown and Marlon McCree can provide support and plug up running lanes near the line of scrimmage, Davis will have that much less space to run.
While having more defenders in the box might slow down Davis, it can also leave the Texans vulnerable to the play-action pass. The linebackers and safeties must be cautious to not bite on the Panthers' run-fakes. If they do over-commit to the run, it will leave the Panthers with a lot of space to work with in the secondary.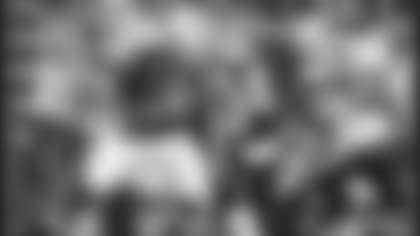 To stop Davis and the Panthers' running attack, the Texans will need to swarm to the ball.

So far this season, the Panthers have seen a lot of stacked defensive fronts and they have capitalized on them by throwing the deep ball. Wide receivers Steve Smith and Muhsin Muhammad are averaging over 13 yards per catch. The way Fox sees it, the Panthers' rushing attack can dictate what the opposing defense plays.
"We get plenty of eight, nine-man fronts, but you've got to be formidable enough to make people pay for that," Fox said. "We've hit some big pass plays, too. It's just been my experience that you can dictate to the defense a little more when you have a solid running game."
The key for the Texans' defense will be to keep the Panthers off-balance with a variety of formations and blitzes. With the element of surprise, the Texans may be able to catch the Panthers off-guard and force a few turnovers.
No matter what the Texans implement in their defense to confuse the Panthers, the bottom line on Sunday will be which team is more physical. The Panthers are going to run the ball with Davis until somebody stops him. What it comes down to is which team executes better and plays more aggressively.
"They're coming to run the ball. Period. No ifs, ands or buts about it," McCree said. "It lets you know what kind of mindset you have to have approaching this game. You have to be ready to play smash-mouth and play a really physical game."