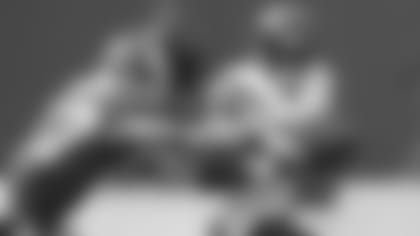 How could he not? Everywhere he turns either a friend or a teammate or a member of the media reminds him in some way.
"I really don't get caught up in the stats and things like that," Johnson says. "But yeah, I always have some people saying some things about it to me."

That's because The Record isn't just another number. It's a big-time serious record, the NFL all-time figure.
The Colts' Marvin Harrison has it now with 143 catches in 2002. Johnson's pace this season is not far off that frenetic tempo. He has 65 catches at mid-season and leads the NFL in receptions and yardage (752) and has picked up the beat with each succeeding game.
After five games this season, he was averaging 7.8 catches a game. Now eight games into the year, he's averaging 8.1.
Even if he doesn't expand this pace, he'd have 130 catches, a club record and good for second on the NFL all-time list. And no one is counting him out for the No. 1 spot. His teammates think he definitely has it in him.
"I think so," wide receiver Eric Moulds says. "I think finally this year he's getting his opportunities to show what he can do. What has been a commitment by the offense and a commitment by the coaches and a commitment by Andre to want to show what he can do is paying off.
"I think he's excited about the opportunities he's gotten and the ones he's going to get. He's trying to become a complete receiver, not just catch the ball but block down field and being a leader on this team. I think it's been a season when he's learning all that at the same time and just continuing to get better."
Moulds played with superstar receiver Andre Reed in Buffalo and thinks Johnson is similar.
"He reminds me a lot of Andre Reed," Moulds says. "Both of those guys have unbelievable quickness off the ball and I think he compares to Andre Reed in that sense. When the ball is snapped, he takes off and you can see he's two or three yards in front of everybody.
"You really can't teach that as a coach. That's just God-given ability. And you realize it's just his fourth year and he's still really young and he's still improving. I think eventually if he stays healthy and continues to do the things he can do, he'll be considered one of the best to ever play the game."
Opponents each week heap praise on Johnson, like Jacksonville coach Jack Del Rio did this week.
"I think Andre is one of the better players in the game, and I've said so since the day I evaluated him coming out (of college)," Del Rio said. "It sure would be nice to have him, but he went to the Texans. He's a good football player. So no matter what you do with him, he's going to get some catches."
The beat just keeps on for Johnson. Last week, he caught nine for 83 yards against the Giants. In just the eighth game of the season, he surpassed his receiving yardage total from last season (688) on his first catch of the game. He also topped 3,500 career receiving yards with his second catch last week.
It's the kind of season Johnson could only have dreamed of before this year.
"This is the first time I have had this many opportunities," he said. "It's fun. It's my first time to experience this and it's a lot of fun.
"I didn't know what to expect coming into the season. I really didn't know how it would be. But I didn't expect this."
While it's fun to catch lots of passes, it's not fun to lose. As it does with the rest of the team, it eats at Johnson week after week.
"I don't pay that much attention to stats," Johnson said. "I'm all about winning. That's what's most important to me."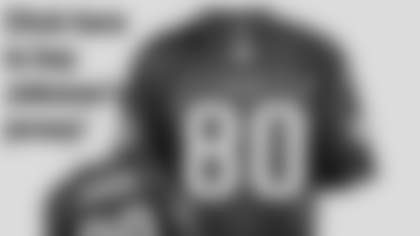 ](http://store.houstontexans.com/product/index.jsp?productId=2076104&cp=2237490&clickid=mainnavgeartxt&parentPage=family)
Opponents are all about trying to stop Johnson now. Everyone knows he is having a special year, but Johnson doesn't feel like much of a target yet.
"In the game last week against the Giants, when I was on a side by myself, they would kind of roll coverage into me," Johnson said. "Other than that, it hasn't been much different.
"With the offenses we have today, they can't worry about just one guy. It used to be like that, but we've got other guys who can make plays and go down the field."
Like Moulds, an All-Star in his own right. He was the biggest acquisition the Texans could have made in the offseason, and his 31 catches for 349 yards have helped Johnson. That hasn't surprised Moulds.
"Not really," Moulds said. "In the past, he's just been double- and triple-teamed and now he's getting more opportunities to get one-on-one coverage and he's taking advantage of it. So he's showing what he can do and what he can become."
"It helps a whole lot having another guy on the other side who can do the same things you do," Johnson said. "It makes a lot of difference for me."
And it might make a difference in the NFL record department. He's not aiming for it or making a big deal about it, but Johnson admits it would mean something.

"It would mean something to anybody to have an NFL record," he said. "But I'm not thinking about that. I'm just trying to get the wins."
EDITOR'S NOTE:Jim Carley is a veteran Houston sportswriter who has covered the NFL for more than 25 years. He has worked for such newspapers as the Fort Worth Star-Telegram, The Houston Post, the Los Angeles Herald-Examiner and the National Sports Daily covering such teams as the Dallas Cowboys, the Houston Oilers, the Los Angeles Rams and the Oakland Raiders.