Check the message boards or turn the radio dial and the chatter around Houston seems to indicate a restlessness amongst Texans fans.
Free agency is nearly three weeks old but where's the sizzle? What happened to last year, when the Texans were signing players from all around the league? Where is all that extra salary cap money going?
True, the Texans have thus far signed just one unrestricted free agent from another team -- former Jaguars right tackle Zach Wiegert. At this point last year, Houston had signed five UFAs, including the likes of wide receiver Corey Bradford, center Steve McKinney and linebacker Kailee Wong.
But one year can represent an eternity in the NFL. The Texans are no longer an expansion team, yet they don't want to deviate from their original long-term plan. And that means a different off-season approach for Houston as it enters its second campaign.
"In year two we're on the side of caution and being conservative, because we're still trying to build a football team," Texans general manager Charley Casserly said. "There will be a point where we won't be as conservative as we are right now. That point will come when we know more what we have as a football team. That is kind of philosophically where we are right now."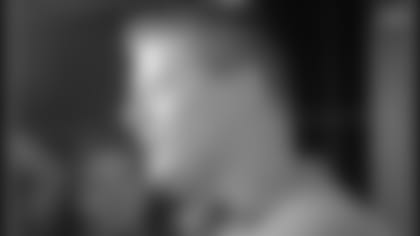 The Texans inked Wiegert on Mar. 1.
The Texans entered March with modest but specific goals. One was upgrading the offensive line, which yielded 76 sacks last season. When Young refused Houston's initial contract offer, the Texans quickly signed Wiegert, who has 89 career starts at tackle and guard over eight seasons. The Texans then traded one of their fifth-round draft picks for Patriots right tackle Greg Randall, who started for New England for its 2001 championship run before losing his starting slot last season.
If five-time Pro Bowl left tackle left tackle Tony Boselli returns from his shoulder injury as expected, the line looks significantly improved from 2002.
The second goal was to upgrade the running back position. The Texans ranked 31st in the league last season, averaging just 84.2 rushing yards per game. But the running back crop was fair at best, both in free agency and the draft. The Texans courted former Redskins Pro Bowler Stephen Davis, but Davis opted to sign with the Panthers last week. Houston is still in discussion with former Jaguars running back Stacey Mack and James Allen, who rushed for 519 and caught 47 passes for the Texans last season.
The third goal for the Texans was to retain their own free agents, something they didn't have top worry about as an expansion team last year. Posey bolted for Buffalo in the first few hours of free agency, but Houston has since held its ground. The Texans re-signed linebacker Jay Foreman, their leading tackler in 2002, and strong safety Eric Brown. Houston also inked four backups from its defense in cornerback Jason Bell, cornerback Pat Dennis, defensive end Corey Sears and free safety Kevin Williams.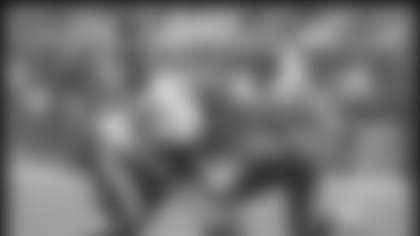 Foreman led the Texans with 193 tackles in 2002.
Big-splash signings? Not exactly. But keeping the defense intact while the league's youngest offense continues to grow is crucial to Houston's long-term success.
And don't be fooled by the reported salary cap figures. Most reports have the Texans $15-16 million under the $75 million cap. But Casserly reminds us that amount can be eaten up quickly.
"You have to understand the cap," he said. "Right now, if you look on a published report, we have $15 million of cap room, which I think there's only two teams in the league that have more cap room than us.
"However, that $15 million gets eaten up rather quickly from the following things: One, four million of that is for Tony Boselli's incentives if he plays. Now, can you pay him next year? Yes, you can pay him next year. But you have to pay him if he plays. And we're optimistic he's going to earn that money.
"Second thing is, David Carr, as the first pick of the draft, in his second year has an acceleration of a signing bonus from the first year of five million. That doesn't show up on the cap but you have to have the money to pay for it. So that's $9 million right there."
Then there's the upcoming draft, which also has to be factored into the equation.
"Our first and second-round picks will equal three million on the cap," Casserly said. "Two million in addition gets eaten up for injured reserve, practice squad and the 52nd and 53rd player and the rest of the draft choices. That's hidden money that's going to come later that we have to allow for.
"Now can you push some of that to next year? Sure you can. But as you go forward, you have players that need to sign next year. One of which is (defensive end) Gary Walker. That's why when you look at $15 million and reality, that's reality."
Speaking of the draft, the Texans again have the luxury of extra picks this year -- 13 in all after the trade for Randall. The Texans know that consistently good teams build primarily through the draft. The players you draft don't make the big money until four years down the road, which allows you to lower costs while developing your own talent.
"What we have to do is figure out where those 13 draft choices fit into our football team going forward instead of going out and spending money on certain free agents," Casserly said. "So that's one of the things we're trying to do, figure in our draft choices to all of this, but without knowing who we're going to draft and at what position.
         Nobody
         said the expansion road to contender status was easy. But the Texans
         appear to be on the right track. Even if that track isn't dominating
         the headlines.<span>  </span>