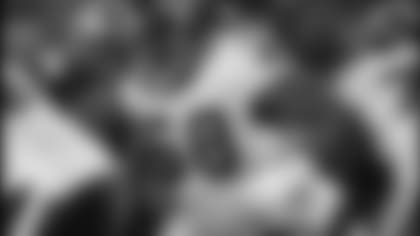 Spears made his first start with the Texans at RT in Detroit last week.
Marcus Spears
was familiar with Reliant Stadium when the Texans signed him in early July.
The last visit he made to the Texans' residence was when Houston hosted Kansas City in the 2003 home season opener. Unfortunately for the Texans, their foe ran home with a 42-14 victory. As part of that Chiefs entourage, Spears now finds himself one year later in another match in the series, this time, from the opposite sideline.
The Chiefs may have won that game, but the Texans have an upper hand with Spears on their side.
Now heading into his 11th NFL season, Spears has seen it all, especially in Kansas City, where he spent seven years blocking and protecting as left and right tackle and left guard.
There are a few variables that have been constants for the Chiefs over recent years. Kansas City's explosive offense has made a name for itself, running rampant over opposing defenses. On the flipside, the Chiefs defense has been the squad's Achilles heel. From an environmental standpoint, a steady weapon throughout Chiefs history has been Arrowhead Stadium, one of the toughest places to play in the NFL with crowd noise so deafening, opposing quarterbacks can't even hear their own thoughts.
These are the facts about the Chiefs as the Texans head into Sunday's showdown in Kansas City. And if anyone can reinforce these points, it's Spears. In fact, the vet can and will elaborate on every aspect of the Chiefs including their tendencies and what his new team in the Texans can expect when they take the turf against his former comrades.
No vendetta involved, it's just strictly business for Spears, who has been around the block enough times to know that it's just all part of the game in the NFL.
"I'm telling them everything I know," Spears smiled as he talked about game-planning for Sunday's contest. "It's nothing personal, it's just the game. You want to win.
"Right now, we're both struggling at 0-2 so yeah, I want to go and win. It's my old team so that will make it doubly extra special."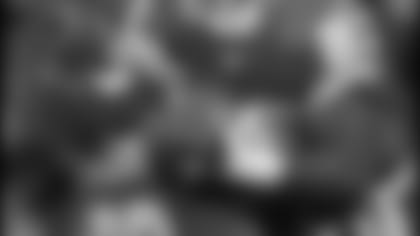 Spears helped mold the Chiefs offense into one of the most productive in the NFL.
During his seven-year stint in Kansas City, Spears helped Priest Holmes reach record-breaking peaks and Pro Bowl appearances as the Chiefs worked to put themselves back onto the football map.
They certainly did just that. Most of the attention drew to the Chiefs' offense and Spears helped build that dynasty and knows the plan of assault the unit has executed to reach such success. But the layers of knowledge he holds on the Chiefs' defense runs just as deep.
There hasn't been much of a changeover from a year ago among his former defensive practice opponents. With the exception of new defensive coordinator Gunther Cunningham, who has tweaked the system the team now runs on defense, players like Vonnie Holliday, Ryan Sims and Eric Hicks are still in-tact.
Spears knows their habits, strengths and weaknesses all too well. For years it was his job to learn how to beat them in practice. Now he can really make it count.
"Attack," he said about how the Texans can win Sunday's game. "Run the ball and try to keep their offense off the field. That's the best way to stop them is to keep their offense off of the field and wear out their defense."
The Chiefs new look on defense allows the linebackers to flourish a bit more, though after Week 2, Kansas City is still last in the league against the run. Overall, the defense ranks 26 th in the league and will face a tenth-ranked Texans offense with Spears on the line plowing the way.
To leave Arrowhead with a notch in the Win column is Spears' number one priority. The fact that it would be against a team who released him after seven years of service is just gravy.
"Just for us to go in there and get a win right now will be great for this team's psyche," he said. "I think it will put those two sour losses behind."
Containing the Chiefs' offensive forces is just one hurdle, overcoming the crowd noise in Arrowhead is another. Spears, like the rest of his Texans teammates, are just looking forward to riding the wave of energy that the Kansas City fans emit. Even if it's not directed in Houston's favor, Spears knows how intense and gripping it can be for both sides of the ball.
"It's going to be electric," he said. "It's definitely going to put goose bumps up and down my spine. You've been on one sideline for so long, and now you're looking over and being on the other side and realizing how loud it is when you're trying to do the snap count and trying to listen to the quarterback. They really use it to their advantage."
Sure, football is a business for Spears and winning is always the goal, but his memories of Kansas City are certainly fond, especially when it comes to his involvement around the community.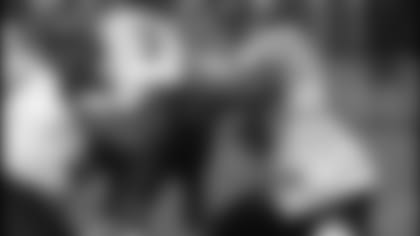 Spears has played in 91 career games heading into his 11th season.
Spears got hooked as a color commentator for Metro Sports, reporting the Game of the Week as part of the station's high school football coverage. He could be spotted in the bleachers interviewing fans and eating nachos while covering some of the city's best young talent
"It was fun, just getting back to the basics and watching high school football and what it's really about; fundamentals and guys just really loving the game for what it is, just a game," he said. "It caught on in Kansas City and people looked forward to seeing you at every game. It's something I look forward to doing after football."
If the Kansas City community didn't recognize Spears from his television face time, they were familiar with his outstanding charity work, especially with his "Marcus Spears Still I Rise Foundation."
The foundation benefited the Children's Place, a treatment facility for abused and neglected children and their families. The Spears family extended their work beyond Children's Place, probably feeding over 20,000 people in its three years of existence.
"It's been wonderful working with people in Kansas City to get that done and just give back," Spears said about his charitable efforts in Missouri. "My wife and I just like to give back to our community and hopefully we can get something started in Houston."
Sunday's game will be bittersweet for Spears. But business aside, beyond the 60 minutes of clashing helmets on the turf, the day will serve as a friendly reunion…with a friendly win on the books to go along with it.