It's hard enough to break a habit over a year, let alone almost seven seasons. For Texans linebacker Morlon Greenwood, he's had to break a habit, learn a new scheme and re-learn his original habit—all in a single year.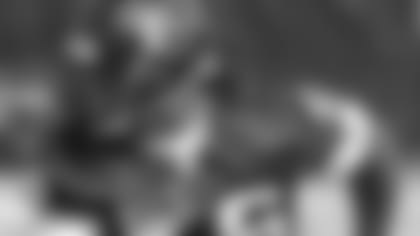 With the addition of new head coach Gary Kubiak and his defensive staff, Greenwood has had to adapt to a new scheme, but one that he's fairly familiar with. For four seasons, Greenwood studied the 4-3 defense at Syracuse University. He was then selected in the third round of the 2001 draft by the Miami Dolphins, where he continued in the 4-3.
His professional world was somewhat turned upside down when he was picked up by the Texans last off-season. The Texans played in a 3-4 defense, which caused Greenwood to switch positions and responsibilities. His production was impressive. He started all 16 games at middle linebacker and registered a team-leading and career-high 144 tackles, as well as a career-best two sacks and the first two fumble recoveries of his career.
That said, he's now back to where he feels most comfortable.
"Last year with the 3-4 there was a lot of indecision as far as playing," Greenwood said. "Now the gaps are defined and it allows me to play a lot faster and I know where I'm going and I'm used to the system. That is what I played in college and what I played in my four years in Miami."
Even though he has returned to a system he knows, Greenwood anticipates an adjustment period while he builds chemistry with his new teammates and coaches. With the additions of linebackers coach Johnny Holland and defensive coordinator Richard Smith, as well as several free agent acquisitions and rookies, Greenwood says he's still getting used to the changes and new coaching style.
"Johnny (Holland) is along the same lines as coach Smith, he coaches a lot of technique and a lot of hustle," Greenwood said. "He also makes sure all the linebackers are comfortable with the scheme. He goes over every single point to make sure we have enough weapons so when we go out there we have an easy time executing the defense."
Holland says the new defense lends itself to Greenwood's style of play.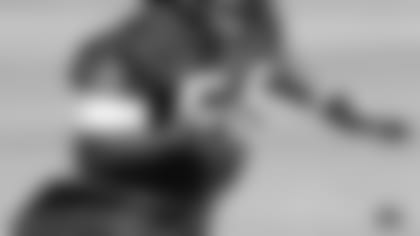 "I think it will help him because of his size and his speed," Holland said. "I think in a 4-3 defense when a linebacker is more covered up by defensive linemen, you give him a chance to use his ability to run and use his speed."
Another part of Greenwood's past six-year NFL career that Holland intends on tapping into is his experience.
"He's played the game for a while and he's seen a lot of plays and a lot of things are not new to him," Holland said. "His experience has put him further ahead. Morlon is really conscientious of the defense and he's learned it well and he's spent a lot of time with it. I like the way he plays the game."
With a year under his belt in Houston, Greenwood says he feels more comfortable with the city and his team. Coming off of last season, the one thing he wants to do this year is contribute in the way that is most familiar to him.
Another of his goals is to set the tone for some of the younger players on defense, such as first-round pick Mario Williams and second-round choice DeMeco Ryans.
"I'm not a big rah, rah guy, I like to lead by example," Greenwood said. "I like to go out there and work hard and execute my assignments and do what is required of me and also set an example for the younger guys coming in. Coming in as a rookie in Miami and watching Zach Thomas and Junior Seau when he came in and watching how they practiced and how they played, that actually helped me elevate my game. That is what we're here to do as far as being the experienced players."
It should be no surprise that his coaches expect the same thing out of him that he expects of himself.
"I think we expect him to make more plays in this defense by utilizing his knowledge of the game," Holland said. "He is a veteran player in the league and he has a good awareness of the game. We expect him to be a playmaker for us."
With the off-season just getting underway and players and coaches trying to get a feel for their new home, Greenwood is one of the lucky ones that already has the feel. All he needs now is to get back on the field and rediscover his defensive comfort zone, which should pay big dividends for the Texans in 2006.