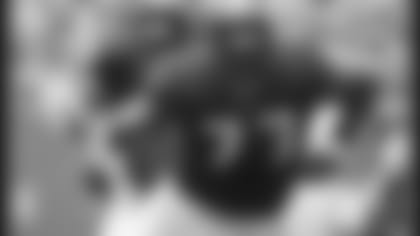 Todd Washington will look to open up the Houston offense against his former teammates and coaches.
Whether he admits it or not, Todd Washington marked December 14 off on his mental calendar the day the NFL released the league's 2003 season schedule.
Now, the anxiously awaited game week has arrived and the Texans starting left guard will return back to Tampa Bay and Raymond James Stadium, the venue where he spent last season's memorable Super Bowl run as part of the Buccaneers' offensive unit.
And while Tampa Bay reveled in a successful new head coach and a championship trophy for the city, all was not sparkling under the silver lining.
Washington had just wrapped up his fifth season in Tampa Bay, who drafted him in 1998 as their fourth-round pick out of Virginia Tech. It had been his only NFL stop, and over five years, Washington was one of the Buccaneers steady contributors, helping an 8-8 team his rookie season, develop a winning streak of 11-5, 10-6, 9-7 and 12-4 campaigns.
But all of the wins in the world didn't really help Washington satisfy his personal goals. His value was priceless. Washington was able to help the Buccaneers out at left guard, right guard, center and special teams but was never really given a permanent starting nod.
So after the confetti settled and the parades came to an end last February, Washington had to make a decision. He had reached unrestricted free agent status and was free to find another NFL home, a place where he could finally notch a starting roster spot.
"I think I felt like I overstayed my welcome in Tampa," Washington said about his situation last spring. "You can tell when they don't want you any more. It's a business, yes. But personally, it stinks.
"I know I could play this game. I knew I could start. This team (Houston) gave me the best opportunity and I'm happy here."
Washington's opportunity knocked during the second game this season, when starting left guard Milford Brown went down with an injury. He entered the game and has preserved his spot since, helping running back Domanick Davis rush for four, 100-yard performances.
If there's one game when Washington wants to keep the sack number low and rushing yards substantial, it's against his former counterparts.
"It's a big week for me just because I'm playing my former team," Washington said. "It's not as much playing my former teammates but it's about showing the coaches what they missed out on."
Sunday may put to rest some of Washington's reservations about having to keep his football abilities under wraps for five seasons. But he knows better than anyone about what challenge lies ahead.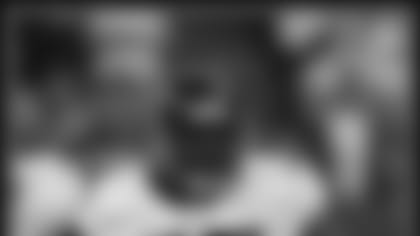 Washington played in 51 games with three starts in Tampa and has gone on serve as the Texans starting left guard in nine contests this season.
Practicing for years against one of the league's stingiest defenses prepared him well. But being familiar with the Buccaneer's defensive forces doesn't make it any easier, especially when the NFL's seventh-ranked unit has Warren Sapp lining up along the front line.
If Sapp's foot injury allows him to be active on Sunday, Washington will spend a lot of time going head-to-head with the defensive tackle where the possibility of re-hashing old times over helmet sparring is a probability.
"You can't relax for one," Washington said about preparing for Sapp. "He's a guy that can come after you with three or four moves on one pass rush.
"He causes a lot of teams problems, this season and his whole career. It's going to be a tough game for us."
Washington is well aware of Sapp's on-field trickery. He's also familiar with the sack-savvy tackle's verbal intimidating tactics, dating back to college, when his Hokies faced Sapp's Miami squad once a year in Big East play.
While the two may not consider themselves close friends or distant enemies by any means, their common bond will make the match-up very interesting and quite competitive.
"It should be fun because we've had a lot of good battles in practice and some not-so-good battles in practice," Sapp told the Houston media Wednesday. "We're not on the same team, but we both get those plusses and minuses (coaching grades) after the game, so it will be one of those nice little deals."
Every game on the Texans' 16-game schedule has ranked just as importantly on Washington's docket, but a strong performance in his old stomping grounds will probably taste a little bit sweeter than the rest.