J.J. Moses was down on one knee with his helmet to his side patiently waiting for his chance to return a few punts.
Patiently being the key word.
*Up. Not yet. Down. Up. Maybe. Down. *
It was the third week of training camp and the fans in the Bull Pen were in midseason form. The group of fans appeared at practice and were feverishly chanting Moses' name. The return man has become a crowd favorite and they were letting everyone know it.Quite literally, he's a little guy (5-feet-6) that has done well.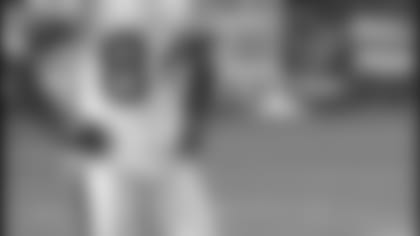 He was the team's leading return man in 2003, totaling 1,355 yards on kickoff returns and 244 yards on 36 punt returns.
He eventually got his shot that night at practice, but has seen little action at his position since the start of the preseason.

Coaches have been giving new players more reps to see their ability.

Moses however has taken advantage of his limited reps, returning a kickoff 55 yards against Pittsburgh.
"It's been more of a growing process for me," Moses said Tuesday, knowing he will get some chances in the Texans final preseason game. "It has taught me a lot of things. I don't worry. I learned a lot of stuff, just watched and I was real patient."
The team released cornerbacks Vontez Duff and Rober' Freeman and wide receiver Albert Johnson Monday afternoon. All had seen time at punt and kick returns.
Wide receiver Kendrick Starling returned kicks at Denver Aug. 28 and will play again Sept. 2 in the team's preseason finale against the Buccaneers. Wide receiver Jabar Gaffney has also seen time as a punt returner.
Starling is the physical antithesis to Moses, standing a little over six feet with the speed and strength special teams coaches love. He has also played on the punt coverage team during the preseason.
Together, he and Moses may be the Texas equivalent to "Thunder and Lightning."
"You're always looking for speed and he's impressed us with his speed," Texans head coach Dom Capers said of Starling. "He did a good job as a gunner last week. He's got some toughness. He can throw his body around and that's a good combination."
But Starling isn't jumping to any conclusions with the team's final cut down to a 53-man roster a little less than a week away.
"You can't be too happy right now," Starling said. "Cuts are still coming about. I can just go out and see what I can do to help the team out, whether it's kick return, punt return … anything."
Capers said the Tampa Bay game will be Moses' chance to shine.
"J.J. is going to take the majority of the returns because we want to take a good look at him before we make the final decision," Capers said.
And Moses is not concerned about being rusty. Like the fans who love to say his name, he wants to be in midseason form.
"I believe the fresher you are the better you are," he said. "You take Domanick Davis' case for example. When he was injured a little bit during the preseason he goes out and rushes for 1,000 something yards during the regular season.
"I'm going to go out there and do what I've been doing, have fun, be patient and make the right decisions and make the most out of every opportunity I get."