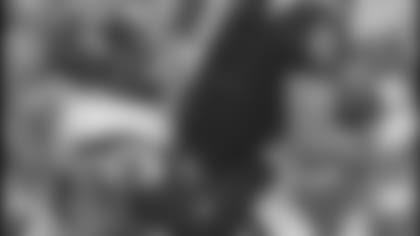 The 19 chosen players were a start, but the Texans needed more.
And in the defense that head coach Dom Capers was planning to install, they needed linebackers. The candidates? Players who possessed versatility, brainpower and an uncompromising plight to take out quarterbacks.
Why so? Because most of the linebackers in Capers' four-backer scheme would be making a transition from a pure defensive end to a linebacker-end hybrid. They would be expected to comprehend and execute complicated techniques and coverages, stop the run, drop back and cover receivers while maintaining an aggressive approach in the pass-rush.
Kailee Wong became available and team officials knew he'd be a solid fit. Now the question that remained was did Wong reciprocate the same sentiments?
Houston began to woo him at the first available opportunity and that March, Wong signed on and has since become a rock on the Texans defense. He's just one of six players to start all 33 games that the young franchise has played.
When Wong first joined the Texans, he was just as green as the rest of the gang, even with four yeas of NFL experience under his belt as the linebacker/defensive end in Minnesota. Now entering his third season in Houston, he's finally settled in and is helping his younger teammates do the same.
Though Wong has been a familiar face since the team's inception, his placement on the field has changed in both practice and game situations. As the left outside linebacker the past two seasons, Wong has been able to make 175 ½ tackles and 8 ½ sacks.
In 2004, the team forecasts even more production, and he's already off to a great start.
In the Texans' season opener against San Diego, Wong was busy stopping the run with eight tackles. But his pressure on quarterback Drew Brees was even more impressive. Wong posted the lone sack of the game, a bone-crunching hit in the fourth quarter on 3 rd and 4. The sack made such an impact that it forced a power outage throughout Reliant Stadium just as the Chargers were about to punt the ball back to his offensive teammates.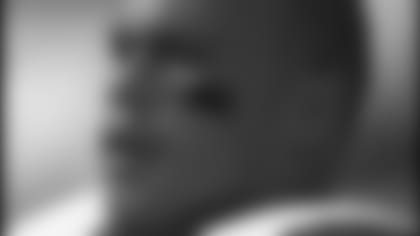 So there may have been a few other factors involved in the loss of power, but Wong's blow to the pocket was a great way to start off the season and was just one of four accounts where he was able to put some serious heat on Brees.
Wong did all of this while going up against the Chargers best line of defense, the team's left tackle, Roman Oben. It's a scenario Wong will face week-in and week-out from his new post on the right outside of the Texans defensive formation. Early-on, the switch seems to have been a positive move.
"I'm very excited about this season," Wong said. "I love playing on the right side. And I think my body's felt better than it has in a while. That's a big difference. People don't realize that problems with your transportation - feet, knees, legs, it really slows you down and it really makes a difference when you feel 100 percent."
Wong said he feels very comfortable in his new role, but even more so, it's the first year that he's been in Houston where his foot has been able to support the demands that playing outside linebacker entails.
"When I first came in, I just came off of foot surgery and literally, this year is the first year that it felt good and it's finally healed, so I had two years of limping around and struggling with it," Wong explained. "I had to really take care of it."
Wong often times played through pain, but hasn't missed a beat since becoming a Texan.
Though injuries weren't a factor heading into 2004 training camp, Wong did face a new test. In the offseason, the team drafted Jason Babin, a defensive end from Western Michigan. Babin was placed on the left outside while Wong switched over to the right, bringing experience and smarts to a site that faces some of the league's toughest blind-side protectors of opposing quarterbacks.
He was also thrown into the middle linebacker position during occasional practice sessions and even in the preseason, giving the coaching staff more flexibility in personnel changes or in the case of injury.
"I actually like to learn other positions because it helps me understand my position better," he explained. "With that being said, I just pay attention to what we're doing in every position, especially as a linebacker unit, they all work together. By knowing where guys are fitting beside you, you know where you're going to fit."
Wong's arrival started a trend. Once a defensive end at Stanford, he's not alone in making the switch. Under Capers, both Babin and Antwan Peek have also transformed into outside linebackers. All have been asked to change their stance as well as drop back into coverage instead of solely focusing on pass rush.
The guinea pig in Capers' 2002 newly-formed defense, Wong has now taken on a tutorial role for some of the unit's upcoming talents.
"I enjoy helping them and teaching them because they're converts like I was," he said about Babin and Peek. "I was a defensive end, they were defensive ends in college and now they're linebackers. I try to help them out and coach them and let them know the different things that I've picked up."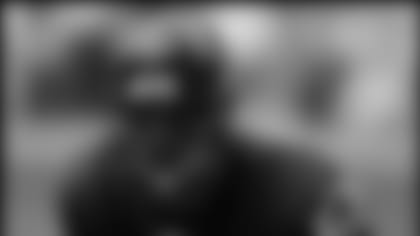 Wong seems to have an extra spring in his step these days. And while he's anxious to get the ball rolling and help improve the Texans' pass rush this season, a new addition off the field has sparked his enthusiasm that much more.
Wong and his wife Marissa are enjoying life as parents after the birth of their son just last month. The new addition to the household definitely keeps him up at all hours of the night, but keeps a constant smile on his face and greater intensity on the playing field.
"It's weird how it works because I'm more tired, but I love being a Dad and I'm really excited about being a Dad," he beamed. "It's the best thing that's ever happened to me so yeah, I do have a little different pep that I never really had."
There have been many new beginnings for Wong over the past few months, and Wong has welcomed them all with open arms.
As far as helping turn the Texans defensive unit into one of the stingiest in the NFL, Wong is ready, willing and able to chip in, anytime, anywhere.
"I think the goal going into this season is just help the Texans win," he stated. "We always talk about selfless attitude and that's really what it's about.
"I want to do whatever it takes to help us win."