DENVER – The road that cuts through an NFL season is never straight. It has bumps, curves, pot holes and dips.

It seems the Houston Texans got caught up in some sort of narrow mountain pass Sunday afternoon here in the Mile High City.

It was tough. Hard to get out of.
With the Rocky Mountains towering in the distance Houston dropped its first game in more than two weeks, falling to the Denver Broncos 31-13.
This was a day where nothing went right, beginning with a promising opening drive that ended in a missed Kris Brown field goal.

"In this business there are going to be days like today," head coach Dom Capers said. "When we lose, we lose as team. Every man is going to step up and take full responsibility. We didn't do a good enough job coaching and we didn't do a good enough job playing. Consequently we got beat."

The Texans defense held the Broncos to three-and-out on their first drive, but Denver responded with a Jake Plummer to Jeb Putzier touchdown pass and a Jason Elam field goal on its next two possessions to take a 10-0 lead.
The Putzier touchdown capped a 99-yard drive by the Broncos offense.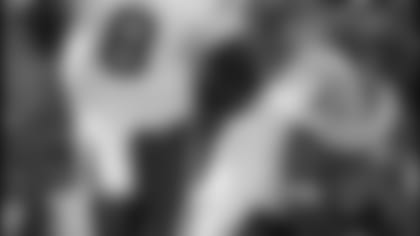 "It's just kind of a snowball effect," quarterback David Carr said. "On our first drive we should have got points. If we get a touchdown there or we get three it might have changed the game a little bit but in the NFL if it starts snowballing like that, it's hard."
Hard is also a good word to describe the Broncos offense which seemed to rediscover its identity Sunday.
Reuben Droughns rushed for 120 yards, while Plummer completed 16 of 24 passes for 234 yards and four touchdowns.
"They didn't do anything we hadn't worked on," starting defensive end Gary Walker said. "So that's the most frustrating part. We got guys running free, running backs running through tackles. We didn't tackle, we didn't cover, we didn't pressure the quarterback. We had opportunities to do some things but we didn't get it done."
The Broncos (6-3) had lost two-straight games entering Sunday and spoke all week of the importance of getting a convincing win heading into the team's bye week.
Perhaps that intensity – and the defining moment of the Texans miscues – was exemplified on the Broncos 99-yard scoring drive.
Cornerback Aaron Glenn was called for pass interference on the drive, turning an incomplete pass to wide receiver Ashley Lelie into a 36-yard gain. The Texans were less than pleased with the call.
In all the Texans were penalized nine times for a season-high 109 yards. So when a solid Bronco defense wasn't stopping Carr and the offense, they were stopping themselves.
Carr threw for 245 yards but no touchdowns in the game, the team's only other score came on a Davis touchdown run with 6:53 left in the game.
Davis had perhaps his best game since the season opener, rushing for 71 yards on 19 carries and catching two passes for 19 yards. But he was rendered largely ineffective in the second half.
The Broncos scored on the first drive of the third quarter and the Texans were left one dimensional in the comeback effort. Denver responded by pressuring Carr on four-man rushes, sacking the quarterback four times for 17 yards. Wide receiver Andre Johnson, who entered the game fourth in the NFL in receiving yards, was held to 28 yards on three catches.
Denver defensive ends entered the game having recording only two sacks in the previous five games. They got two Sunday.
On the flip side the Texans defense did not get a turnover for the first time in two games.
Part of the credit goes to Plummer who made no mistakes and, according to linebacker Kailee Wong, did an excellent job of managing the game.
Maybe it was a lack of pressure – the Texans had only one sack in the game – or breakdowns in coverage. No matter what, Wong said Sunday's game shows there is always work to be done.
"The defense works together," he said. "You need to have pressure and you need to have coverage and those two things go hand-in-hand. If you don't have one or the other or you don't have both, then you really get in trouble.
"We definitely have to keep working. We haven't arrived. We have to keep preparing and we have to come out and play well. Otherwise, we can get it handed to us on Sunday."

Now back to the road.