INDIANAPOLIS-- On the surface, it stings, especially considering the 14-3 lead in the second quarter.
But some perspective is in order here. These were the Texans, the league's second-year entry, going toe to toe with the first-place Colts in their house. Without their starting quarterback, starting outside linebacker and Pro Bowl defensive end.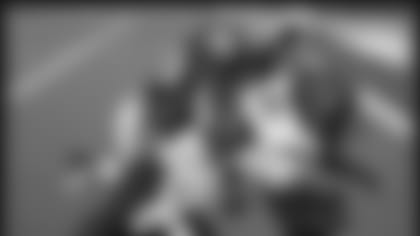 Davis has added some punch to Houston's running game.
Yet the Texans were right there in the fourth quarter, rallying within 27-21. Indianapolis then did what good teams do -- the Colts rode their stud running back Edgerrin James to a game-clinching field goal. The Colts were 30-21 victors, 6-1 and still atop the AFC South. The Texans were 2-5 and heading home with a three-game losing streak.
"There's a reason the Colts won today, why they have a 6-1 record and why they're leading our division," head coach Dom Capers said. "They're making plays."
The Texans were also 2-5 at this point last season, flying home after a win at Jacksonville. But this year's 2-5 is a whole lot different.
Why? Consider in this building last year, the Texans' offense couldn't do anything. Houston's defense played one of its best games of the 2002 season, yet the Texans were never in the game in a 19-3 loss to the Colts.
There were a lot of games like that in 2002, games you would expect from an expansion team just trying to find its way. But this season the Texans aren't being manhandled. Sure, Houston still makes plenty of mistakes, the kind that can ultimately lead to defeat. Last week it was penalties at inopportune times. Today a fumble late in the first half handed momentum to Indianapolis.
But that's going to happen. This offense still counts five first or second-year players so every week the unit improves. The most encouraging sign as November comes into view is how physical Houston's offense has become.
Rookie Domanick Davis rushed for 105 yards Sunday, his second consecutive 100-yard effort. He became the first back to crack that barrier in his first two NFL starts since Denver's Mike Anderson three seasons ago. Davis is not only fast around the edge, but he can make people miss and, if need be, run them over.
"I don't know if I'd really refer to him as a smaller guy," Capers said. "He's not the tallest guy, he's 5-9, but he's right in that 218-220 range. He's build low to the ground and has a low center of gravity and has good strength in his lower body.
"I'm encouraged by the offense. Domanick gives us an added dimension."
The Texans have no doubt found a running back. But Davis is only as good as the blocking in front of him and in that area the team has made tremendous strides. There were plenty of holes that sprung Davis into open space against the Colts. Left tackle Chester Pitts might be the most improved player on the team and the most improved offensive lineman in the league.
Quarterback David Carr absorbed a beating last season and responded by bulking up and developing a quicker delivery. Trust us, word around the league is that this second-year quarterback is developing at a rapid pace, from reading defenses to making throws. Carr was 8 of 9 for 62 yards and one touchdown against Indianapolis before his right ankle sprain shelved him for the remainder of the game.
He's completing 58.9 percent of his passes and has thrown six touchdowns and eight interceptions. Most of those picks, however, have come when the Texans were in desperate catch-up mode. Bottom line, Carr is making better decisions and the Texans have helped him by getting him better protection and more weapons to target. The hope now is that the ankle injury isn't too severe.
"It felt like it got rolled on," Carr said. "The X-ray looked fine, so I went back out for that next series. Then on the touchdown, I think I messed it up again. So it was about time to get out of there."
If Carr is out for awhile, backup Tony Banks is just what the Texans need -- a veteran who understands his role and doesn't get rattled. Think the Lions and Redskins, both also starting first-round picks in their second seasons, wouldn't like to have a veteran like Banks right now at No. 2?
Houston's defense was carrying the team last season but its most remarkable statistic might have been this: In all of 2002, the Texans had a defensive starter miss a game due to injury just once (strong safety Eric Brown at Cleveland). That's a pretty good 175 out of 176 starts. We all knew this defense was solid. We also knew a run of injury luck like that in 2003 was very unlikely.
Defensive end Gary Walker missed his third game today, linebacker Charlie Clemons his second. Nose tackle Seth Payne was lost for the season in Week 2. Cornerback Aaron Glenn returned against the Colts after a two-game absence only to suffer a head injury and miss a few series in the second half.
You get the picture. The defense is suffering attrition at an alarming rate and, as a second-year club, the Texans haven't had the luxury of numerous drafts to bolster their depth. Injuries hurt every team in the NFL, but they hurt the Texans a little more.
But this team keeps fighting on both sides of the ball and will continue to fight. It's the only way a Dom Capers-coached team knows how to play. And yet another first-place team awaits next week to complete this schedule's latest installment of Murderers' Row.
         The
         Texans might not beat the Panthers. We know they won't be favored
         to. But Houston will be physical from the opening kickoff to the
         final whistle. And pretty soon, more often than not, it will be the
         Texans that are delivering the knockout blows.