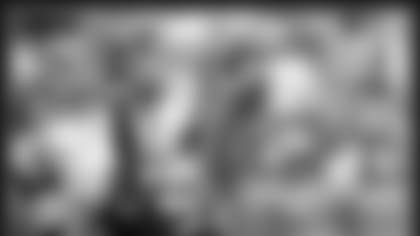 LB Shantee Orr celebrates after stalking the Falcons' elusive Michael Vick
Out of every grim situation, something positive emerges. Football is no exception to the "cup being half-full" philosophy.
Last season, a new Houston squad was able to lean on a seasoned defense to keep the cohesive unit in games. Over the past few months though, the ever-so-dependable Texans' veteran defenders have slowly fallen one-by-one to the injury gods.
Yes, without the leadership and knowledge of players like Seth Payne, Gary Walker and Aaron Glenn, there has been a void felt on both sides of the ball. But in the process, hidden talents have surfaced, pleasantly surprising all who follow Houston's football franchise.
Texans rookie linebacker Shantee Orr has proven that serving in a reserve role carries value, impact and reliability; traits that he immediately translated into actions the day he was elevated from Houston's practice squad to the 53-man active roster.
In just four games, Orr has played with the intensity and fire of a champion and the determination of a confident professional. In his first NFL game against Buffalo, Orr sacked quarterback Drew Bledsoe and later scooped up Bledsoe's loose fumble. The following week against New England, he pressured his former Michigan teammate Tom Brady into throwing a hasty pass that sailed right into the arms of cornerback Marcus Coleman and later split credit for a half Brady sack. And most recently, in Jacksonville, his Byron Leftwich takedown cost the quarterback 12 yards in loss.
It wasn't so long ago that Orr watched Sunday contests from a suite in Reliant Stadium. In fact, it's been less then a month since he was told that the hours logged on the Texans' practice squad would soon pay off. It would be Orr's opportunity to show his talents; skills that were passed over by all 32 teams during April's NFL Draft.
As linebackers' Charlie Clemons and Antwan Peek were sidelined with nagging injuries, the Houston coaching staff looked to Orr and believed that he could make the jump to play on Sundays.
The situation wasn't foreign to Orr, who was both a starter and backup over three seasons with the Wolverines.
"If a guy went down, no one had time to sit there and coach up another person," Orr said about being ready to go in to play on a dime. "They had to be ready to be on the go in, in case something like (an injury) happened. That's how a lot of guys get opportunities."
So when it was his turn, Orr didn't feel pressure and probably didn't even break a nervous sweat. Heck, we're talking about a guy that played quarterback, fullback, tailback, tight end, safety, linebacker, defensive end and punter, at Denby Tech Prep in Detroit. Yes, that's correct, punter! (his longest recorded boot measured in at 64 yards).
Orr rotated at the plethora of positions over a four-year span on both junior varsity and varsity squads, but rest assured, on any given game in any year, Orr could be found playing on offense, defense and special teams.
On one occasion in high school, he took part in a three game scrimmage series in one day that left his body reeling after serving as the team's multi-faceted workhorse.
"We got back to school and my whole body just locked up on me," he remembered. "I couldn't walk, I couldn't move. It took my teammates about two hours to get me home.
"For an hour, I was stuck outside of the school, laying there cramped up. I had to drink water from a gallon pitcher and they had to pour water on me."
And to think that football wasn't even Orr's first love. He grew up a basketball fan, and played in high school for about three seasons before he solely concentrated on football his senior year.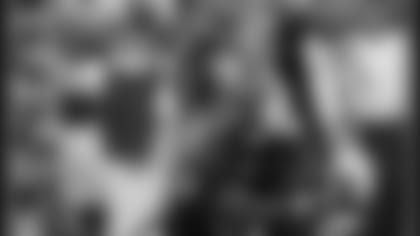 Orr reacquaints himself with former Michigan teammate, QB Tom Brady
But above all that, Orr was most interested in his schoolwork. Football was just an activity while academics were a priority. It was that reason, not just football, that drew him to Michigan.
"I went there because I could get a good education," Orr said about choosing Michigan over the other colleges who had been recruiting him. "That was the main reason I went there."
Just one week into his first week of Michigan two-a-day practices, the coaching staff switched Orr to defensive end. He redshirted his freshman season and after practicing along the line for one year, he was moved to outside linebacker where he played behind and then rotated time with Victor Hobson (New York Jets). But about four games into that season, Orr was moved back to defensive end where he spent the remainder of his time with the Maize and Blue, notching 79 tackles, 13 sacks, nine passes defensed and three forced fumbles.
After wrapping up his third year, Orr knew his size predicted that his NFL fate would be that of a linebacker. Wanting to get a jump on the position and not linger at the end of the Michigan line for a final campaign, he elected to enter the draft early. But draft day came and went and Orr didn't hear his name selected.
He was signed soon after by Green Bay as an undrafted rookie free agent and spent spring camp and some time in summer training camp with the Packers until his release.
In late July, his wife's family had driven to Wisconsin to see him play in a scrimmage. That next day, Orr was told that he was being released.
"I called my mother-in-law who was down the street eating breakfast and said, 'Well, I'm coming home with you,' and we all drove home together.
Not even 24 hours later, Orr received a call in Detroit from his agent with some news.
"You're going some place hot. I can't tell you right now because of the rules, but by four o'clock, I'll let you know," his agent said over the phone.
Soon after, Orr made the trip down south and was able to immediately find his niche in Houston's 3-4 defensive scheme, where his previous experience at both linebacker and defensive end could be combined to play the outside spot in the four-linebacker set.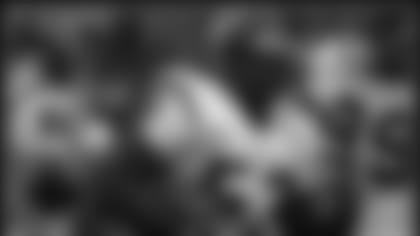 Orr's fumble recovery in Buffalo helped seal the Texans 12-10 win
"I love the defense that we run here," Orr smiled. "Before the draft, everyone was saying that I'd be good in a 3-4, but there weren't many out there."
For a guy who treated football as a hobby, Orr has burst out of the gates with lightning intensity and an obvious zest for the sport. Mental willpower has allowed him to climb the ladder from a non-draftee, to a scout team body, to a now impressive young talent. Orr attributes the early NFL career rise to none other than, his "brain."
"That was one of the reasons that I came out of college was that I really believed in myself," he explained about his mental strength. "I never really took any personal opinions from anyone else."
And it's a good thing, because Orr has plenty of ability and poise to keep climbing the rungs of the professional ladder. His first step, taken in Houston, has been nothing but a pleasant surprise to the entire Houston staff, team and Texans' football aficionados.