If it sounds too good to true, then it usually is.

Pay no interest! Lose 10 pounds in a week! Line up against the league's worst run defense!

The Texans saw the stats Monday morning when they wandered into Reliant Stadium. Through two weeks, no team in the NFL has given up more rushing yards than the Kansas City Chiefs, who are surrendering five yards per carry and 187.5 yards per game. But it's not like Houston is rushing to install the triple option.

"You see their defense play well at times," head coach Dom Capers said. "They've just been struck by the big play."

Granted, that's like saying a golfer had a great round aside from that quintuple-bogey on the 18th hole. But the Texans have watched the film and the stats don't tell the entire story.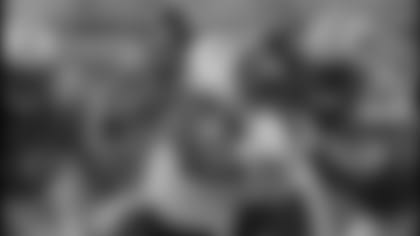 Yes, the Chiefs have had their problems stopping the run. But new defensive coordinator (and former head coach) Gunther Cunningham has been taking chances. Sometimes it pays off. Sometimes it doesn't.

"It's not going to be a basic defense like we've seen the last two weeks," quarterback David Carr said. "Their defense is very aggressive. You'll see. They have as many negative-yardage plays as they have big plays against them. You just have to eliminate the negative plays. If you do that, you can have some success."

Kansas City has had trouble with gap contain and when you're aggressive, one missed assignment can spell trouble. That's been especially true in the second half of the Chiefs' two losses. Whether that's a case of the Chiefs wearing down remains to be seen. But the numbers are staggering.


The Panthers had just 42 rushing yards at halftime last week before exploding for 141 in the second half, including a 71-yard jaunt by backup running back DeShaun Foster that essentially iced the game.

In their opener at Denver, the Chiefs allowed 202 rushing yards, 139 of those after halftime. The diminutive Quentin Griffin averaged 6.8 yards per carry. In all, Kansas City has been outscored 24-0 in the fourth quarter.

So what gives? It's hard to say. The Chiefs have been solid up front. In fact, as Carr indicated, they've already collected close to 20 plays for negative yardage. And the secondary has already picked off four passes, including a 43-yard touchdown by cornerback Eric Warfield.

But the Chiefs are still giving up the proverbial home run and it may be due to the team's play at linebacker. Middle linebacker Monty Beisel was a special teams player before being inserted into the starting lineup this season. Right linebacker Shawn Barber told reporters to blame him and him alone after the loss to Carolina.

"I think what I'd like to improve is our ability to stop the run, to try to get into a situation where we can force the opponent to be a little more one dimensional and dictate then how we play defense on the longer yard situations rather than the offense having a balanced down and distance situation through a ball game," Chiefs head coach Dick Vermeil said. "Gunther is trying to bring a more aggressive, a downhill approach to the front seven of the defense. Whether it works or not, right now we've done a lot of good things, but we've still given up the big run."

The Texans know that. They also know that, despite an 0-2 start, they have been able to move the ball. Running back Domanick Davis' three fumbles and Carr's three interceptions have stalled an offense that actually ranks 10th in the NFL in total offense, averaging 361 yards per game.


"The offense, for the most part, is clicking," tight end Billy Miller said. "We've had some costly turnovers, but the offense is still moving the ball. Domanick Davis is getting his yards, the receivers are making the catches, we're still doing good things. But we have to take care of the little things, which have become big things."

How big? Those six turnovers have led to 28 points by the opposition.

"For us, we have to protect the ball," Davis said. "That is the main thing, first and foremost. It's hard to win games if you have a bunch of turnovers. I know I was a big part of the turnovers (last week). I had two myself. We just have to work on that. That's what I'm going to do."

The Texans didn't sit Davis against the Chargers or Lions, so they don't plan to sit him Sunday. Houston wants to establish Davis early, especially on first down. The shorter the down and distance, the less aggressive Kansas City can be.

"You just have to make sure you don't get into second and third-and-long situations," Carr said. "That's true against any team but especially against these guys."

If the Texans can continue to run the ball, it opens up play action and gives Carr a chance to look downfield. It also keeps Kansas City's offense on the sidelines, it keeps the Arrowhead crowd relatively quiet and it increases the chance to break off a big run.

"If we protect the ball and do what we have to do, we can do some good things," Davis said.

Easier said than done. But if Davis can find a few slivers of daylight and make those linebackers miss, Houston's offense could be making the Chiefs see red yet again.