It was one of the Texans' most valuable off-season acquisitions to date.

Back in March, general manager Charley Casserly and the cast of Texans coaches were smitten when tight end Mark Bruener decided to come to Houston after a nine-year run with the Pittsburgh Steelers. With each day that has since passed, the group has appreciated his worth to a greater degree.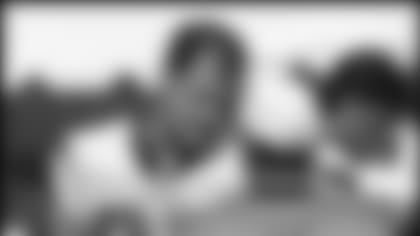 Bruener consults with tight ends coach Tony Marciano.
Bruener has thus far proved that his attributes are worth more than head coach
Dom Capers
could ever price tag, especially since one of his tight end colleagues,
Bennie Joppru
, re-aggravated last season's groin injury before the start of training camp sessions.
"I'm glad we have Mark Bruener in a number of ways," Capers said. "He's going to be one of our team leaders; he's a pro; he's a hard worker and a steady guy who won't get rattled in pressure situations. He's been there and he's done it."
While Bruener has established himself as one of the NFL's premier blocking tight ends, his intangibles are immeasurable. He brings experience to a young offense that will pay dividends in both the running and passing game.
Bruener has been a popular component in many of the Texans schemes early on in training camp and will be used to create holes for the Texans running backs while serving as a consistent force in pass protection.
His reliable hands and superb technique make him an artisan at his craft, attributes that give players like quarterback David Carr and Davis, the team's workhorse in the ground game, continual insurance that plays will be executed according to plan.
While speed and flash can only take players to a certain level, characteristics like Bruener's veteran savvy and vision of defensive coverages and open areas have catapulted him into the upper echelon of professional tight ends.
Bruener and fellow tight end Billy Miller have so far played a major role in the Texans zone-blocking scheme as well as in the passing game. Both have received ample repetitions at their respective posts with Bruener going head-to-head with defensive ends, linebackers and sometimes cornerbacks.
He's soaking up every snap in his versatile role.
"I'm really enjoying what they're asking me to do in our offense," Bruener said. "I'm doing a lot of blocking to help Domanick Davis and also doing some pass receiving and protection to help David out as well."
The zone-blocking scheme in Houston varies from the Steelers' offensive playbook. In Pittsburgh, Bruener spent the majority of his time in man-blocking formations. Since his arrival, the Texans offensive coaches have Bruener now patrolling a region of the field where defensive threats are denied from entering his turf.
The zone-blocking technique also gives Bruener a little more flexibility in picking up and staving off different defensive coverages, but in the process, demands constant communication between the tight ends and trench men.
"You have to make sure that both the tackle and tight end are on the same page because if I assume one thing and Todd Wade assumes one thing and we're not communicating, it could be a major problem with a player not being blocked."
But Bruener doesn't very often run into that snag. His years of perfecting proper technique allow him to play against all body types and positions in both run blocking and pass protection.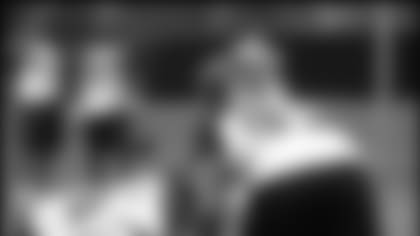 Bruener and OLB Jason Babin are getting to know each other during camp.
"If they want me to block a defensive end, I'll do that and if they want me to block a linebacker, I have to do that as well," he explained about possible matchups. "We're going to face a lot of four-down lineman teams where there's going to be a big defensive end over the tight end.
"I feel that if I continue to use the proper technique, then I'm going to be pretty effective in helping the running game out."
Technique wins games. That's exactly what the Texans coaches love about Bruener's style of play. It especially adds an element of stability on such a young squad.
"At this point in Mark's career, he uses his head instead of speed," tight ends coach Tony Marciano said satisfyingly.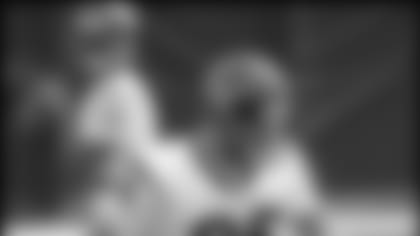 Bruener guards the pocket for QB Tony Banks.
While Bruener's responsibilities were always intended to play a great stake in the Texans 2004 shored up offensive unit, they have become even more critical now that his unit is a man down with the indefinite loss of Joppru.
"They told me that I was going to have an opportunity to earn a chance to play with this organization and I just need to go out there and earn that chance," the veteran said. "Nothing is ever given and you should never expect anything. What you should do is expect to come to work and work hard and hopefully things will happen.
"It's very unfortunate that he (Joppru) got hurt but then again, we have to find a way to get somebody else in and hopefully he can come back and be effective in our tight end group."