Jason Anderson answered it knowing it could be anybody, but not a pro football team.
He missed his chance on that one.
Gone but not forgotten, football hadn't been a part of the running back's life for more than a year. He was in Las Vegas doing construction. That was that.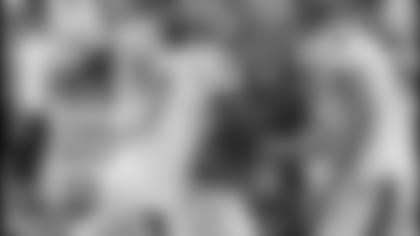 But it was his mother on the line that day, oddly asking if he wanted to play football again.
A few days later the phone rang again – Texans scout Larry Bryan.
That was September. In December Anderson ran drills for the Texans at UCLA. The team signed him, sent him to NFL Europe and welcomed him to training camp.
"I'm not going to say it was luck," Anderson said. "I was just blessed with the call."
Now there's no time for the phone.
Anderson bounced around after high school, playing first at Antelope Valley College near his home in Palmdale, Calif. He later transferred to South Dakota with varied success, rushing for 398 yards and six touchdowns in seven games in 2002.
The touchdowns were a sticking point. And when Bryan came across a video of Anderson breaking 50, 60 and 70-yard runs at Antelope Valley, his mind was made up.
Anderson had similar numbers for the Amsterdam Admirals in NFL Europe, carrying the ball 45 times for 161 yards.
A certain spark began to appear inside of Anderson – a will, a heart, a drive to do the unexpected.
"He's probably our fastest back," running back's coach Chick Harris said. "He's just a raw talent that everyday he's getting better. His deal is exposure. He has not been exposed to a whole lot at this level, but he's in there taking it on and I think he's going to do a good job."
He has played physical on special teams and showed speed and decisiveness through the line. But perhaps his biggest moment came Monday night, when he held off linebacker Raheem Orr – 50 pounds heavier and three inches taller – not once, but twice in blocking drills.
"He has the right attitude," Harris said. "He's very truthful about who he is and what his limitations are. When you know that, when a person will come out and try to say 'Coach I need some work in this area, can you help me here?' Now he's got half the battle won because now he's willing to take care of those shortcomings and get himself better."
But he admits his past experience at smaller schools hasn't made the transition to the NFL easy. Speed he can get used to. The books are a bit tougher. Anderson said it's also hard being away from home and his 4-year-old son.
"That's my pride and joy," Anderson said. "Whenever I get a chance I like to spend time with him, go to the park, you know, do whatever little kids like to do. Right now he really doesn't understand, but hopefully one day I'm going to tell him that I left him behind for a minute to do what I had to do so I could make it better for me and him."
Practice ended right on time Monday morning. But it was too early as far as special team's coach Joe Marciano was concerned.
Anderson and a few others stayed out in the heat working on punt return and special teams. The roar of practice was gone and the voices of other players had disappeared over the bridge from the practice field to Reliant Stadium.
All that was left was the metallic clank of the ball machine, which rang out as balls were launched into the air to a waiting Anderson.
One ball after another launched into the muggy sky and Anderson sprinted around the field to retrieve them, throwing a catch aside without taking his eyes off the next target. He screamed in frustration and success.
Sweat dripped from his face. He was the last one back to the locker room.
"He has ability. You don't have to look at him very long to see that," head coach Dom Capers said. "He's got speed. We're trying to work him in and see what he can do on the kicking game because that will be one of the critical factors for Jason. If he can be a solid contributor on the kicking game, he increases his opportunity of making our football team."
Even with compliments, Anderson was upset after Monday night's practice. He had two fumbles on offense to go along with the tremendous blocking he showed before.
"Right now I have to pick up my 'A' game," he said simply. "I had a bad practice today. I don't know. I just have to bounce back tomorrow.
"My dream is to make this squad for one and keep progressing and do what I need to do on the field and off the field."
Then he can pick up the phone and call home. This time, with his own good news.