Sometimes in this classroom they call the Houston Texans, the lessons have come hard. Especially for some of the teachers.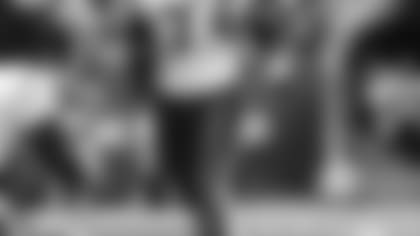 Offensive tackle Ephraim Salaam has been expected to be one of those teachers. A ninth-year veteran who has played for three previous teams and gone to the playoffs with each, including a Super Bowl, Salaam is the kind of player who has been brought in to both play and help the younger players.
"I've been blessed and fortunate enough to play a lot of games in this league, playoff games and Super Bowls," Salaam says. "So I'm just trying to bring some of the experience and veteran savvy to the other guys.
"It's a work in progress. It's tough when everything's not rolling your way and you're trying to rebuild something from the ground up. But I enjoy the challenge and the task and I'm grateful to be here."
The younger players recognize how Salaam helps this team with his experience.
"It's helped out a lot," guard Fred Weary said. "Always having a veteran around who has played a lot of games helps. He's been to a Super Bowl. He's got that background to help young kids like myself and Chester (Pitts).
"He's just been there. He's been through what we're going through, especially when you're going through a losing season and the way it's been. I know it has been hard on him because he hasn't been through a lot of losing."
Salaam was with coach Gary Kubiak in 2002 and 2003 in Denver, the big tackle's third stop after being drafted by the Atlanta Falcons in 1998. That year, Salaam became one of only four players ever in the NFL to start 19 games, counting playoffs, as a rookie.
So Kubiak knew in Week 2 that when the Texans had to throw Salaam into a starting position after starter Charles Spencer went down for the season, Salaam would be able to handle the job. Since then, Salaam has started all 12 games.
"I feel good about Ephraim because that's why he was brought here, for this reason," Kubiak said then. "And he'll go in there and play well, I know he will. He's played a lot of football in this league."
He also has had a lot of injuries in this league. Salaam has had three knee surgeries to top the list of pain and anguish he has suffered in the NFL. His knees have again bothered him this season, but he keeps showing up for roll call.
Kubiak just expects Salaam to always be there.
"Ephraim's Ephraim," Kubiak says after checking the injury list each week. "We'll monitor him and hopefully he'll keep getting through for us."
Salaam just laughs it off. His aches and pains are taking on nearly fable status.
"I'm a soldier, baby," Salaam jokes. "I'm a gamer. I've been in this league a long time and my body knows how to store up enough energy during the week.
"It's just something that once you've played a lot of games you get comfortable and you know what you have to do during the week to get yourself ready."
His teammates watch and wonder.
"Once you get up over six and seven and eight years, the body tends to take its toll because of the wear and tear of this game," Weary said of Salaam. "But he's done everything he can do to get himself ready for the games on Sundays. He may come in here limping on Monday and Tuesday, but come Friday, Saturday and Sunday, he's ready to go.
"I don't know what he does."
Nothing special, according to Salaam. It's all a matter of mind over what matters.
"That's what I am," he said. "I'd do anything for my teammates and the organization to win. I enjoy playing. How can I not be ready to play? I really focus in on not a lot of extra movement. I stick to the play and get back to the huddle."
Besides, Salaam knows he isn't the only offensive lineman hurting. The Texans have had three starters – Spencer, tackle Zach Wiegert and center Mike Flanagan – go down for the season due to injuries, and all of the others have been slowed by bumps and bruises at one time or another.
"It's difficult with the injuries we've had this year, especially across the offensive line," Salaam says. "But we've got a lot of depth and a lot of guys who are ready to play, and that's just a credit to the younger guys who've had to step in and play."
The Texans, of course, need a healthy Salaam with so many key injuries wiping out the offensive line and disintegrating pass protection.
"We're struggling there," Kubiak says. "There's no secret there. We're struggling a little bit with continuity and a little bit with some guys being worn out.
"Ephraim has been playing now for 13 weeks and has had a knee issue. He's given us everything he's got, but he's beat up."
Salaam wants to give more. He sees quarterback David Carr taking the brunt of the criticism for the Texans' failed season and he knows the blame should be spread around.
"I do," Salaam says. "There's been some ups and downs, some things we have to work on to help David out. I want to put some of the pressure on myself and take some off of David.
"I think if I play better, then David will inevitably play better. So that's my focus. I want to have one of my best games this week to help David play better. Because we're all in this together and I know he takes a lot of heat and it's not fair.
"I know I can play better. And I know I've done some things in some games that have directly affected David. And I want to be held accountable for those things."
*EDITOR'S NOTE:Jim Carley is a veteran Houston sportswriter who has covered the NFL for more than 25 years. He has worked for such newspapers as the Fort Worth Star-Telegram, The Houston Post, the Los Angeles Herald-Examiner and the National Sports Daily covering such teams as the Dallas Cowboys, the Houston Oilers, the Los Angeles Rams and the Oakland Raiders. *