Let's call it the calm before the initial storm.
The Texans wrapped up their May practice schedule Wednesday with a two-hour session inside the bubble. The next time the club hits the field will be Monday, when Houston launches its first of two four-day mini-camps over the next two weeks. Then the players get a break before they report for training camp on July 20.
"Next week will be the most intense phase that we'll go into," Texans head coach Dom Capers said. "Those first two weeks of June will be very critical to this team's development."
That's not to say Houston's 12 completed practices (six in April, six in May) weren't critical for the team's development.
"I'll say this -- we've made a lot of progress even though we have an awful long way to go," Capers said. "I don't think that there's any way we could line up this fall and compete if we weren't doing this right now."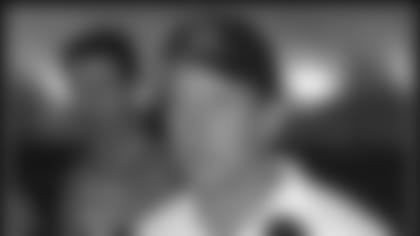 Texans head coach Dom Capers
The big story Wednesday was the return of wide receiver Jermaine Lewis, who suffered a left hamstring pull during practice on Apr. 27.
"I really didn't participate in all the team activities," Lewis said. "I just did some individual work, caught some balls and tried to get my feel back before we go to mini-camp."
Lewis, a two-time Pro Bowl selection as a kick returner, has been working feverishly since the injury so he can be at full strength for training camp.
"I've been doing a lot of treatment to try to get the leg stronger," he said. "Last week I ran pretty hard, did some wind sprints. So this week they told me to go out there in my cleats and try to catch some passes and run some routes.
"I'm anxious to make some plays."
Rookie quarterback David Carr participated in his second practice since the April mini-camp and is starting to feel more comfortable with his teammates.
"It's nice to be out here on a routine basis, I'm learning a lot every day," Carr said. "I still go up to the line wondering what the snap count is sometimes but, you know, that's the beginning part of it."
The speed of the defense is also a big part of it. Strong safety Chris Carter and cornerback DeMarcus Faggins each picked off Carr during practice. Faggins made a spectacular leaping grab along the left sideline. But Carr knows every practice aids his adjustment period.
"If you can slow the game down mentally and know what you're doing with the football, that helps counter the speed," he said. "You have to be smart out here. There are All-American football players all over this place. You can't get away with some of the things you try at the college level.
"I'm trying to get a good grasp of the offense so maybe I can take some chances later on down the line."
Capers acknowledges the tough road ahead for his expansion club but is also impressed with his team's attitude.
"The biggest thing we're trying to do is develop the traits that will give us the best opportunity to be competitive once we have to line up and play games," he said.
The Texans will conduct six practices next week -- one on Monday, two on Tuesday, one on Wednesday and two on Thursday. Houston will follow a similar schedule the following week. Once the final mini-camp is finished, it's time to look ahead to the Texans' first-ever training camp.
Which is when the real hitting starts.
"This is a physical, contact game," Capers said. "When we put the pads on, things change tremendously."
Rookie defensive tackle Ahmad Miller, the final pick in the 2002 NFL Draft, injured his left knee during practice and did not return.