When the Packers and Bears have met 167 times, it seems a little ludicrous to crown the Texans and Jaguars rivals.
After all, Houston joined the NFL just two years ago, which means Sunday's matchup between the Texans and Jaguars marks just their fifth encounter.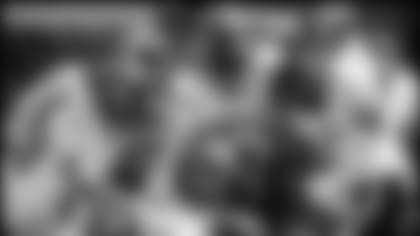 So in honor of the impending election, we'll choose our words politically: For two teams that have met only four times, you'd be hard-pressed to find two teams closer to being full-fledged rivals, both on and off the field, than Houston and Jacksonville.
Confused? Well, consider these talking points.
Both teams are 2-2 in the series, each having won a game on the opponent's home field. In 2002, Kris Brown's 45-yard field goal lifted the Texans to a 21-19 at Jacksonville, Houston's first-ever road win. The Jaguars returned the favor at Reliant Stadium three weeks later, jumping out to a 17-point lead and holding on for a 24-20 win.
In 2003, Jaguars head coach Jack Del Rio was still searching for his first win as a head coach when he decided to give rookie quarterback Byron Leftwich his first start under center in Houston. The move paid off for 59 minutes and 58 seconds. But with Jacksonville holding a 20-17 lead, and the ball resting at the Jaguars 1, head coach Dom Capers decided to eschew the field goal and go for the win.
If you don't know what happened, stop reading.
Jacksonville responded by handing the Texans their lone shutout loss later in the season when Houston was forced to sit its starting quarterback and running back amidst an avalanche of injuries.
"We've had some awful competitive games with the Jaguars," Capers said.
Off the field? Capers served as Jacksonville's defensive coordinator for two seasons before arriving in Houston. Offensive coordinator Chris Palmer held the same post for the Jaguars from 1997-98. Three of the Texans' expansion draft selections came from the Jaguars. Two of those players, nose tackle Seth Payne and defensive end Gary Walker, will be in the starting lineup Sunday. Guard Zach Wiegert and free safety Marlon McCree are also former Jaguars. Another expansion draft selection, kick returner Jermaine Lewis, is now in Jacksonville.
Past relationships, close skirmishes and even the occasional cheap shot. (Incidentally, Jimmy Redmond, the Jaguar who clocked kick returner J.J. Moses last season is no longer in Jacksonville.) This series has certainly been shaken, if not quite completely stirred just yet. But if these trends continue, we could indeed have ourselves a good old-fashioned rivalry.
Oh, and one more thing helps. Both teams appear to be peaking as Sunday looms.
The Jaguars are fresh off a 27-24 win at Indianapolis, which vaulted them past the Colts into first place in the AFC South with a 5-2 record. The Texans' win at Tennessee evened their record at 3-3 and gives them the chance to jump into the playoff talk if they beat Jacksonville.
"If you can go out and beat a team that's riding high like this, that does say a lot for your team," cornerback Aaron Glenn said. "Now does that mean you're going to make the playoffs? No. This is an important game because Jacksonville is the number one team in the AFC South."
OK, maybe we were getting a little ahead of ourselves. It sounds like there's no need to add any spice to the Texans-Jaguars series. If both teams keep improving, the rivalry will take care of itself. On the field.
Enjoy the latest installment.