Last March as the Texans huddled inside the RCA Dome, there was plenty of pre-draft hoopla surrounding the league's newest entry.
Houston had the No. 1 pick and Texans general manager Charley Casserly acknowledged on the second day of the NFL Scouting Combine in Indianapolis that his club was planning to take a quarterback with that selection.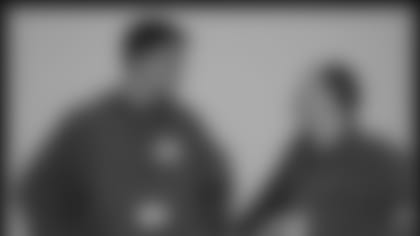 David Carr has upgraded his wardrobe since the last combine.
"Right now our plan is to take a quarterback in the first round of the draft and have him be the guy we're going to develop over a period of time," Casserly said.
We all know how that pick turned out. David Carr started from day one and took every offensive snap for the Texans in 2002.
Now the Texans depart for the combine again today, a few weeks earlier and a few picks behind Cincinnati's first overall slot. The buzz may be tempered a bit but Casserly and his staff will still utilize the same comprehensive approach.
"It's the same as last year or any year," Casserly said. "It's the first part of the evaluation process. You get the physicals, you interview the players. There's absolutely nothing we do differently for this one."
Last year's draft netted six starters amongst Houston's 12 selections. Then again, an expansion team offered more chances for rookies to play than the NFL's 31 other teams.
All six of those starters were on the offensive side of the ball. The Texans predictably ranked 32nd in total offense and most expect Houston to focus on offense in its second draft.
Perhaps. But the Texans aren't entering the combine with that specific mindset.
"You have to look at every position the same," Casserly said. "You never know who you're going to take. And all of these players will be free agents in four years so if you don't draft them you might be looking at them again in the future."
The combine, which will be six days this year instead of four, gives teams their first good look at college juniors and also offers teams the opportunity to interview each player. But lost in all the overwhelming jargon about "measurables" is the fact this is simply one step in an exhaustive evaluation process. Plenty of scouting work has preceded this event. And plenty more will be done after the teams head home.
"I think sometimes the combine can be way overrated," Casserly said. "A player's draft position is not going to change much based on the combine. You might adjust your position within a round or maybe up or down a round. But a fifth-rounder is not going to jump up to the second round.
"The guys were really interested in, we'll go to their campuses later on. And we'll bring about 20 players here for interviews in April."
Who will those players be? It's a little too early to tell. Plus, the Texans could always trade the third overall pick, an option they didn't consider that much with their first selection in 2002.
"We've been approached but it's early," Casserly said. "I think it's going to be a very valuable pick because of how I think the first two picks (Cincinnati, Detroit) will go."
         For now,
         the Texans will head north with an open mind, open ears and open
         eyes.