Only 12 days ago, they were on stage, soaking up the camera lights and proudly holding up their new jerseys.

That was then. Now cornerback Dunta Robinson and linebacker Jason Babin are on the field, trying to prove their worth as first-round picks of the Texans.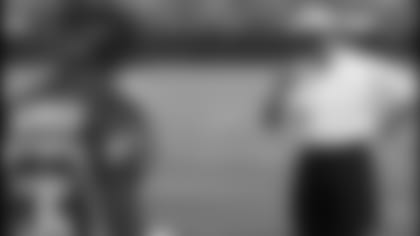 Robinson and Babin joined 25 other rookies and first-year players Friday as the Texans kicked off their 2004 rookie mini-camp. Two practices today will be followed by two practices tomorrow and a lifting session Sunday.

Today's practices represent a small step on the road to NFL success. But it's an important step nonetheless. 

"In the evaluation process you scrutinize these guys every which way," head coach Dom Capers said. "So it's nice to finally get them out on the field to hopefully confirm what you're getting.

"It's an important weekend for these young guys because they get the total focus and attention of the coaching staff."

And what was the coaching able to confirm on its two first-rounders?

"I think it was fine, for as much as you can tell without the pads," Capers said. "They're both good athletes and they look to be what we thought they were in terms of our evaluation. There are some players in this group that we'll be counting on to play a lot of football for us."

Robinson and Babin chief amongst them. The Texans are counting on Robinson to slide into the starting right cornerback position so he got plenty of attention from the coaching staff Friday.

"It was a lot of teaching, kind of like being a freshman all over again," Robinson said. "There's a lot of things I've got to learn, a lot of footwork drills, a lot of things I've never done before that I've got to get better at."

Capers, who started out his NFL career as a secondary coach in New Orleans, gave Robinson plenty of pointers. And Robinson certainly didn't mind.

"That's good," he said. "It shows that he really wants you to become a great player. I'm just learning right now and taking it all in."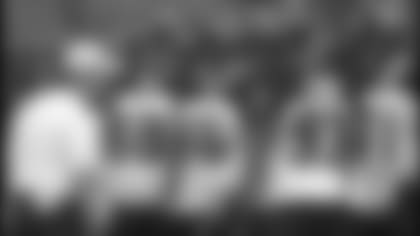 Babin is learning a new position, switching from a college defensive end to a 3-4 outside linebacker, which only accelerates his NFL learning curve.


"The whole thing is new for me so I'm just trying to take it one step at a time," Babin said. "I think the biggest thing they want from me is for me to show them that I can learn what they throw at me."

Capers indicated the toughest part of Babin's position switch is learning to drop back into coverage. But Babin thinks he's progressing with that facet of the position.


"It's not too foreign," Babin said. "I've been working on it on my own. I don't want to come out here and get too embarassed."

What is foreign is the amount of information that's being thrown at these guys. Whether you're from a power conference like the SEC or a lesser-known league like the MAC, the NFL represents a big step up in terminology.



"We went through my college playbook yesterday," Robinson said. "We did it all in a day. So there's a lot of new stuff being thrown at me and a lot of stuff I've got to soak in.

"If we were out here with the vets, we'd probably be running around like chickens with our heads cut off."

That's not to say Robinson isn't looking forward to matching up with Houston's veterans 10 days from now.

"You want to see how you measure up against the great guys," he said. "And we've got some real good receivers. It'll be kind of like how my college career started off, working against guys that have been there to see how good you can be. I'm pretty anxious about that.

"I didn't get a chance to cover Andre (Johnson) in college so I'm looking forward to it now."

Johnson probably seconds that notion. And he'll also be looking forward to a mini-camp where he's not one of the low men on the totem pole. The menial tasks are now for another group.

"Yeah, I'm sure I'll have carpal tunnel from carrying helmets and water bottles and what not," Babin said. "But it's part of it and I'm going to do it with a smile."