If you didn't play in the NFL, what would you be doing?
"I would be running group homes in California for boys. I just see the need for it and have visited a few and talked with them so I'd like to open my own in Hawthorne, California."
What is your favorite historical NFL memory?
"I would say as far as what changed my mind about just loving defense and loving the cornerback spot was watching Deion Sanders play football. That changed my whole outlook of football. He made cornerback a glamorous spot, a place where you could score, that you're not just covering."
Something most people don't know about you?
"That I'm married and have three children."
How has having a family changed your life?
"It definitely makes you understand responsibility. Now, my kids look up to me and if something goes wrong, they'll run up and grab my leg. I'm their security blanket. I have to make sure that I'm always there for them."
What is the last book that you read?
"The Bible. I'm reading it right now."
Who is the most frequently dialed person in your cell phone call log?
"My wife, because she's not here with me, she's in California. She's completing her Master's degree in Ontario, California so I'm here by myself. They (his family) visit a lot but it's still tough. During the off-season, I'm there the whole time."
"My kids. I get so much strength from them just from the simple fact that I'm their dad and it's a big responsibility for me."
What disc is in your CD player right now?
What is your favorite way to stay in shape?
"Playing basketball during the off-season."
You ran track in high school (he was all-state in the 4x100 m relay), are you still a big runner?
"I run when I get here, I save it for here."
Do you have a favorite quote or saying?
"One that we talked about last year from Sun Tzu, The Art of War, 'The more you sweat in peace, the less you'll bleed in war.' As defensive backs, we put a quote of the week up on the board and last year we got a lot of quotes from that book."
Do you have a morning ritual?
"I get up and pray every morning."
What is a day off like for you?
"Get a DVD movie, just relax and try not to move. I call for someone to try and deliver food. I'm a Chinese food guy."
What was it like beating your former team (Pittsburgh) last year?
"It was a good feeling, I will say that, because I still keep in touch with a lot of those guys and it was just fun. They kept telling me how bad they were going to beat us and that they would have to turn it off on us in the fourth quarter so it wouldn't look so bad. It was really fun.
"They were shocked. They couldn't believe that we were actually winning and that time was over and they didn't have any time to come back."
How important to you is playing on special teams?
"It's very important because that's why I'm on this team. You only have so many starters in this league and that's what helped me, because I realized that. Once given the opportunity, I plan on capitalizing on it."
How similar was your defensive role in Pittsburgh's 3-4 defense to the one you have here in Houston?
"The only thing that I didn't do as much there was that transition to safety. Everything else as far as the terminologies and defense was pretty much the same."
You were a high school quarterback and cornerback, which one do you prefer?
"Always having the ball in your hands is the advantage of being a quarterback. But when I stopped growing and I was 5'9", I had to let that dream go."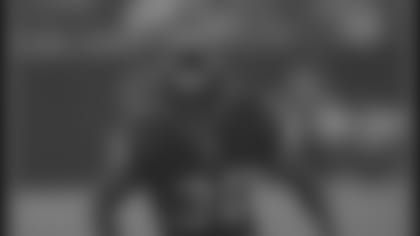 How versatile is your role on the Texans' defense?
"In this defense, if someone asked me what I played, I would say I'm a defensive back, because that encompasses everything. I'm the utility. I play dime, I play nickel, I play corner and I play safety. The more you can do, the easier you can stay around."
When your NFL career ends, how do you want to be remembered?
"As a guy that gives his all every time he steps on the field."
Who has been the toughest opponent you've faced?
"I just always base it on the fact that my best opponent is always the next one I'm facing. In the league, you can always get beat."
What are your season goals?
"My goal this season, numbers-wise, to have a minimum of three interceptions, three sacks. I'd like to lead the team in special teams tackles."
Was sacking Mark Brunell in Jacksonville a career highlight?
(the 10-yard sack was the first in Simmons six-year career)
"Definitely. Especially because it was on a guy I respect as a quarterback and an individual, Mark Brunell, so it was really big for me. Usually, they have a guy picking me up on the blitz to block me, but that time, I couldn't believe it was wide open for me. As I was running to him all I thought was, just don't miss the tackle. He saw me coming and knew I was free so I just had to make the tackle."
Did you take any off-season vacations?
"Yes. My wife and I didn't take the kids, and we have three kids, and we went to Disney World. It was just fun, relaxing, we had a good time, nothing serious."
You grew up in California, played college football at Arizona State and have been in Pittsburgh and Houston with professional teams, where has been your favorite place to live?
"As a California boy, I can't let go of the West Coast, I have so many ties there. But Houston is definitely second. When I got here and saw the city, it was something totally different than I thought it would be."
What was your favorite thing about playing at Arizona State?
"Probably just starting as a sorry team and actually being a part of the group that built it up and had that undefeated regular season. It was the '96 team, '97 Rose Bowl."
How did going to the Rose Bowl rank in your football file?
"That was a hard loss to take. We lost on a last-second drive to Ohio State. It was a good game but a game that we lost."
Have you received notable advice from a teammate or coach?
"I always try to take advice from a lot of people. One guy in Pittsburgh told me the more you know, the easier it is for you to stick around in this league. One I picked up from Aaron Glenn, something he always says, is to always make sure that you build yourself for something after football as well."