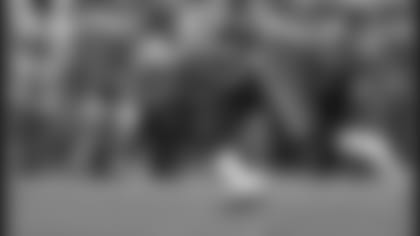 Bradford's third quarter 65-yard touchdown snag against Tennessee brought his scoring average to 48.5 yards per catch over a span of two years.
What would you do if you weren't playing football?"If I was four inches taller I'd be playing basketball. No, I would probably be a coach at a high school. A coach and a counselor."
What has been the highlight of your football career?
"My second year in Green Bay, 1999, I think there were about 12 seconds left and I caught the winning touchdown from Brett Favre when we played against the Minnesota Vikings."
What is your favorite historical NFL moment?
"Watching Walter Payton run. I always wanted to play running back but I never got that big."
What is something that most people don't know about you?
"A lot of people don't know that I only played one semester of college football when I got drafted."
Do you have a specialty that you make in the kitchen?"I love cooking French toast and pancakes."
What was the last book that you read?
"Sports Illustrated (laugh)."
What has been the biggest hurdle you've had to overcome as an athlete?
"Showing people that I can play in this league even though I came from a small school. A lot of people think that when you come from a small school you can't play on this level."
How satisfying was is to prove that theory wrong?
"Very satisfying because coming from a small school, there are probably only one in a million guys that really stay in the NFL. I've been playing six years now so it's a big accomplishment for me."
How did you react when your Green Bay teammates voted you as the NFL Players Association Unsung Hero in 1999?
"It was a big surprise to me. At first I thought, 'Unsung hero, me? I don't deserve that,' and they said "Yes, you do.' I was the third receiver and I think I had six touchdowns that year and I also had 16-17 special teams tackles. I just went out and played hard every Sunday and I guess a lot of guys were watching."
Is playing special teams a nice change of pace for you?
"I like special teams but really I like playing receiver more."
You were a defensive back and quarterback in high school and then only played one season of college football, how did you end up at wide receiver?
"When I transferred from Hinds Junior College and went to Jackson State, I saw a flyer on the dormitory wall for football tryouts so I thought I would try out. When I went to talk with them about trying out, they asked what position I wanted to play, I said defensive back. They said they were already deep at defensive back and asked if I had ever thought about playing wide receiver. I said yes, ever since I was in high school I wanted to play wide receiver. Since that day everything clicked."
Do you ever ask the coaches to put you in at quarterback or defensive back?
"No, but I would love to play free safety in the NFL."
Are you still taking correspondent classes to finish your degree in recreation administration at Jackson State?
"I'm going to get started again this spring. I may take them online or take them at Jackson State, it depends how the off-season goes."
As a native of Louisiana, what is your favorite home-cooked Cajun meal?
"Red beans and rice, fried chicken and crawfish."
What was more challenging for you in track, the triple jump or long jump and what was your longest jump in both?
"The triple jump because you have to jump three times. If your legs aren't strong, you can land on the track and hurt yourself. Some people don't even land in the pit. The furthest I went was 51' 10" in the triple jump and 24' 8" in the long jump."
Did you surprise yourself during your first college game when you caught an 81-yard touchdown pass?
"Oh yeah, the first time ever touching the ball in college was that 81-yard catch. I had told myself that as soon as I catch the ball, I'm just going. They called the play and they threw it to me and I just took off."
What inspires you?
"When people tell me what I can't do. I love proving people wrong. I use a lot of negative things as positives."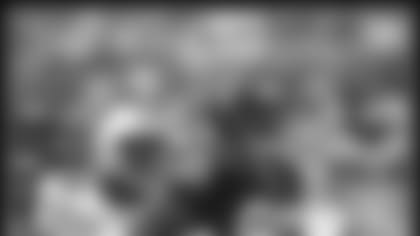 Bradford was drafted by Green Bay in the fifth round (150th overall) of the 1998 NFL Draft after only playing football one year in college.
Favorite quote or saying?
"Never listen when someone tells you that you can't do something. You always can do something, never use the words "I can't."
What do you do on your Tuesdays off?
"Usually I'll come to the stadium, get in the hot tub, go back home and lounge around and play PlayStation."
Who is your closest friend in the NFL?
"Probably Cletidus Hunt (defensive tackle) with Green Bay and Charles Lee (wide receiver) in Tampa Bay."
Who is your favorite all-time wide receiver?
"Jerry Rice."
Who has been your toughest cornerback match-up in the NFL?
"I went against Deion (Sanders) one time. I caught one pass."
What is your favorite thing to do when you score a touchdown?
"Get down on one knee and pray and thank God."
What's your favorite route to run or favorite play?
"I love running the post and goal route."
Did you take any off-season vacation?
"I went to Las Vegas, that was about it."
What are your season goals?
"Just basically go out and play hard. One goal I always have is every time I touch the ball, I try to score."
What actor would portray you in a movie?
"Probably Wesley Snipes."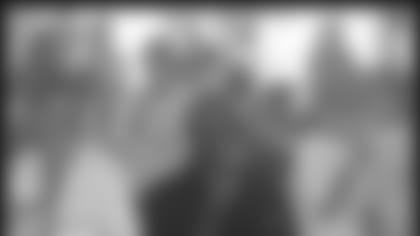 Bradford joined one of the local YMCA's to take part in Houston's city-wide Brush-A-Thon in 2002.
You've played with Brett Favre and now David Carr, how do the two differ in the way they run the huddle?
"Both can be pretty serious but Brett is definitely the biggest joker of all-time. It could be the fourth quarter with two seconds left and we'll have the ball and it's fourth down and he'll be joking. He does it to keep everyone calm and relaxed."
You always seem to be smiling and happy, what is your on-field demeanor?
"It's all business on the field. I just react to how people are playing."
What is your favorite all-time album?
"Probably R. Kelly, 12 play.
How many tattoos do you have and what are they?
"Three. I have praying hands with the sun and my mom and dad's name, a dragon tattoo with two Chinese letters that stand for "Outstanding Talent", and on my whole right side I have a big symbol that means "Warrior".