Wiegert, a nine-year NFL veteran, was picked up by the Texans as an unrestricted free agent last March. Wiegert previously spent four seasons with Jacksonville after being released from St. Louis, where he was originally drafted in the second round of the 1995 NFL Draft. As a professional, Wiegert has played every position along the offensive line with the exception of center. The former Nebraska Cornhusker helped his squad to a national championship as a senior and was awarded the 1994 Outland Trophy Award for his outstanding play as an interior lineman.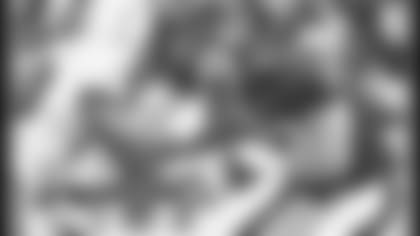 Is there something that most people don't know about you?"That I'm a lot skinnier than Todd Washington (Texans guard)."
What's the biggest tailgating tradition at Nebraska?
"You have to be there by 6 a.m. or you don't get to tailgate."
What is the last book that you read?
"Bill O'Reilly's new one, "Who's Looking Out For You?"
Favorite NFL moment growing up?
"I always remember the 'Immaculate Reception' with Franco Harris, that's probably my most memorable one as a kid."
How has marriage changed your life?
"I've been married for a while now and we have a kid on the way so that will change my life. Once the kid gets here in February, I'm sure it will be a lot different."
Do you know if the baby is going to be a boy or girl?
"Boy."
Will he be encouraged to play football?
"If he wants to. The first thing he's going to get is a set of golf clubs in his hands. If he ends up being built like me, I'm sure he'll end up playing football."
Describe your hometown, Fremont, Nebraska?
"Peaceful. It's not crowded, open spaces, change of seasons. We got 23,000 strong."
Did you take any off-season vacations?
"I went to play at Pebble Beach."
What's your handicap?
"I'm an 11."
How long have you been playing golf?
"About 10 years now. I started my junior-senior year in college."
Who's your favorite golfer?
"I'd say Ernie Els. He's a tall guy and I'm tall so I like watching him swing. That's who I watch the most because I like his swing the best."
What's your favorite meal?
"I'm a big steak-on-the-grill guy."
Who's your closest friend in the NFL?
"I'm very good friends with Kevin Carter. We got drafted together and hung out all of the time."
Do you have a daily ritual?
"I stop at Starbucks every morning."
What's your favorite beverage at Starbucks?
"'The Traditional', the strong one, and the 'Smooth and Bold'. It changes weekly though, this week is 'The Verona'."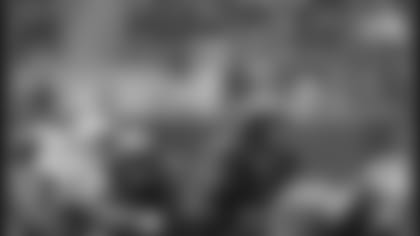 What's your favorite album?
"I'd say Jimmy Buffet's Greatest Hits. I go boating and put that on, you can't really go wrong."
Has Nebraska ever taken a 77-0 loss to Oklahoma?
"No, Nebraska has never lost 77-0 to anybody. Nebraska wouldn't lose 77-0 to a pro team."
Have you ever seen an offensive lineman talk to the media more than Steve McKinney?
"No one has ever done more interviews in the history of offensive line play than Steve McKinney. Steve McKinney does more interviews in a week than most whole lines do in a year."
What is the biggest hurdle you've had to overcome in athletics?
"I really can't think of anything, I guess making yourself work out when no one is there forcing you to."
How do you spend your off-day on Tuesdays?
"I always go to a movie with my wife on Tuesday. That's our movie day. I always go to Best Buy on Tuesday because that's DVD release day. Then I usually go get a massage and good stretch."
What DVD did you buy yesterday at Best Buy?
"Terminator 3. It was a good purchase."
What actor would portray you in a movie?
"Chris Farley."
What is your favorite place to play on the road?
"Green Bay."
What's the worst job you've ever had?
"De-tasseling corn, by far is the worst job on the planet. They do the machine thing and then you have to follow and make sure they get them all. It's the worst. You pick up all of the ones the machine misses. I always quit about half-way through."
Who's the toughest defensive linemen you've ever faced?
"Probably Reggie White was one of the toughest. There's a lot of guys."
You've played almost every position along the offensive line, are you a jack of all trades at home?
"I think I am. Let's just say I'll attempt to fix anything. I may get it apart and then put it back together and there may be some parts left over but I'll try."
What's your goal heading into every game?
"To win my my one-on-one match up with my guy and do whatever I can to help the team win."
On the high school basketball team, did you ever dunk on anyone and can you still dunk?
"I never dunked on anyone in high school. I never got a good one on anyone in a game but I can still dunk, it just hurts too much to land."