It would be premature to call it a campaign. After all, promotion doesn't appear to be in Andre Johnson's vocabulary.
Let's call it more of an underground movement, something that's been simmering beneath the surface but is close to reaching its boiling point.
Just 20 games into his NFL career, Johnson is fast becoming one of the league's top receivers.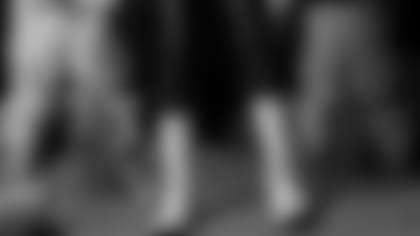 If you're a Texans follower, you know that Johnson is freakishly talented, a rare combination of size and speed that can give opposing defensive backs fits. Just ask the guys who go up against him in practice each day.
"Jamming him at the line, trying to tackle him, trying to run with him, it's all difficult," cornerback Dunta Robinson said. "When you face a receiver who is 230 pounds, that's just freakish. Coming out of college, I always worried about Terrell Owens and how big he was. But I face this guy every day and he runs the same speed as me. It's crazy."
But while fans in Houston know Johnson, he's hardly a household name outside of southeast Texas. Much of it can be traced to playing for an expansion team that doesn't get a lot of national play. Wins equate to air time. But the minimal exposure can also be traced to Johnson's quiet demeanor, which seems almost foreign to the position he plays.
Think about it: Is there a more brazen collection of personalities in sports at one position than at wide receiver? From Owens to Chad Johnson to Keyshawn Johnson, wide receivers, in their collective mind, are always open and should always get the ball. And they aren't exactly shy about telling everyone within earshot just that.
Johnson and the Texans will see the perfect illustration of that temperament Sunday when Randy Moss and the Vikings come to town. Moss is an unbelievable athlete whose talents are matched only by his outward confidence. A picture of Moss graced the dry-erase board in Houston's locker room this week with the words "Boss Moss: When I put the hand in the air, you better be scared." That references Moss' habit of waving his outside arm when he wants the ball down the field.
"If he's not the best, he's one of the top two or three in terms of being able to take and change a game in one play," head coach Dom Capers said. "The guy is extremely talented."
So is Johnson, who mirrors Moss both physically and athletically.
"The similarity is that they're bigger and physically stronger than the corners they're facing," wide receivers coach Kippy Brown said. "A guy with size and speed in the world of corners that aren't as big has a distinct advantage. It's like a heavyweight taking on a middleweight."
Johnson approaches his craft in a more subdued manner. He talks just above a whisper and nothing that he says will ever be deemed controversial. But don't mistake any of that for indifference.
"You have to play with some type of intensity," Johnson said. "If not, you're going to get hurt or you're going to get hit real hard. You have to have the fire to go out and play."
That fire has been especially evident in the past three weeks. Johnson has made some unbelievable catches, from his 54-yard touchdown reception at Detroit to his gravity-defying grab at Kansas City to his game-clinching catch-and-run against the Raiders. The highlights reels are embracing him. The whispers have commenced. People are starting to notice.
"He has size, strength, excellent hands," Vikings head coach Mike Tice said. "He can run, he has deceiving speed and he's is a playmaker. I like everything about him."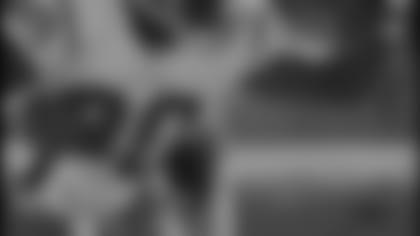 As Houston's offense continues to improve (ranked 10th in the NFL this week after ranking 31st last season), so do Johnson's numbers. He has 17 catches this season for 355 yards and two touchdowns, averaging 20.9 yards per touch, even though he's the focal point of opposing defenses. Quarterback David Carr has taken to throwing the ball up for grabs, knowing Johnson has a great chance of coming down with it. It's almost – dare we say it – a Moss-like strategy.
"You watch the Vikings, they do that a lot to Randy Moss," Carr said. "I think if that if Andre starts to get the confidence that he can go up and make plays like he did in the Chiefs game, that shows myself and shows him that he can do it. So why not take advantage of it?"
That wasn't always the case last year. Johnson caught 66 passes for nearly 1,000 yards but he was the first to admit he had plenty of drops. The low point was a Week 14 game at Tampa Bay where he dropped two long balls. But Johnson was determined to work on his hands in the off-season.
"I think last year I had some drops on some ball that I should have made plays on," he said. "All the tools are there. I just have to be more focused and zone in more on what I'm doing. I worked real hard this off-season."
Four days ago, a caller phoned into SportsRadio 610 and asked John McClain of the Houston Chronicle whether Johnson was one of the top 10 receivers in the NFL. McClain quickly said "no," but then the panel started listing names. Moss, Owens, Chad Johnson, Pittsburgh's Hines Ward, Isaac Bruce and Tory Holt of St. Louis and the Colts' Marvin Harrison came to mind.
Is Johnson in that class yet? Probably not, but he's certainly knocking on the door. Through 20 career games, he has 83 career catches for 1,331 yards. Seven other receivers have been taken in the top five of the draft in the past 20 years and only Keyshawn Johnson (80 catches, 1,082 yards) comes close to those numbers. Johnson is delivering on his draft status.
But numbers don't tell the whole story. You can't objectively measure intimidation. Johnson is becoming one of those receivers who's a constant source of worry in Tuesday game-planning meetings, one who coaches simply hope to "contain" rather than stop.
"You've seen what Andre is capable of," Capers said. "He's a big-play player. To score points you have to get yardage in big chunks and Andre gives us a chance to do that."
Johnson embraces that role. It's why he was a gym rat at Miami and worked so hard this past off-season. Johnson knows he has the tools to be a special player. He also knows most of his success is up to him.
"It's going to take a lot of hard work," Johnson said. "It won't happen overnight."
Perhaps, but we're betting it will indeed happen. Moss' level of production and presence is a tough stratosphere to crack, but it's as good a measuring stick as any.
"You know, I recruited Randy while I was at Tennessee and, to be honest with you, Randy was kind of quiet then," Brown said. "He didn't talk a whole lot.
"And who knows? Andre may come out of his shell before you know it."
Perhaps then, more people will take notice. But voluble or not, Johnson still ranks as one of this league's rising offensive stars. That's our platform and we're sticking to it.