Most days after practice Carr, offensive coaches and the receivers spend an extra 20 minutes or so playing catch and working timing routes.
It seems practice really does make perfect.
Colts quarterback Peyton Manning and receiver Marvin Harrison have been doing similar exercises for years before games.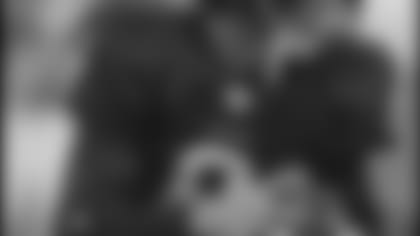 "It definitely works," Carr said. "When we run those routes in a game I can anticipate it better and the guys know what kind of ball is going to be thrown. What kind of angle. What kind of pace it's going to have on it. Yeah, we're a lot better because of that."
At first it seems a good defensive back can throw the timing completely off. Not true said Carr, who said defenses have little to do with these routes – mostly deeper pass plays.
"When you're out there playing and you see the route, you look at the defender to see the kind of leverage that he has," he said. "The routes that we throw are down the field throws. They're usually deeper routes and it's usually based more on the receiver and I working together than it is the defender."
The exercise has taught the third-year quarterback, who has thrown for 2,541 yards and 10 touchdowns in 10 games, more about his receivers.
They are all fast. Send them sprinting down the field and they're not much different, but some are better at certain moves and suited for different routes.
"I think it's helped a lot because he knows on certain routes exactly what we're going to do," Bradford said. "This league is all about chemistry. If the receiver and quarterback get the chemistry down it makes everything more smooth."
Bradford has 17 catches for 258 yards this season. The group is led by Johnson who has 859 receiving yards and four touchdowns.
But each receiver knows his performance helps the other.

Johnson has been drawing double coverage from most opponents. Bradford said Johnson is still the team's "go-to" receiver, meaning the others in the group have to be crisp and ready on every play.

Gaffney is one who has opened up some room for Johnson and benefited at the same time. He is on his way to a career year in receptions (31) and yards (452).
Armstrong had one touchdown catch all of last year. He has a score already and is fourth on the team with 374 yards.
Starling started the season on the active roster but went to the practice squad after one game. He has been re-signed but played in only his second game last week against Green Bay.
His speed however has turned heads. Timing with Carr is soon to follow.
The learning process may be simple. But it is vital and fun. The group does the drills sans-pads and laughs and jokes for most of the time.
Amazing what 20 minutes a day can teach receivers and quarterbacks about each other.
"We all teach each other how we're going to run our route," Bradford said.