This weekend's rookie mini-camp is kind of like the calm before the storm, a dress rehearsal for entering NFL training camp. For the 26 players suited up for this morning's workout session, fundamentals and digestion of the Texans' playbook were top priorities. For Houston's coaching staff, it was an opportunity to finally evaluate talent in person as opposed to film study.
In just a two-hour span, coaches were able to get a better feel for all of their prospects. Because of the beneficial coach-to-player ratio, each player was able to receive the personal attention needed to help polish up technique and schemes.
"It's nice to finally get them out on the field to confirm what it is you thought you were getting," head coach Dom Capers said after the morning session. "It's an important weekend for these young guys because they get total focus and attention of the coaching staff."
Possessing a quick learning curve during the transitional stage is just as important a skill to bring to the table as talent. In just a little over one week, the 26 new faces will find themselves sharing the meeting room and playing field with Houston's veterans. So grasping key concepts and becoming familiar with the speed of the professional game is essential over the next few days.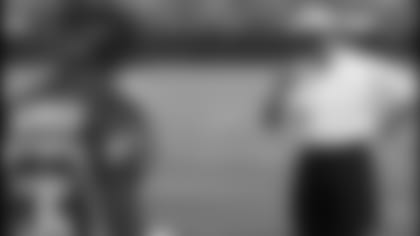 CB Dunta Robinson gets some one-on-one instruction from head coach Dom Capers.
"We went through my college playbook yesterday," first-round pick
Dunta Robinson
said. "We did it all in a day. There are a lot of new things being thrown at me and a lot of things I need to soak in."
Robinson, a former South Carolina cornerback, joined Notre Dame secondary sidekicks Glenn Earl and Vontez Duff in position drills for the morning. At strong safety, Earl was the Texans fourth-round pick and was hitting the field for practice drills for the first time since last October, when he was forced to the sideline with an ACL injury.
Joining Earl, Duff and Robinson was former Nebraska quarterback Jammal Lord, who the Texans will shift to safety. While learning the intricacies of a new position will be a challenge for Lord, he seems to be right at home in the role that will be expected of him at the free safety post.
"In the meetings, you can tell he's been a quarterback," Capers observed. "He has a pretty good feel and a good presence and he's a good communicator. We're working him at free safety and that guy has to be the quarterback of our defense. He's not reluctant to make calls.
"I thought he got off to a good start."
The secondary group spent a large chunk of time brushing up on their reaction time, hand-eye-ball coordination, pivots and cuts with defensive backs coach Jon Hoke. Capers also took special interest in the groups' footwork exercise.
"It's good when you have a head coach watching you and correcting you when you make mistakes," Robinson said about Capers' participation. "It shows you that he really wants you to become a great player one day. I'm just learning right now and taking it all in."
Defensively speaking, Capers is able immerse himself unusually more in this year's rookie mini-camp compared to his previous two rounds with the Texans. Known as a defensive-minded guru, this 2004 draft compilation is right up Capers' alley. The crop is stacked with defensive talent, whereas in the past, the team targeted offensive weapons like David Carr, Andre Johnson and Domanick Davis.
Also on Capers' checklist was monitoring the young linebacker corps made up of three draft picks, first-rounder Jason Babin, sixth-round selection Charlie Anderson and seventh-rounder Raheem Orr. Babin, Anderson and Orr enjoyed standout careers as defensive lineman at Western Michigan Mississippi and Rutgers, respectively.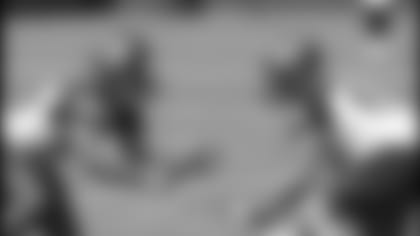 LBs Anthony Dunn and Jason Babin feel out their new positions after shifting from the defensive line.
In Houston, the three will be asked to make the conversion to outside linebacker, where rushing the passer is just part of the job description. Over the next few days, the group, along with first-year linebacker
Anthony Dunn
, will learn their role in the four-linebacker defensive scheme where dropping back into coverage is just as crucial as sacking quarterbacks.
"You have to be patient because most of these guys that are making the transition have had their head down and have been rushing up the field," Capers explained. "You know that they have more skill in rushing than in dropping so you have to be patient early-on. If guys are good athletes, they'll start to get a feel for it and make the transition."
Babin spent some extra prep time before reporting for mini-camp on Thursday and he's eager to soak more in with each day.
"It's not too foreign," Babin explained about seeing more action as a cover-guy and run-stopper. "They kind of told me that's what they were going to do with me so I've been working on my own. I don't want to come out here and get embarrassed.
"I'm here to show them that I can learn what they throw at me."
On the offensive side of the ball, former Texas Tech quarterback B.J. Symons not only warmed up his arm in some passing drills, but also made a return to his hometown in Houston.
"Growing up in the city of Houston, probably the best thing is just coming home and being in a situation that I'm familiar with."
Symons is also well acquainted with his new meeting and practice space in Reliant Stadium. Symons' last game was a 38-14 win over Navy in the Houston Bowl at Reliant Stadium, one in which he passed for 497 yards and then he returned to the Texans facility for his April workout.
"I played my last collegiate game in Reliant Stadium so hopefully I can go from there and continue here in Houston with some success," Symons said. "I'm just really looking forward to the opportunity I have right now and making the best of it."
Fielding passes from Symons was seventh-round choice Sloan Thomas, from nearby Texas. Thomas also returns back to his Houston roots and seemed to be just as comfortable on a professional practice field this morning.


"It's a fast game but it's a fun game," he smiled. "We're still with the rookies right now so when the vets get here, it's going to be even faster. You still have to pickup on things but no matter what, it's still football."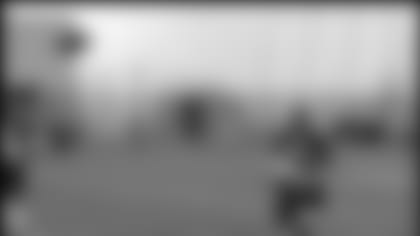 Jammal Lord went from avoiding defensive backs as a Nebraska quarterback to fielding balls as a professional safety.
The group will have a few more chances to shake out the new playbook when they meet this afternoon for one more outdoor session before hitting the field for double-duty on Saturday. Slated for Sunday is a trip into the weight room for a lifting session before camp breaks.
The next time the crew returns, real life in the NFL will be better simulated as they line up against different competition.
"You want to see how you measure up against the great guys," Robinson said about facing Corey Bradford, Andre Johnson and Jabar Gaffney. "They've got some real good receivers so I'm anxious."
Before taking that big leap though, the rookies and selected first-year players will take some small steps. It's all part of the trip down the road to summer training camp.
"We're trying to indoctrinate them into the system and teach them the fundamentals and hopefully get them off on the right foot," Capers said. "They'll leave on Sunday to go home and be back the next Sunday and start with all of our vets and things move at a much faster pace then."