Around the league, they are already calling DeMeco Ryans the best.
Adam Schefter, analyst for the NFL Network, says the Texans middle linebacker is "the best rookie defensive player in the league."
It's a standard Ryans has set for himself for many years. If he hadn't, he might have got a whipping.
Martha Ryans, his mother, made sure of that when Ryans was growing up back in Bessemer, Ala. Being the best was the only standard he knew.
"It was something that developed over time," Ryans said. "My mom staying hard on me about grades. I think that's where it started in school. Then I turned it over in my playing sports.
"I wasn't just trying to be just another guy out there. If you want to do something, you want to stand out and be one of the best."
Martha engrained that attitude with a healthy dose of inspiration. She worked hard at two jobs, sometimes three. And she expected nothing but the best from DeMeco.
"She played a very important role in it," Ryans said of his quest to be the best. "If it wasn't for her pushing me to be the best or be better, I don't know where I'd be.
"She taught me to not take anything less from something like the A-B honor roll. She wouldn't accept anything less. It was pretty tough. But she knew I was capable of doing it."
The A-B honor roll was only the beginning in elementary and junior high school. In the Ryans household, C's were not on the radar screen. You didn't bring a C home.
"I guess it started like a negative thing," Ryans said with a smile. "She would threaten to whip me if I'd bring a C home. It was kind of a negative affect like do I want a whipping or do I want to go ahead and do what's right and get the good grade?"
And no Cs came home. Ever.
"No, I didn't ever make one," Ryans laughed. "She pretty much was just threatening me because she knew I was going to do all right."
That standard carried over into every aspect of Ryans life. He was an All-State player at Lanier High School and was also Academic All-State.
As the best player at the University of Alabama, he made every All-American team. He also won every academic accolade he could win.
Alabama's Culverhouse School of Business calls Ryans "the most decorated student-athlete in The University of Alabama's football history." And no wonder. Ryans not only made Academic All-America, he was chosen to the NCAA's Top VIII Award, the highest undergraduate honor an athlete can win. It's given to the top eight student-athletes in the NCAA, not just football.
Ryans graduated cum laude, 3.55 GPA, in just seven semesters with a business management degree from Alabama. When he won Defensive MVP in the 2006 Cotton Bowl, he already had graduated.
"DeMeco Ryans is the nation's ultimate student-athlete achieving at the highest level on and off the field," UA President Robert E. Witt said last year. "We pay tribute to DeMeco for his outstanding academic accomplishments, his great character, and his exemplary contributions to our university and our state."
Ryans takes the praise in stride. He strives to be the best no matter what he is doing.
"Always. Always," he said. "Any time I step out there, I'm shooting to be the best. If you're not shooting to be the best, then what are you out there for? What are you trying to accomplish?
"I'm not one to just be content with just being there. If you're going to be there, you have the opportunity to do something with it."
He is doing that quite nicely on the Texans. He leads the team in tackles with 38, 10 more than the team's runner-up tackler. Head coach Gary Kubiak has noticed.
"DeMeco Ryans continues to be a very bright spot for this football team and I expect him to be that way for a long, long time," Kubiak said. "DeMeco is playing extremely well." 
Of course, it's never enough. When told of Schefter's praise of him, Ryans could only shrug.
"That's a pretty good compliment," Ryans said. "I'm happy there's someone that thinks that highly of me. I appreciate it. But I really have a lot of work to do and I can get a lot better." [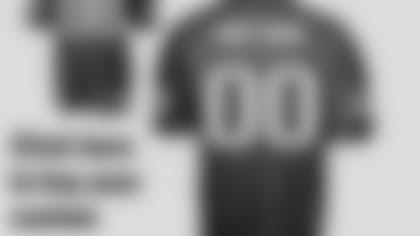 ](http://store.houstontexans.com/product/index.jsp?productId=1862013&cp=2237490&clickid=mainnavgeartxt&parentPage=family)
There were some who didn't realize how good Ryans could be. That's why he lasted until the second round of the draft when the Texans picked him up with the 33
Some wondered if he was big enough at 236 pounds to play in the middle. Or fast enough.
"It's all about desire," Ryans said. "Football's not about size or speed. It's all about desire and playing football."
Of course, Ryans knows his defense isn't the best in the NFL. It still sits firmly on the bottom of the league stats. He doesn't expect that to continue.
"We're trying to go out and create turnovers on defense," he said. "Right now, we're last in the league in turnovers. I think it's time for us to turn that part of the game on and make us a better team."
He expects it to be the best. Martha expects that as well.
EDITOR'S NOTE:Jim Carley is a veteran Houston sportswriter who has covered the NFL for more than 25 years. He has worked for such newspapers as the Fort Worth Star-Telegram, The Houston Post, the Los Angeles Herald-Examiner and the National Sports Daily covering such teams as the Dallas Cowboys, the Houston Oilers, the Los Angeles Rams and the Oakland Raiders.