When the Texans' chartered Delta 757 cruises onto the Cincinnati runway Saturday, defensive backs coach Jon Hoke may just have his head pressed against the glass of the passenger porthole, peering down at what used to be his old stomping grounds. Ok, so maybe he won't be that observant during the landing, but the trip back home to Ohio may bring a sense of nostalgia to the Kettering native, who will have almost 30 friends and family members on hand at Paul Brown Stadium on Sunday.
Kettering, a division of Dayton, Ohio, just about 40 miles north of Cincinnati, is the birthplace of Hoke's football passion. It was where Hoke began to play the game in the fourth grade, the place where he ate his first White Castle burger and the state where he spent eight years of his collegiate coaching career.
Yes, Ohio has been good to Hoke and Hoke in return, has given much back to the Buckeye State, like four winning seasons on the Bowling Green coaching staff including an undefeated, 11-0 run in 1985, just to name a few.
In between the wafts of Skyline Chili and Cincinnati's famous Barbeque, Hoke may have a few minutes to reflect on the years he spent inhabiting the state of Ohio.
Hoke played predominantly as a defensive back at Kettering Fairmont High School, but during his senior year, split time as a defender and led the offense as the squad's quarterback. Although he didn't credit himself as the most outstanding player, the sport came very naturally to him.
"I think I was good enough to get by. I don't know that I had at that time any talent that was exceptional, but I knew where to line up," Hoke remembered. "I got a few (interceptions). It was one of those things that playing football always came easy to me because I kind of felt the game. I knew where the ball was going, don't ask me how."
So when it came time to make the big decision on where he would continue his defensive disruption, Hoke used process of elimination. Well, sort of. His final two choices were Ball State in Indiana, or Miami of Ohio. He was itching to get out onto the field, so in the end, whoever could make that wish come true first, would become the big winner.
"I was a walk-on and I based my decision solely that Ball State said I could go to two-a-days and Miami (Ohio) said I had to wait until school started," Hoke analyzed. "I figured I'd get a much better opportunity for them to see what I could do if I got into two-a-days instead of waiting until school started."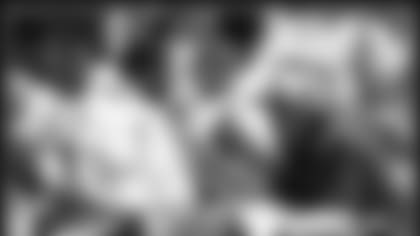 </td>
           </tr>
           <tr>
             <td width="100%">

Hoke helped cornerback Aaron Glenn reach the Pro Bowl last season.
So Hoke made the two-hour trek west to Ball State where he helped the Cardinals win two Mid-American Conference Championships. Though his play garnered All-MAC defensive back honors, Hoke was still unsure of his future at the end of his final season.
Then a friend hooked him up with a young and upcoming agent from IMG, Jim Steiner. Steiner invited Hoke over to his home one afternoon and the two sat on the back deck, ate chicken salad and watched a few games. Soon after, Steiner became his agent and the two waited for the upcoming NFL Draft.
The draft came and went and Hoke didn't get a call. His next career move was up in the air. Outside of football, he did enjoy cooking. He had worked in a restaurant during his senior year of high school and tossed around the idea of going to cooking school after college graduation. He never made it that far though. Steiner called about two weeks after the draft. Kansas City had just signed a free agent free safety who was not panning out, so Steiner urged him to try out for the position.
Hoke missed his college graduation while spending the spring in mini-camp with Kansas City. He stayed on through the summer and just before the end of the preseason, suffered his first football injury when he broke his wrist and was put on injured reserve.
Four weeks later, Hoke had just returned to a Friday practice and was about to play in his first NFL game against the Houston Oilers when he was told that he hadn't cleared the waiver wire. Chicago had picked him up and he was to leave the next morning, a Saturday, to practice with his new team. He arrived in Chicago, spent the morning with the squad and then flew to Minneapolis where 24 hours later, he would get in on three plays, the first action of what would become an 11-game NFL career.
After getting cut from his third NFL training camp, Hoke and his wife Jody moved back to Dayton and a short time later, he began to volunteer coach the defensive backs at the University of Dayton.
"I did that for a season and had a blast," Hoke said about his stint at Dayton. "Mike Kelly's a wonderful guy and is still there at Dayton. But I didn't know what I really wanted to do. I liked being around the players and I liked being around the game."
While cooking school was still in the back of his mind, Hoke may've found his calling. Back in high school, coaching didn't even seem to be an option for a future occupation. But even then, Hoke was leading units to victory. During middle school gym class, Hoke had a gym teacher, Bill Aldrich, who was the "big dog" in the phys-ed department. Aldrich used to lead a stingy squad in flag football and Hoke was the only student who was brave enough to serve as the opposing team captain during gym classes. And, he was the only captain that could defeat Aldrich's flag football gang.
Years later, Aldrich told Hoke's father that Jon was "the only son of a bitch that could beat my team."
Maybe that was nudge that Hoke needed to convince him that the coaching world beckoned his presence.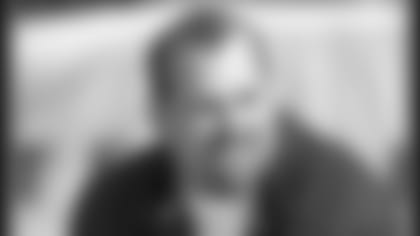 </td>
           </tr>
           <tr>
             <td width="100%">

In 2000, Hoke was part of the Florida Gators' SEC Championship season.
So he continued to break into the coaching circle and after serving as a graduate assistant at North Carolina State under then-defensive backs coach Tyrone Willingham for spring football in 1982, Hoke found out about an opening at Bowling Green State University in northern Ohio. He got the job, returned to his home state and began recruiting all over Ohio while his squad went 8-3 his first season.
Life was good. He spent four winning seasons with Falcons and then moved to San Diego State where Bowling Green former head coach Denny Stoltz had moved to the helm. He had one year of success in southern California and then one losing season and the staff was let go.
But the magnetic pull brought him back to Ohio, where he would go on to spend five losing seasons at Kent State. Hoke soon learned that it was a lot more challenging to lose as a coach then to bask in victory.
"I learned more in coaching those five losing seasons than I did in four seasons winning," he remembered. "I learned more football from that than I did from all of the wins."
It was the last time he would operate on a coaching staff in the state of Ohio. Hoke then helped build a program in Missouri before serving as an assistant head coach and defensive coordinator for Steve Spurrier in Florida. The Gators' trip to play Kentucky was probably the closest taste Hoke got of his Ohio roots until this weekend, when his large cheering section will see him take the field as a professional football coach.
The once Cincinnati Bengals' fan will now face the team who he watched as a youngster, while he handles the familiar task of racking up another victory in the state of Ohio.
His mid-west playing roots taught him about the pure simplicity of the game of football, a passion he carries with him even today, as he leads a talented Texans' secondary through their weekly meetings and into electrifying Sunday afternoons.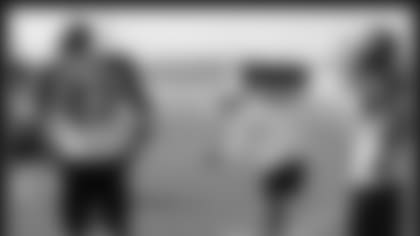 </td>
           </tr>
           <tr>
             <td width="100%">

During practice, Hoke is one of the more animated members of the coaching staff, always participating full-go in the action.
"I tell the guys, don't forget why you got into it," Hoke said about what years of playing and coaching have instilled in him. "They didn't get paid in junior high or high school to play football. They got into football because it was fun. Even though they get paid now and have to have a little different approach being a pro, they still better have passion for the game and have fun with it."
Without a doubt, Hoke's enthusiasm towards the game is just as resonant now as it was when he was a part of the pee wee league in Kettering. Standing on the sidelines in Cincinnati this Sunday, Hoke will have come full circle to the place where he first fell in love with the game of football.