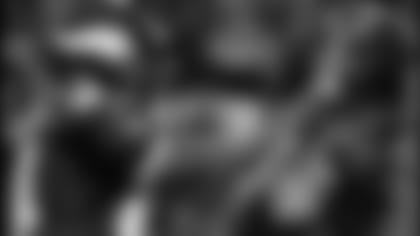 Moss has 19 catches for 215 yards and five TDs already this season.
Randy Moss is every defensive back's worst nightmare and every quarterback's dream target.
So is covering and containing Moss a physical battle between corner and receiver? Or is it all a mental game of intimidation with Moss as the inflictor and opposing defenders his prey?
There aren't many cornerbacks that will outwardly admit to themselves or anyone else for that matter that Moss is like the little red devil that sits on one of your shoulders, whispering into your ear, 'I'm going to beat you before I ever even get off of the line.'
The answer is...well, maybe there really is no right or wrong answer. Moss is arguably the best offensive player in the NFL today so physically, going against the 6-4 speedster is quite an athletic challenge.
His famous over-the-shoulder go-ahead wave and hard-to-crack shell make the mental aspect another barrier. Not to mention that the sturdy receiver hasn't missed a game yet heading into his seventh NFL season.
But for Houston's secondary, facing off against guys like Moss is what makes the game so thrilling. He's the type of receiver that corners live to cover – he tests their strengths, sometimes exposes their weaknesses and when they are able to shut down his big-play ability, there's no better sense of satisfaction that could ever be felt on a Sunday afternoon.
All week, Houston's coaching staff has been hard at work creating a winning game plan to beat Minnesota. Their offense ranks first overall against the pass. Sure, that sounds impressive, but when you really think about it, the Vikings rushing offense ranks 23 rd overall, and the entire unit combined still remains tops in the league in overall offense; so they must have one heck of a passing game.
Over the three games that Minnesota has played so far, the offensive unit is averaging 320.3 passing yards per contest compared to 102.3 on the ground. So while Houston will put much of its attention on accounting for Moss' whereabouts, Daunte Culpepper can't be left out of the equation.
The massive passer doesn't miss often. His passer rating (124.8) is the highest among all NFL quarterbacks and he's connected on eight aerial scores already.
"You look at this team play and Culpepper and Moss are as big a play combination as there is in the league," Texans head coach Dom Capers said. "Both these guys can improvise and that's always a concern when you're coaching defense because you can have everything covered and the next thing you know, the improvising is what gets you."
With the Vikings' two top running backs, Onterrio Smith and Michael Bennett out of the picture for Sunday, Moe Williams will step up to maintain a steady running attack. But rest assured, most of the action will be coming Dunta Robinson and Aaron Glenn's way.
Robinson is just coming off of a dual-interception performance against the Raiders and has held his own so far in the Texans first quarter of the season. Glenn, the 11-year veteran, has seen just about the best the NFL has to offer in the receiver department and is ready to take on another in Moss.
"He knows how to judge a ball well when it's in the air," Glenn said about Moss. "That's what makes him such a dangerous player. He's just like any other guy we go against. We go against pretty good players. They all have different things they do well. He's a guy we have to look at and eliminate him from making big plays."
Glenn is 5-9, Robinson 5-10; so the two will have to use their bodies and good technique to beat Moss before he even gets a chance to win the jump ball, especially when Minnesota drives into the red zone and Culpepper is ready to unleash his cannon with a one-tracked mind on Moss.
"They'll put him on a fade route and just throw the ball up in the air and try to get him matched up one-on-one with a shorter corner so he can out-jump the defender," Texans defensive backs coach Jon Hoke explained.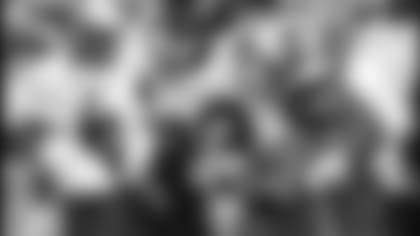 Robinson hopes to ride his wave of confidence after picking off two passes last week against the Raiders.
Red zone isn't the only time that the Texans may throw Moss into double and sometimes triple coverage. Culpepper is so confident in his receiver that he's been known to throw to Moss on 3 rd and 1 situations, a case when most teams don't even think twice about not taking the more conservative running route.
That's what makes Moss so versatile and unpredictable.
"You've got to be aware of where he is and where he's aligned," Hoke said. "He doesn't have a lot of variations in his routes, but they do put him in different locations to get him the ball.
"We have to do a good job of knowing where he's lined up and knowing what our technique is and we have to do a good job of paying attention."
Though Robinson is new to the NFL scene, he's ready to go head-to-head with one of the game's greats and is confident he can get the job done by keeping his head de-fogged and following Houston's defensive blueprint.
"I know what he's capable of doing," Robinson said about Moss. "I've seen him make the best db's look silly. We've got a game plan and we have to stick to what the coaches have laid out for us to do and just go out there and execute."
One little cornerback brain slip can leave Moss unguarded and ready to pounce. In the blink of an eye, he can blow right past his cover man and start waving for Culpepper to send the ball his way.
In the Vikings last contest on Sept. 26 against Chicago, Moss reeled in two touchdown catches, setting a club record scoring a touchdown in eight consecutive games.
Against Philadelphia on the Sept. 20 Monday Night matchup, Moss was limited to 69 yards but was still able to manage a touchdown catch. All this after the Eagles trailed him the entire game with one defender playing close, one covering deep and a third placed on a four-quarter steady watch.
But the key was that Moss wasn't allowed to make a big play. That will be the main focus for the Texans defense on Sunday. Minnesota's lopsided defense ranks 29 th in the league, so if Houston can limit the Vikings' long pass, it could pay dividends when both Houston's offense and defense combine forces.
Glenn and Robinson will jam, frustrate and blanket-cover Moss while providing plenty of annoying distraction. If they can turn the tables and get into his head enough, Moss may just mentally check out.
Glenn has defended his fair share of talented receivers over 11 NFL seasons.
"We just have to study what his weak parts are and try to attack those parts," Glenn said.
Bottom line, Houston's offense will try to do their part and control the clock, put up big points against a weaker defense and when Houston's defense does take the field, expect aggressive play and a boatload of tenacity.
Whatever is necessary to take the wind right out of the Vikings' sails.