Back in his previous life as a tackle, guard Zach Wiegert would encounter marquee names almost every week. But now the big names are turning up inside.
"It used to be that the defensive end position was the big position," Wiegert said Wednesday. "But now it seems like there are a lot more good defensive tackles in the league. Every team is getting these huge defensive linemen now."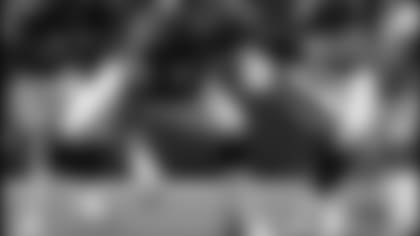 Wiegert and the rest of Houston's offensive line will get a taste of that philosophy Sunday. Three years ago, the Jaguars were coming off a 7-9 season that had ended their run of four consecutive playoff berths. Head coach Tom Coughlin decided his team needed to get more physical up front on defense.
Coughlin is now in New York, while Jack Del Rio is reaping the benefits of that decision.
In the 2001 draft, Jacksonville selected Georgia defensive tackle Marcus Stroud with the 13th pick of the first round. The following spring, the Jaguars snagged Tennessee defensive tackle John Henderson with the ninth overall pick. Those two mammoth tackles have been the cornerstone of Jacksonville's turnaround.
"That's where their defense starts," head coach Dom Capers said. "They're both a dominant force on the inside."
"Marcus and John really are what we build our defense around," Del Rio said. "They're both having outstanding seasons."
The Jaguars enter this week's game at Houston with a 5-2 record and sit atop the AFC South standing, a half-game ahead of Indianapolis and 1 ½ games clear of the Texans. Dating back to last season, Jacksonville has won eight of its last dozen games.
At the heart of that resurgence are Stroud and Henderson, who rise like redwoods from the familiar pile of bodies that toil in the trenches. While most defensive tackles boast more girth than height, this duo can claim both. Stroud, who made his first Pro Bowl last season, is 6-6, 312 pounds. Henderson stands 6-7 and tips the scales at 328 pounds.
"They list him at 6-7?" said guard Fred Weary, who was Henderson's teammate at Tennessee. "He's taller than that, about 6-8."
The Jaguars struggled at the outset of last season (Del Rio's first as head coach) as rookie quarterback Byron Leftwich adjusted under center. But Jacksonville's defense kept it competitive as the Jaguars yielded just 3.2 yards per rush, ranking first in the league.
The Jaguars have slipped a bit in their run defense this season, allowing 111 yards per game. The low point was Oct. 3 when the Chargers gashed them for 176 yards. But in the past two weeks, Jacksonville has held two of the league's best rushers – Kansas City's Priest Holmes and Edgerrin James of Indianapolis – to 162 yards combined.
But you can't measure Jacksonville's front by rushing numbers alone. The group has also severely affected the opposition's passing game. Stroud leads the team with three sacks. And if they can't get to the passer, Stroud and Henderson just get those big paws in the air.
"In watching the film you always seen a numbers of ball tipped at the line of scrimmage," offensive coordinator Chris Palmer said. "Henderson is 6-7 and Stroud is 6-6. We've probably looked at eight to nine films of Jacksonville and one of things that stands out is the number of tipped passes. If they're not putting pressure on the quarterback, they're standing there tipping balls.
"They've done it with Peyton Manning, they've done it with Steve McNair and they've done it with Trent Green. Our quarterback is going to have to slide and find the passing lanes so these guys don't knock the ball down."
Stroud has four passes defensed, while Henderson has batted down three balls. Both might have problems staying low and getting great leverage, but they more than make up for it with their athletic ability.
"Staying low can be a problem," Weary said. "John was always telling me 'If I can't stay low, I'll just move over to offensive tackle.' But that's about the only problem he has."
Wiegert played two seasons with Stroud and one season with Henderson in Jacksonville so he's well aware of the challenges they present. The Texans need to both create some lanes and give quarterback David Carr a decent view of what's in front of him.
"They're really good athletes," Wiegert said. "And these guys, as a pair, will be the biggest we'll face. They're not the traditional 330-pound guys that are short and stocky. These guys are tall and athletic and still 330. It'll be a big challenge."
But it's a challenge that the Texans willingly embrace, especially as they look to improve their rushing numbers heading into November.
"In the middle they can cause problems," right tackle Todd Wade said. "But people have been successful against them. It's time for us to step up and start running the ball like we can. I think this is a good team to start against."