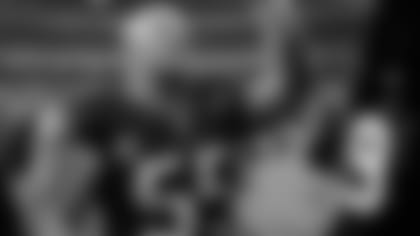 ]( "Texans C Chris Myers")


The season is over, there are months to go until the offseason training program begins and the Texans are staring at quite a bit of free time for the immediate future. Rest was high on the priority list for the majority who spoke on Monday morning.
"A whole lot of nothing," tight end Garrett Graham said of how he'll spend the next few days. "Relax. Take it easy on the body. Just kind of clear your mind."
Defensive end J.J. Watt echoed the relaxation idea, and plans on getting "some gifts" for his fellow defensive teammates. He also said he'll visit family at home in Wisconsin at some point during the offseason.
Rookie right guard Ben Jones is nine hours shy of a college degree. He's headed to Athens, Ga., for a final semester of college.
"I'm actually going back to school," Jones said. "I'm going to finish up my degree. I'm going to be back in Georgia for the spring."
The Texans' other rookie right guard, Brandon Brooks, will take care of chores before a return to home to the Midwest.
"Just kind of clean up my house," Brooks said. "I think I'm going to go back home a little bit, so clean my house up and pay some bills and everything like that, get everything taken care of before I leave."
Defensive backs Glover Quin and Johnathan Joseph both said they planned on spending time with their family. In the case of Quin, he's looking forward to "day dates" with his wife, and the ability to take his daughter to school. Joseph, meanwhile, said he'll play with his son and relax.
Center Chris Myers heads to Hawaii next week for the second straight January, as he'll play in the Pro Bowl on Sunday, Jan. 27. But he'll be "in and out" of Reliant Stadium for workouts in between now and then. Like many of his teammates, Myers and his family have a home now in Houston. He has routinely worked out with some of his teammates in the offseason ever since joining the squad in 2007.
"I think it's a big key to a lot of the team's success is the guys that do stick around," Myers said. "And it's easier for guys who have families living in their city. It's just one of those things that I think the camaraderie between us that whole offseason for those few months before we even hit OTAs (Organized Team Activities) is the biggest thing that leads to our success."
Twitter.com/DoughertyDrew