Sloan Thomas says he couldn't have planned it any better. To return to his hometown to continue to play football is something he could have only dreamed.
"It's just great, to be back in Houston with my family and friends," the wide receiver said. "I love the environment, I love the weather…"
"I'm used to it -- I'm a Texas boy until the day I die," Thomas said.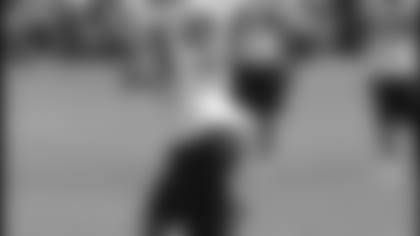 Thomas has indeed proven himself as a Texas boy, first growing up in Houston and playing ball at Klein High School where he secured the Houston Chronicle's Offensive Player of the Year awardas a senior. He then continued on to University of Texas where he again proved himself by catching 88 career passes for a total of 1,362 yards, enough to rank him 10th on UT's all-time list for reception totals and seventh for TD reception totals.
The Texans picked up Thomas in the seventh round of the draft, ensuring that he would have the chance to stay in the state he loves, in the city in which he grew up. And not only did the Texans allow Thomas a chance to return home, they gave him something far more important – a renewed passion for the game.
"I'm starting to have fun again with football," Thomas said. "There's nothing like football – it's the sport I love."
He explains that for a while he had lost confidence and was beginning to wonder how much he really wanted it. But the Texans renewed his confidence in himself and his love for the game.
"I know that I've got the fire inside of me," he said.
Thomas knows that with the Texans is where he wants to be and is willing to work hard to make that happen.
"You know, they've got great receivers here and I'm just trying to fit in – whatever I've got to do to make the team," Thomas said. "I'm not trying to be an individual. You can't win a championship with individuals; you might win a game, but that's not what we're doing here."
When not pursuing his goal of making the team, Thomas is a self-proclaimed "chill-person," preferring to listen to music or play video games rather than going out every night. He hopes to settle down and have a family because, although he enjoyed college, he thinks that his best years are still yet to come.
"That's what I think about, having a family, buying a house and settling down," Thomas said.
Thomas also enjoys working with children and took part in the Texans' NFL Youth Flag Football camp in July, signing autographs and interacting with the children. He hopes to be able to become a "Big" for Big Brothers Big Sisters, an organization he believes does amazing work. He has worked with children through the PALS program and wants to continue to give back to the community that he says has helped him in so many ways.
"Whatever I can do to give back, I want to do," Thomas said.
Spoken like a true Texan.