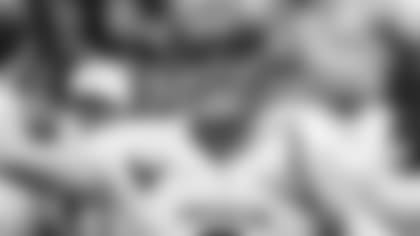 ]( "Texans QB Matt Schaub")

HONOLULU – They are the men who have his back, both on and off the field.
The Texans' offensive linemen, three of which are here at the Pro Bowl, don't like the amount of heat their quarterback is taking, and they don't think it's right.
"It's unwarranted," said first-time Pro Bowler Wade Smith, the Texans' starting left guard since 2009. "Certain passes got dropped, blocks were missed, allowing 41 points, things like that are not his fault."
Center Chris Myers, in his second Pro Bowl, understands the criticism and that people are upset, but he wants Texans fans to understand there were many things that stopped the season early.
"Fans are fans, media is media, but we win and lose as a team," Myers said. "And we know Matt can get us where we need to go."
Schaub completed 70 percent of his postseason passes and threw two touchdowns and two interceptions in a mixed-bag performance that has been picked apart by fans and media. That he didn't shine in the team's final four regular-season games doesn't help matters.
But Schaub also threw for 4,000 yards, was top-10 in just about every statistical category and has gone 20-8 as a starter in the last two seasons.
"I think he's had a heck of a year, and a lot of people lose sight of that," said his blindside bodyguard Duane Brown, the Texans' Pro Bowl left tackle.
"He's the quarterback, and he's going to get talked about more than the other guys," Myers said.
Brown added that Schaub is "one of 11 in our group that has to do his job. We have to do our job up front to make him comfortable. Receivers and backs have to do their jobs getting open and completing the passes that he throws to them."
To further illustrate that point, two of the quarterbacks here in Hawaii missed the playoffs. You may have heard of them, Eli Manning and Drew Brees. But Schaub doesn't have their kind of postseason equity with the fans and media. He'll just have to wait for his next chance.
"After one week, it seems like it's been a couple of months (since the end of the season)," Schaub said on Thursday. "I'm chomping at the bit to get back working out and get back going."
Schaub is in Hawaii with Brown, Myers and Smith, taking part in his second Pro Bowl in the last four seasons. He's well aware of the criticism being directed his way, but he hasn't let it affect his psyche or determination to lead the Texans to new heights in 2013.
"It comes with the territory," Schaub said. "As a quarterback, you're going to get criticized when you don't get the job done. You're going to get a lot more praise than you probably deserve when things are going good. It's just the nature of the business, and you just look to improve and get better for next year and be in the same position."